UW-PARKSIDE OUTSTANDING GRAD MARLEY URAN- ALL ABOUT COMMUNITY
Published: December 21, 2018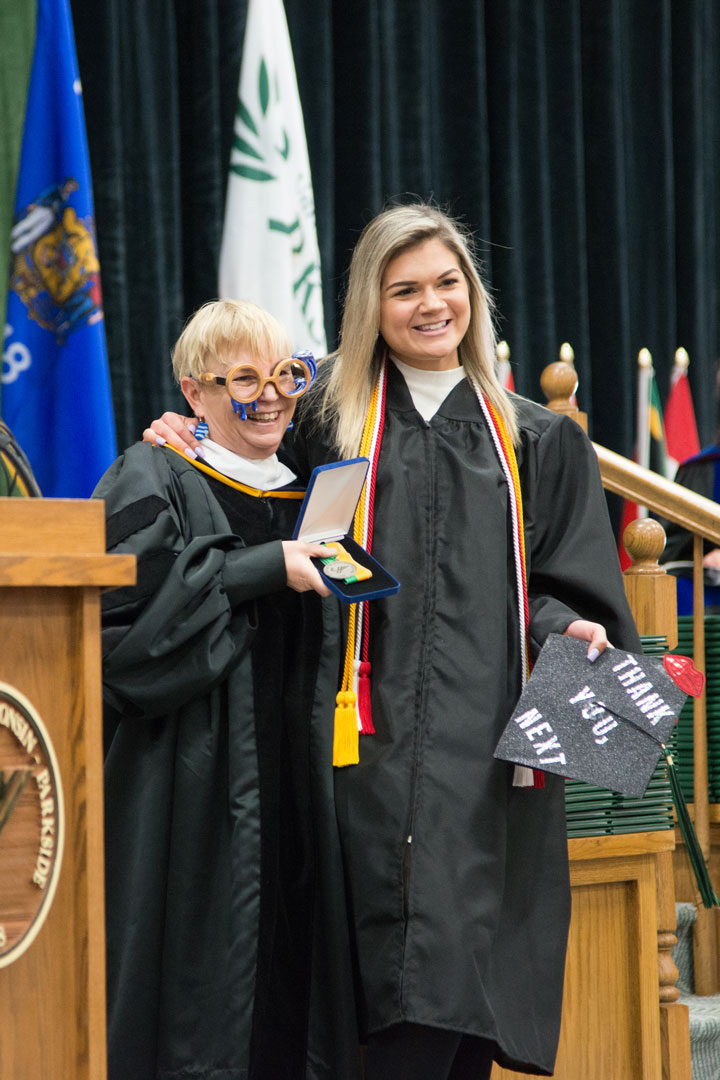 Recent UW-Parkside Outstanding Graduate award recipient Marley Uran has a passion for giving back to her community. Uran, a 2014 William Horlick High School graduate, is a communication major and public relations minor who, during her illustrious academic career at UW-Parkside, achieved an extraordinary 3.926 GPA. All this while remaining very active on the UW-Parkside campus, and throughout the Racine and Kenosha communities.
"My time at UW-Parkside has shaped me into the individual I am today," Uran says. 
Academic Excellence
Uran's academic excellence extended far beyond traditional classroom course work and centered on her interest in marketing and social media. She completed two independent study programs that complement her own goals by developing a marketing plan for one community organization and building a blog for another.
For her research-method class, she completed a project examining the relationship between advertising that features women's empowerment and the likelihood of women purchasing those specific products.
UW-Parkside Communication Professor Dr. Theresa Castor praises Uran's intelligence and character. "Marley Uran is a brilliant student, an accomplished leader, and a compassionate world citizen," Castor said. "Marley's work shows how much she values her local community of Racine. She has done a great deal of community volunteer work, and is serving in a role now that will help create a vision for the future."
Internships and Community Service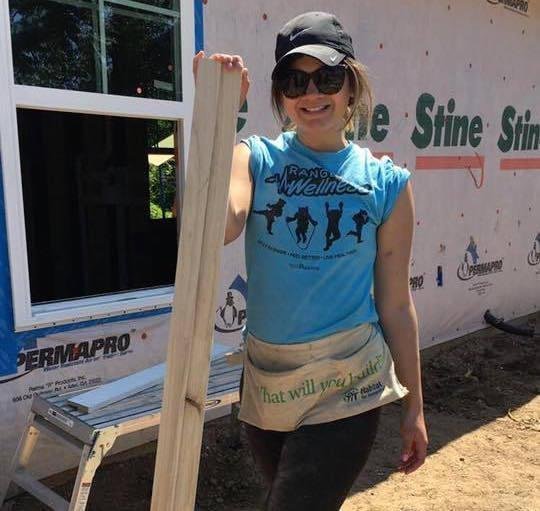 Internships have also been an important learning experience for Uran. She worked as a VISTA Veterans Outreach Coordinator, helped disadvantaged children as part of the Building Our Future organization, and has gained valuable experience as a sales marketing manager at Meadowbrook Country Club. She also volunteered with Habitat for Humanity, Halo, Point in Time, Charity Water, and Hands at Work Africa.
Uran's involvement with the Racine County Veterans Services Department is another example of her commitment to giving back to her home community. As an outreach coordinator, Uran used her passion for helping others as well as her talent for communication and organization to improve current policies and procedures, and create new methods to better serve veterans.
Through the creation of a Facebook page, Uran provided veterans of any generation greater accessibility and enabled them to reach out and receive vital information. A testament to her organization and communication skills, she coordinated with 27 individual vendors in order to provide the essential support for the Racine Veterans stand-down. Through her efforts, 60 homeless veterans found services to help improve their lives.
She streamlined the process for veteran court mentors to record conversations with veterans electronically through her work with the 2nd Judicial Circuit Court. This is estimated to have saved more than 400 staff hours per year in manual preparation. Uran also worked with Racine Area Veterans Incorporated (RAVI) to update an out-of-date resource manual, which includes emergency numbers employees use in crisis situations.
Bradley Behling, county veterans service officer of Racine County veterans services, supervised Uran's work with his office. "Marley's professionalism and willingness to learn about the veteran community was only dimmed by her empathy for those in need," Behling said.
Building Our Future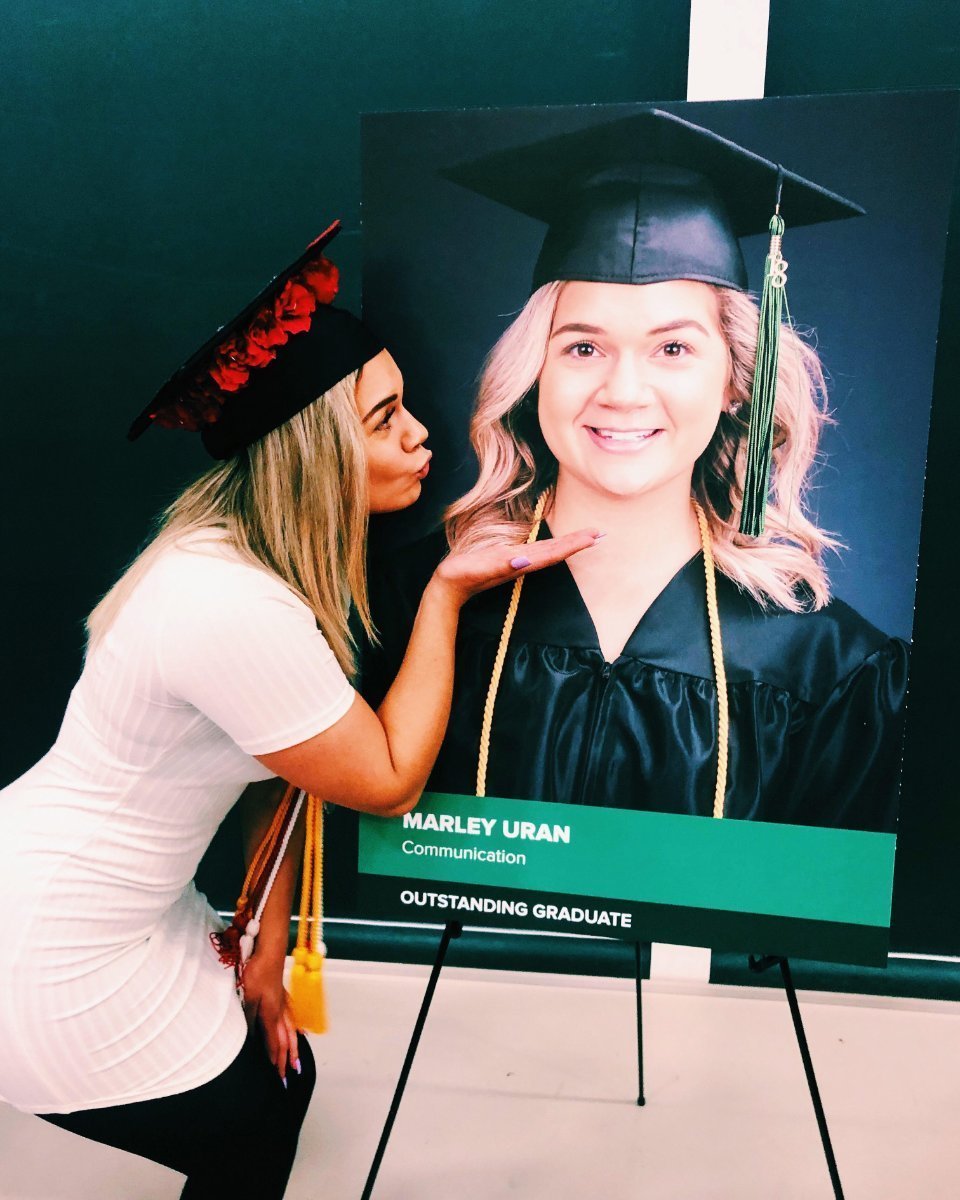 Building Our Future is a member of StriveTogether's national network, and Kenosha County's first cradle to career effort focused on education and workforce development by improving student outcomes. 
During her work with Building Our Future, Uran gained experience in marketing and communication while, simultaneously, actively serving the community. Uran wrote bi-weekly articles that informed and educated readers about opportunities for community service and involvement. She coordinated interviews, pitched and researched article ideas, and engaged community members to create articles that offered readers opportunities to get involved.
Tatjana Bicanin, executive director of Building Our Future, praised Uran's communication skills, passion for serving her community, and knowledge of marketing through multiple platforms. "Marley has been instrumental in making sure the partnership (Building Our Future) shines a light on programs and organizations that make a real impact to a student's education and career," Bicanin said. "Marley has a strong understanding of community need and assets, and successfully collaborated with community partners to capture their successes and how the community can best engage in the work."
 Bicanin went on to commend Uran's efforts to use every available platform while completing tasks. "Marley is a naturally caring person who loves to help and encourage others; she consistently demonstrated a solid service orientation toward our community partners," Bicanin said.
Uran credits her UW-Parkside classes and opportunities outside the university with making her a more civically engaged individual. "This experience has impacted my career focus and where I will serve after graduation," she said.
Wherever that may be, it's a pretty safe bet that Marley Uran will be working to make that community a better place.