Partnership increases access to higher education
Published: May 26, 2017
Boys & Girls Clubs of Greater Milwaukee and the University of Wisconsin-Parkside increase access to higher education
Partnership guarantees admission to UW-Parkside
The University of Wisconsin-Parkside Admissions Office was in clear view as students from Boys & Girls Clubs of Greater Milwaukee witnessed the signing of a partnership that ultimately increases access to higher education for students from the Milwaukee area.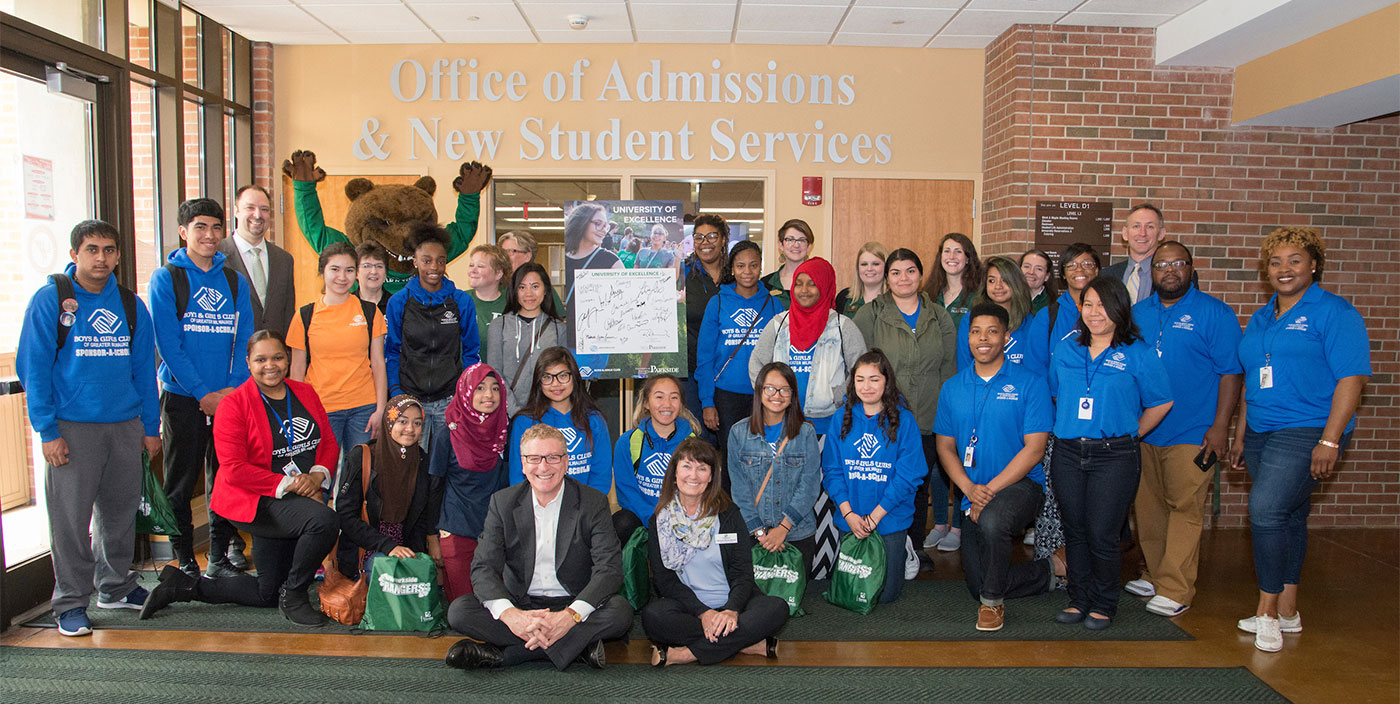 The UNIVERSITY OF EXCELLENCE partnership guarantees admission to UW-Parkside for Boys & Girls Clubs of Greater Milwaukee members who participate in pre-college programming, maintain a good grade-point average in high school, and earn a specified amount of credits in English, math, science, social studies, and a foreign language.
"This agreement with UW-Parkside helps to solidify a pathway to college for Boys & Girls Clubs members," said Melinda Wyant Jansen, vice president of programs and Chief Academic Officer for Boys & Girls Clubs of Greater Milwaukee. "Together, we are creating opportunities for Milwaukee youth to become productive citizens and future leaders."
UW-Parkside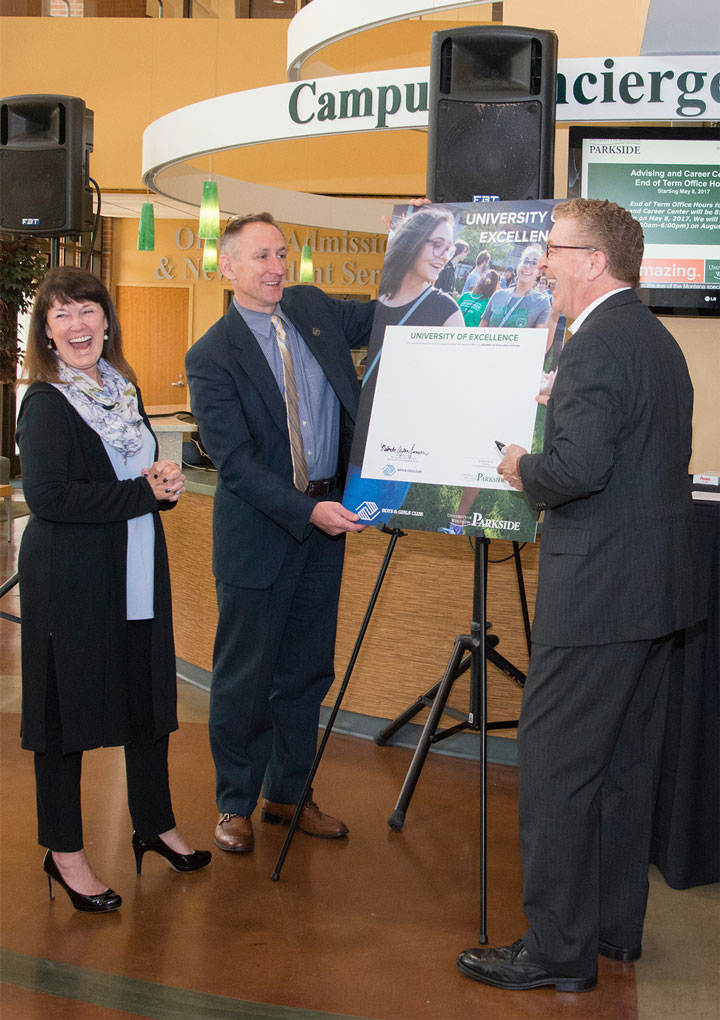 Provost Dr. Rob Ducoffe told students that even though Parkside offers smaller class sizes and more personal attention from faculty, success still requires commitment and determination. "If you choose to come here," Ducoffe said, "you will know your professors, and they will know you. That's really important because it's easier to succeed when someone cares about us and helps us succeed. But each student at UW-Parkside has to have the desire to be successful and the desire to work hard."
In addition to guaranteed admission, UW-Parkside will provide two $1,000 first-year scholarships to Boys & Girls Clubs of Greater Milwaukee members who meet the requirements of the UNIVERSITY OF EXCELLENCE partnership.
Troy Moldenhauer, director of recruitment and admissions at UW-Parkside, described the UNIVERSITY OF EXCELLENCE partnership as another means of creating access to higher education. "Education creates opportunity," Moldenhauer said, "but without access, there is no opportunity.
"This partnership increases access and helps students prepare for success at UW-Parkside and beyond."
About Boys & Girls Clubs of Greater Milwaukee
Boys & Girls Clubs of Greater Milwaukee (BGCGM), one of the largest and longest youth serving agencies in Milwaukee, offers structured after-school and summer programming to more than 41,000 children and teens each year. Within the safety of 44 locations, youth have access to free meals, academic support, role models and opportunities to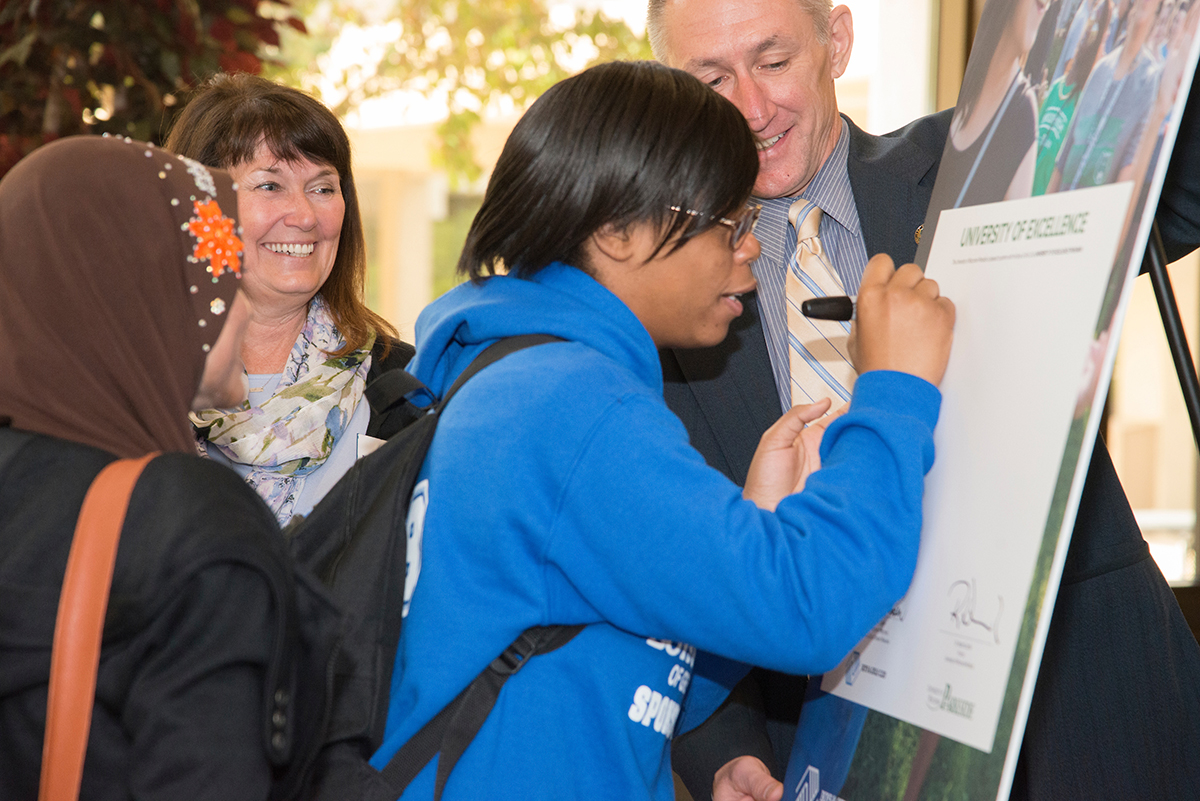 build character and explore new interests. Through programs like MarVan Scholars, Graduation Plus and World of Work, the Clubs provide a structured pathway for members to thrive in all stages of their education, including post-secondary education, and gain valuable job experience that will help them develop successful careers as adults.
More than 86 percent of the organization's annual budget goes toward youth programming. Charity Navigator, America's largest and most-utilized charity evaluator, has given BGCGM its highest rating of four stars. For more information, please visit www.boysgirlsclubs.org.