Men's Basketball Continues Successful Season
Published: February 12, 2016
Apparently, someone forgot to tell the UW-Parkside men's basketball team that it wasn't supposed to be this good this year. In a Great Lakes Valley Conference preseason poll of coaches, the Rangers were tabbed to finish just below the middle of the pack in the GLVC East Division. A pair of thrilling overtime victories last week, at Truman State Thursday night and at Quincy on Saturday, kept the Rangers atop the East Division with a 13-2 mark.
On top of that, Parkside sits at No. 17 in the National Association of Basketball Coaches Division II poll. Only GLVC rival Bellarmine (20-4, 13-2 GLVC) is ranked ahead of the Rangers (20-3 overall). The Rangers defeated Bellarmine in overtime back on Jan. 21.
Leading the way for the Rangers is Andy Mazurczak. The senior guard was named Academic All-District by the College Sports Information Directors of America and has earned the GLVC Men's Basketball Player of the Week honor three times this season.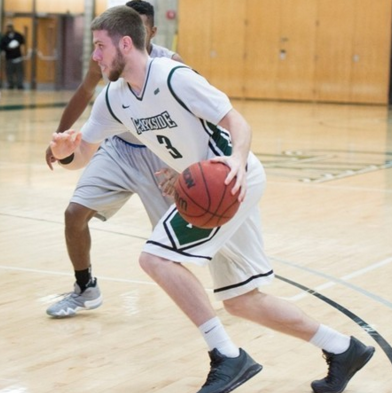 Senior guard Andy Mazurczak, Norridge, Ill., is averaging 18.8 points per game for the Rangers
Mazurczak hasn't let the awards go to his head. In the overtime victory at Truman State, he scored 40 points, 32 coming in the second half and overtime. Kenosha News coverage. Saturday against Quincy, Mazurczak tossed in 26, including the game-winner with 0.2 seconds remaining.
Men's Basketball Coach Luke Reigel has been named GLVC Coach of the Year twice in the last three seasons. Journal Times sports columnist Gery Woelfel makes a case for Reigel earning the honor again this year (read Woelfel's column). Reigel is the first Ranger men's basketball coach to have four consecutive 20-win seasons. Former UW-Parkside coach Steve Stephens missed six consecutive 20-win seasons by one game. Stephens' squad won 19 games in 1977-78. The three seasons before and two following, Stephens' teams won at least 20 games.
The Rangers close out their home regular season at 7:30 p.m. Thursday, Feb. 18, vs. Saint Joseph's and at 3 p.m. Saturday, Feb. 20, vs. the University of Indianapolis. Both games are in the De Simone Gymnasium.