Model UN explores climate change
Published: November 13, 2015
The Model United Nations Climate Negotiations held Nov. 12 and 13, and sponsored by the University of Wisconsin-Parkside Center for International Studies and the College of Social Sciences and Professional Studies, attracted high school students from across southeastern Wisconsin.
Dr. Ross Astoria, a professor in the UW-Parkside Political Science and Law Department and program director, said the Model UN Climate Negotiations was designed to parallel the United Nations Framework Convention on Climate Change (UNFCCC) going on in Paris until Dec. 11. "Parkside offered this modeling because of the significance of the Paris negotiations," Astoria said.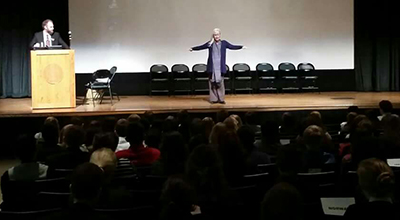 UW-Parkside professors Dr. Kate Gillogly and Dr. Ross Astoria welcome area high school students.

Extensive scientific analyses indicate that worldwide greenhouse gas emissions must decrease soon to mitigate climate change. Participants in the UW-Parkside climate negotiations were aiming at some of the same goals international delegates are tackling in Paris.  
Cathy Marbach, instructor and faculty advisor at The Prairie School in Racine, said the Parkside Model UN created a deep interest in the Paris conference. "There are 250 students in southeastern Wisconsin who will be following (the conference) as global citizens," Marbach said. "They are our future environmental scientists, our future diplomats -- they are our future leaders. This is truly authentic education."

Students researched their assigned country's positions on issues related to climate change, wrote resolutions to present solutions to issues related to climate change, and collaborated to find solutions to some of the most important problems facing the world today. 
"I am so proud of all of the students who have gained important skills and critical knowledge through participating in this simulation," said Heather Godley, instructor and faculty advisor at Case High School. "The students representing the Pacific island nation of Vanuatu benefited from being able to Skype with an actual member of the delegation. They heard first-hand about the devastating consequences of climate change the people of Vanuatu are experiencing."

Sydney Chen, a sophomore at Prairie, said the skype experience allowed him to learn more than he would have by just watching the news. "We actually got to talk to a real delegate who experiences these problems," Chen said. 
Emma Nix, a junior at Prairie, is studying environmental science and said she will be able to relate much of what she was learning in the classroom to the international climate negotiations.
Students learned to identify the different interests of negotiating countries, including climate vulnerability, infrastructure capacity, global finance, cultural differences, wealth distribution, and other elements of social and economic organization. The Model UN negotiations concluded with approval of a resolution, similar to action that could take place in Paris.
Model UN Climate Negotiations Resolution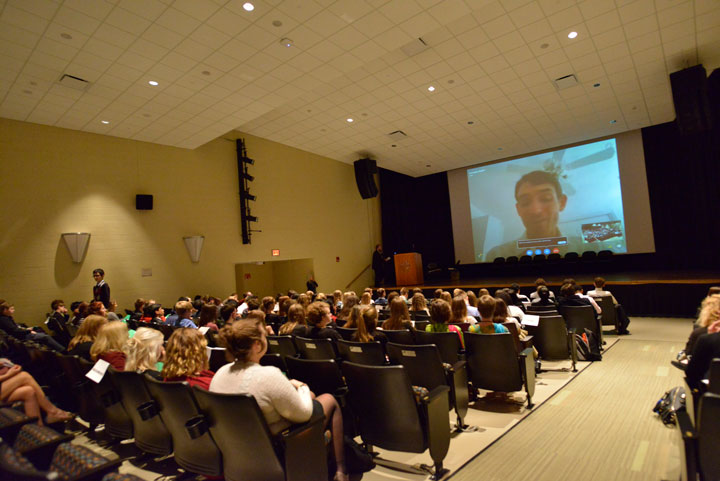 Skype session with Paris delegate from Vanuatu.

Seven area high schools took part in Model UN:
Badger High School (Lake Geneva) 
Case High School (Racine) 
Cudahy High School 
Kettle Moraine High School 
The Prairie School (Racine) 
Walden III High School (Racine) 
West Bend High School