Monday Update: College of Social Sciences and Professional Studies
Published: March 15, 2021
The College of Social Sciences and Professional Studies welcomes you to an exciting week! It's St Patrick's Day on Wednesday. Celebrate with us by Finding fiction in facts, a student organized presentation featuring Jackie Arcy! March 18 is the anniversary of Mexico's nationalization of the oil industry AND my mother's birthday! March 19 is the third in an Office of Equity Diversity and Inclusion series celebrating Women's History Month with Deirdre Drake, Executive Vice-President and Chief People Officer for US Cellular Corporation. And, March 20 is the first day of spring!
Spring is a reminder of how beautiful change can truly be. And in that spirit, CSSPS introduces two opportunities for folks to work with, and promote, change in our communities. Professor of History Ed Schmitt offers a course in Kenosha's Black History, an opportunity to explore Kenosha's past and perhaps apply that history to the present.
True change is found in transformation, and CSSPS is proud to host a Youtube channel 'Tell and Transform', UW-Parkside's contribution to improving race relations in Kenosha and Racine. The goal is to create a more livable, free, and equitable community where we feel good about ourselves and each other. More information at the course landing page.
This YouTube channel provides a pool of real experiences and solutions. You can communicate what you have experienced and what you have done to cope, change, or move on. Your stories and actions will inspire others to create new understandings of racism and to adopt strategies to deal with racist behavior. Professors Simon Akindes and Kenny French are the hosts of this channel. Please contribute if you can, and share the opportunity with others.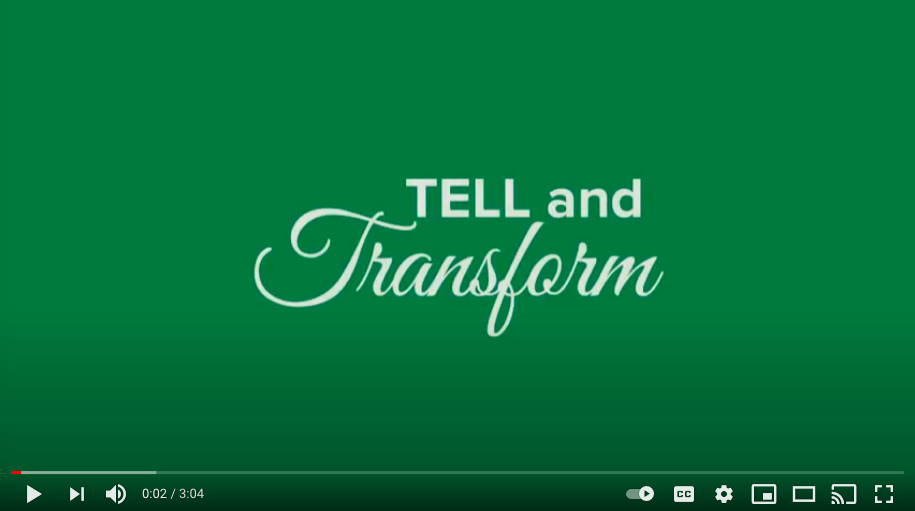 Reflection and Future Focus...Gratitude for You!
By: Chancellor Ford
365 days ago, we announced the decisions to move all of our courses, services, and programs to a virtual environment, to join in the efforts to reduce the spread of COVID-19, and to focus on the overall health and safety of our learning community. 
We have learned a so much about ourselves, our students, and our communities, and how the impacts of the pandemic have affected all parts of our lives. As we look back on our pandemic response and while looking forward to as we beginning the recovery phase, I want you to know how much I appreciate you and your dedication to our mission, to one another, and to our students. One thing that remains constant at UW-Parkside is the importance of the People of Parkside! Every day I see how you educate, inspire, serve, and support our students, and I have the good fortune to proudly champion your efforts. 
As we begin Sspring 2021, take time to reflect on the past year and share your stories with colleagues. The pandemic has reminded me to focus on the little things in life like the singing of the birds, the honking of the campus geese, and the budding of spring flowers on our beautiful campus.  As Provost Ducoffe announced, wWe are planning for the fall 2021 to look more like fall 2019 and we are exploring what the future of work looks like in a post-pandemic environment. I ask for your continued patience and grace as we navigate towards the next normal at UW-Parkside. On behalf of campus leadership, Thank YOU! 
New ShopUW+ Tool Coming to UW-Parkside in April
By: Chancellor Ford
Our campus is preparing to launch the new cloud-based purchasing system, called ShopUW+, on April 16. ShopUW+ will replace Shop@UW and individual campus systems as the new systemwide procurement platform. I believe ShopUW+ will eventually reduce your time spent searching, buying, and approving purchases of goods and services.
I want to thank our campus accounts payable and procurement staff who have been working over the last year to prepare for this transition. They and hundreds of representatives from all UW System institutions have provided insight on designing this new tool.
For those of you who routinely purchase supplies, you will be able to get training information about ShopUW+ prior to the April 16 launch at the ShopUW+ Essentials website, which will be launched by April 2. This will be the place to find previews, training resources, job aids, and access to the ShopUW+ tool. Our campus accounts payable and procurement leaders will be reaching out with additional information to get you started using ShopUW+.
As training is rolled out, it will be organized and assigned by role in the new ShopUW+ platform – roles include Shoppers, Requesters, and Approvers. Upcoming information will be sent directly to individuals as the April Go-Live date approaches. Watch for more information on the P2P Automation Project website as those resources and training opportunities become available.
I fully support this project and the benefits it will bring to our campus and the UW-System. Please provide your full support to ShopUW+ as we migrate to this new business platform.
HR Updates
By: Sheronda Glass
Important Message Regarding Vacation Carryover
Effective March 12, 2021, UW System President Tommy Thompson has authorized an interim policy to extend the use of vacation carried over from fiscal years 2019 and 2020 through October 2021. This is granted for all faculty, academic staff, and limited appointees whose vacation carryover was set to expire in June 2021.
To ensure clear understanding, please be aware of the following:
There will be no additional extension of the October 9, 2021 deadline. On October 10th, unused carryover vacation will be lost.
Calendar year 2019 and 2020 vacation carryover for university staff remains extended through December 31, 2021. No additional extension will be granted.
Any carried over personal holiday will expire on June 30, 2021 or December 31, 2021 as previously planned and communicated.
Compensatory time, for the limited group of employees eligible to earn it, must be used by the annual April 30 deadline or it will be cashed out following the normal policy.
If you have questions about your vacation balance, please see your supervisor or visit your My UW Portal found on the UWP Login Page. Instructions for navigating the site may be found here.
Single Pay Project
As a reminder, beginning in July 2021, monthly-pay employees will be transitioned to a biweekly payroll cycle.
The Single Payroll project is a system-wide initiative to standardize UW System payroll by eliminating the monthly payroll cycle and moving employees currently paid monthly to the biweekly payroll cycle. Included as part of this project, benefit deductions will be split evenly over the biweekly paychecks. Below is a link to resources and common questions and answers that you may have as it relates to the Single Payroll project.
https://uwservice.wisconsin.edu/single-payroll.php
We highly recommend that you attend one of the scheduled Town Hall Meetings listed on the website to learn more information about the project.