The Mystery of Pike Creek
Published: May 24, 2017
Kenosha Public Museum
Saturday, June 3
11 a.m. to 2 p.m.
When federal funds became available to build a harbor in southeast Wisconsin, a fierce competition ensued between the town on the Pike River and the town on Pike Creek. Do you know which town won? Today many residents do not know about Pike Creek. It has disappeared. Where is it today and why is it still important in our lives? Root-Pike Watershed Initiative Network will help you discover the answers to these questions through a presentation and fun, hands-on family activities.
A "pop-up" e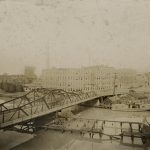 xhibit features the research of UW-Parkside Associate Professor of Sociology and Anthropology Dr. Kate Gilogly and UW-Parkside sociology and anthropology students. The exhibit helps explain the effects of run-off and pollution; flooding and flood plains; and what the inside of those "sewer" pipes look like -- are they sewers or are they buried streams?