MEET THE NEW UW-PARKSIDE ADMISSIONS RECRUITERS AND COUNSELORS
Published: November 14, 2017
Editor's note: Without a doubt, members of the UW-Parkside Admissions team are the recruiting legs of the university. It's important to have dedicated counselors and recruiters connecting future students with the educational opportunities the campus has to offer. This year, UW-Parkside welcomed four new team members, including one who is the brother of current team member Diana Mantey. Communications and Events Assistant Kamala Burks, a recent UW-Parkside communication graduate herself (May '17), brings us the stories of each new team member, and what it's like to work with your brother or sister.
Gino Gumino
Gino Gumino is the Technology Specialist in the Admissions Office. Originally from Lockport, Ill., he came to Wisconsin to attend college, and graduated from Carthage College in 2015 with a degree in theater design. Even though he doesn't directly work with students, the work he does behind the scenes is what makes it possible for the admissions team to stay up-to-date with student data. As the Admissions Technology Specialist, Gino provides a lot of software support for the team, runs communication plans, updates the website, and administrates the customer relationship management software."
Gino is happy to be a part of the Parkside admissions team because he believes no one is "ever done learning." A career in higher education is rewarding to him. Gino is happy to share how great a university UW-Parkside is, and show prospective students what Parkside has to offer. "I enjoy exploring the campus and being able to talk to everyone that I meet," he said. "Everyone is so friendly here, and I especially enjoy working for the Admissions Office. Everyone has been very open to welcoming me onto the team."
A favorite quote…
"Understand that friends come and go, but with a precious few you should hold on. Work hard to bridge the gaps in geography and lifestyle, because the older you get, the more you need the people who knew you when you were young." – Mary Schmich
Tifashia Norphlet
Tifashia Norphlet is a New Freshman Admissions Counselor. Originally from Racine, Tifashia received her undergraduate degree in mass media communications from Wilberforce University in Ohio. She took the more traditional route of job searching, and found out about the admissions team opportunity on a job-search website. During her application process, Tifashia personally reached out to Troy Moldenhauer, director of Admissions and Recruitment, and expressed her interest and excitement to join UW-Parkside. Her shining personality and passion for working with students in higher education helped her land a spot on the admissions team.
She knew that being an admissions counselor was her calling when she worked as a campus ambassador during her undergraduate studies at Wilberforce.
When asked about what surprised her most about Parkside Tifashia replied, "I have to say how big the university is on diversity. It's amazing to see a university in that light. I never saw another UW school that was so big on diversity and one that prides itself on first-generation students."
She loves working for the Admissions Office, and believes that it is a perfect fit. "I really enjoy the culture within my office area," she said. "Everyone is so willing to help, and I get a lot of positive feedback from my team. The office culture is very supportive of millennials."
A favorite quote…
"If your actions inspire others to dream more, learn more, do more, and become more, you are a leader."—John Quincy Adams 
Gia Gutierrez
Gia Gutierrez is the Bilingual Freshman Admissions Counselor. As UW-Parkside continues to serve the growing Hispanic population, Gia plays a vital role in the admissions team. Having a bilingual admissions counselor is indeed a necessity. 
"As an alumni, you know what it takes to visit a professor at office hours. You know the experience the students will face. It's helpful and easy to talk about campus because you lived it."
Originally from Brooklyn, N.Y., Gia migrated to Kenosha in 2006. After completing high school, she attended UW-Parkside and completed her undergraduate studies with an art major, a concentration in art history, and a Spanish minor. 
Before transforming from an alumna into an employee, Gia worked for a nonprofit organization in Waukegan, Ill. She found out about the opportunity with UW-Parkside from her boyfriend. "He's always known how passionate I am about Parkside," Gia said. "I want to become a mechanism of empowerment and build true connections. And to have them (students) see the value in education here.
"As an alumni, you know what it takes to visit a professor at office hours. You know the experience the students will face. It's helpful and easy to talk about campus because you lived it."
Like her coworkers, Gia also loves working for the Admissions Office. "The admissions team is awesome, my colleagues really go above and beyond. Troy is an amazing leader, and is very welcoming " Gia said. "The entire team has been very supportive and really help create a friendly environment within the office."
A favorite quote…
"One of the secrets of life is to make stepping stones out of stumbling blocks." – Jack Penn
Robert Mantey
Robert Mantey is a New Freshman Admissions Counselor. Born and raised in Franklin, Wis., Robert is also a recent May 2017 graduate, earning a degree in sport management. During his time at UW-Parkside, Robert worked as a campus ambassador for two years in the Admissions Office so he was already somewhat familiar with the admissions team. "As a student I absolutely loved being here," he said. "Being a campus ambassador I had an idea of what admissions counselors did, but I had no idea of the depth of the work."
Robert admitted that at first he didn't see himself as an admissions counselor. Before returning to UW-Parkside, he was stationed in Montana working as a promotions coordinator for a local sports team. While there, he received a call from Moldenhauer wondering if he wanted him to come back to UW-Parkside and work as an admissions counselor. Robert obliged, and is happy that he did.
"I love the challenge aspect of the job," he said. "Learning about programs I didn't even know existed, and being able to interact with students that want more information, wanting to know how to help further their education is especially rewarding. I enjoy having people reach out, being on the road and having an impact on students. I love the short time that I've been here."
A favorite quote…
"Why does everyone talk about the past? All that counts is tomorrow's game." — Roberto Clemente
Robert and Diana Mantey
An interesting twist to the new admissions team is the brother-and-sister duo of Robert and Diana Mantey. It's interesting how both of them ended up working together given that neither of them saw it coming.
In a way, they both helped each other to get to where they are now. Diana said that she always knew about UW-Parkside because of Robert attending here. She helped with move-in and move-out, and would visit Robert when she had the time.
Diana is a Non-Resident Admissions Counselor. In her role, she works to recruit students from out of state. Ironically, she started working as an admissions counselor exactly one year before Robert was hired. Because Robert was a campus ambassador, the first time they actually worked together in the same office was during Robert's last semester as an undergrad in the spring 2017 semester.
Both of them agree that they don't really see each other as coworkers, and often still joke with each other the way that siblings do, while in a professional environment. "It's different trying to have a professional relationship," said Diana. "It's a work in progress."
Their co-workers enjoy having the brother-and-sister duo on the team, and believe that since admissions is already like a family, it's no different than if they were not related. Funny enough, Diana mentioned how one of their coworkers thought that Gia and Robert were brother and sister. "NO," Diana laughed, "he's my brother!"
A sibling quote…
"Now you never invite me to lunch."—Robert Mantey
"Whatever, you never ask me!"—Diana Mantey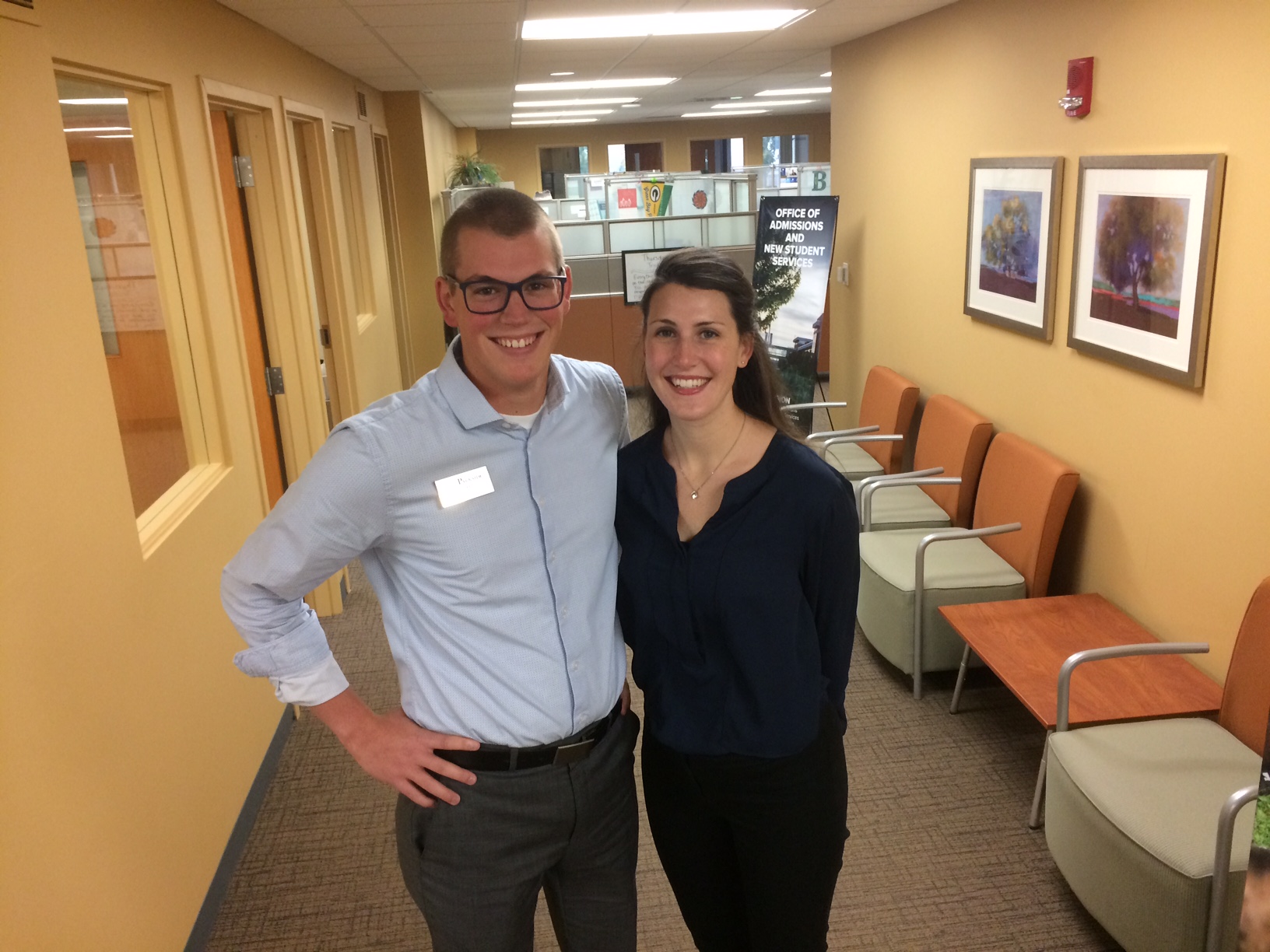 Building the Team
Troy Moldenhauer takes great pride in leading such a dedicated, hard-working, group of individuals. "Hiring a quality staff is very important to me," Moldenhauer said. "Chancellor Ford refers to us as the 'A-Team' because we are always on our 'A-game.'"
Moldenhauer works very hard to push his employees to explore opportunities for advancement. They have the chance to gain as much professional experience as they desire while working in the Admissions Office, and when its time, he encourages them to advance within their career field.
Since UW-Parkside is the most diverse school in the UW System, the admissions team prides itself on hiring a diverse group of individuals to represent one of UW-Parkside's greatest assets. Moldenhauer hopes to continue leading a successful team and showcasing the wonderful opportunities that UW-Parkside has to offer.