Community Organizations Honored; UWP Civic Action Plan Announced
Published: April 28, 2017
The Group Mission Trips Home Repair Workcamps coordinated by the Racine Neighborhood Watch program, and Music Matters in Burlington, Wis., were honored during the 14th Annual UW-Parkside Continuing Education & Community Engagement Nonprofit Breakfast, Friday, April 28, at Kenosha Country Club.
The annual awards sponsored by the Kenosha Community Foundation and the Racine Community Foundation recognize outstanding achievement by nonprofit agencies in southeastern Wisconsin.
The Group Mission Trips Home Repair Workshops bring youth to the community for a week during which they work more than 15,000 hours doing home repairs to help low-income people who are elderly or who are challenged with disabilities.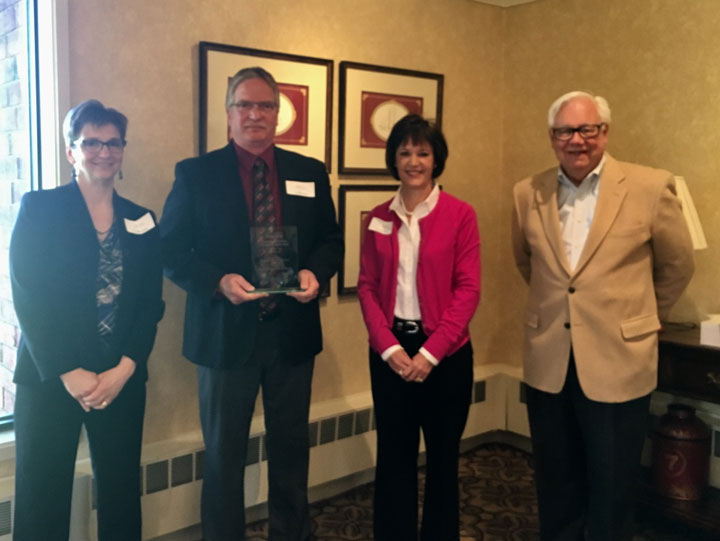 (l to r) Debra Karp, UW-Parkside; Charley French, Racine Neighborhood Watch; Liz Powell, Racine Community Foundation; Bob Schneider, Kenosha Community Foundation
Music Matters supports and promotes educational and cultural youth music programs in the Burlington Area School District and promotes youth music education through collaboration with schools, community groups, and individuals.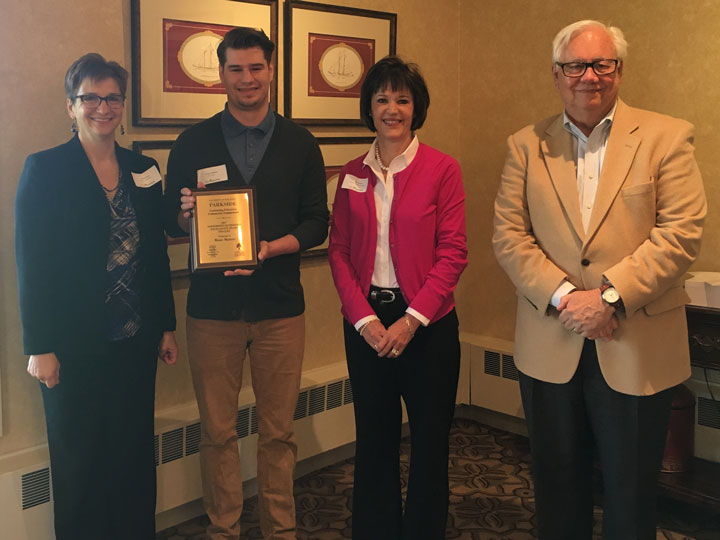 (l to r) Debra Karp, UW-Parkside; Jordan Debbink, Music Matters; Liz Powell, Racine Community Foundation; Bob Schneider, Kenosha Community Foundation
UWP Civic Action Plan
The Nonprofit Breakfast also served as an opportunity for UW-Parkside Provost Dr. Rob Ducoffe to announce the UW-Parkside Civic Action Plan.
A year ago, UW-Parkside Chancellor Debbie Ford became one of the first chancellors in the nation to sign a pledge rededicating the university by developing a renewed civic action plan. Chancellor Ford has since been joined by more than 450 leaders in higher education endorsing the pledge through Campus Compact.
Campus Compact is a national coalition of more than 1,000 colleges and universities committed to strengthening communities through civic education and community development. Wisconsin Campus Compact was founded at UW-Parkside in 2003 by then UW-Parkside chancellor Jack Keating, UW-Parkside vice chancellor for extended services Esther Letven, and Alverno College president Sister Joel Read.
UW-Parkside is one of the first institutions to publicly announce the goals that comprise its civic action plan:
Goal 1
Prepare UW-Parkside graduates to be fully knowledgeable, active citizens committed to an ongoing engagement with the campus, local, and global communities.
Goal 2
Campus is an active citizen and authentic partner in improving the economic, social, political, and cultural life of its local, regional, and global communities.
Goal 3
Build and sustain a culture that appreciates, fosters and supports a diverse, inclusive campus and regional community (race, ethnicity, gender, religion, sexual orientation, age, and nationality).
Ducoffe acknowledged the efforts of Debra Karp, director of community engagement and outreach at UW-Parkside, for leading a team of faculty, staff, administrators, and community partners in developing the civic action plan. The team collected input and feedback from focus groups; facilitated discussions; and surveyed students, faculty, staff and community members.
"Debra, like a good leader, has already enlisted the planning group in our next and more important task … seeing that the plan gets implemented!" Ducoffe said.
National Honors
Community engagement and civic involvement is nothing new at UW-Parkside. The Carnegie Foundation for the Advancement of Teaching selected UW-Parkside to receive its 2015 Community Engagement Classification. In 2006, UW-Parkside was the first college or university in Wisconsin to earn Carnegie classification, and has been selected to the President's Higher Education Community Service Honor Roll each year since that national recognition program began in 2006.
"Community engagement is truly one of Parkside's strengths," Ducoffe said. "The number of students enrolled in community-based learning courses continues to increase steadily. In the current academic year, 1,346 students had at least one community-based learning experience, an increase of 12 percent from the previous year, and a 21-percent increase from the year before that."
Recruiting Ideas
UW-Parkside faculty were on hand to "recruit" ideas for new community-based learning projects. Jim McPhaul, director of the Small Business Development Center located on the UW-Parkside campus, and an adjunct lecturer in the UW-Parkside Business Department, spoke to the value of his community-based learning course, Experiencing Business.
"It's the first year that we held the course," McPhaul said. "We had excellent results with students going out and experiencing business in a real-life situation."
McPhaul's students worked with Johnson Financial Group, Leeward Business Advisors, and other organizations on marketing plans, and also learned about credit, retail banking, sales, and relationship building. "I'm looking for additional partners," McPhaul said, "interested in providing real, live business and nonprofit experiences for my students."
Associate Professor of Communication Dr. Theresa Castor said she w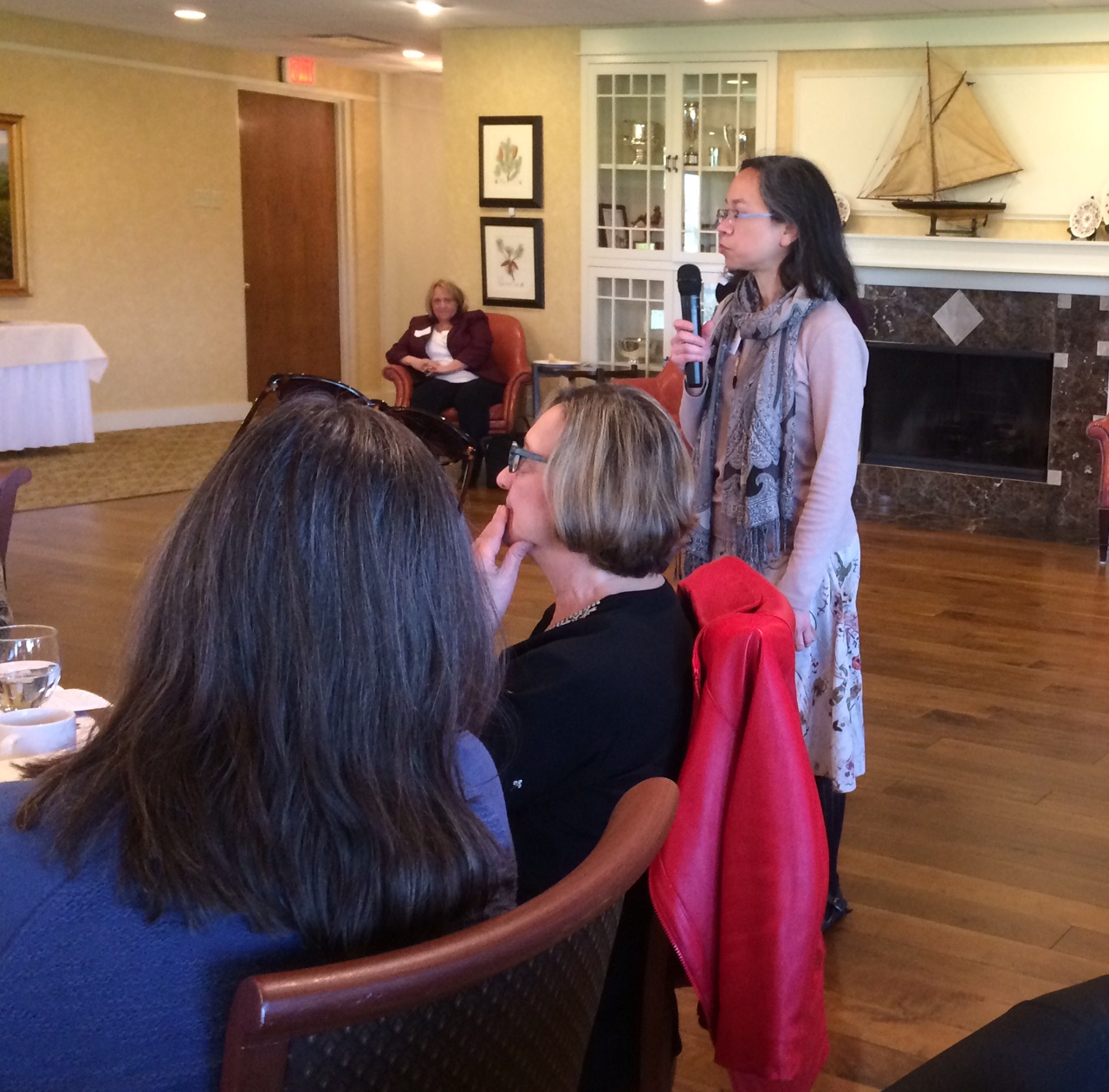 as interested in working with community clients on organizational communication, internal audit, crisis communication, and communication training and development. This past semester, Dr. Castor had students working on digital legacy stories with Hospice Alliance patients. (See related story on Hospice Alliance website.)
"We realize that, whatever benefits we hope to bring to the community by engaging our students with your organizations, our students may sometimes benefit from these learning experiences more than our partners benefit from their efforts," Ducoffe said. "That's why we are so appreciative of our partners … and why we see the new civic action plan as an opportunity to grow the large numbers of students who participate in community-based-learning and strengthen the quality and impacts of these and other community interactions."