Admission increased to Nursing Program
Published: June 2, 2016
UWM/UW-PARSIDE NURSING PROGRAM RESPONDS TO REGIONAL NEED: MORE STUDENTS WILL BE ADMITTED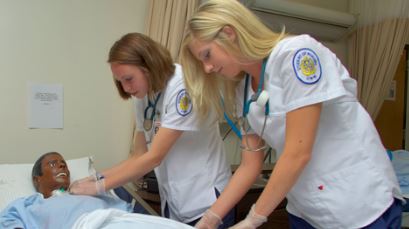 Increased opportunities for student success will be available in the UW-Milwaukee/UW-Parkside nursing program partnership beginning with the fall 2016 semester. The UW-Milwaukee undergraduate program committee approved increasing the number of students admitted to the program each year by 25 percent from 32 to 40.
A report published by the Institute of Medicine of the National Academies, "The Future of Nursing: Leading Change, Advancing Health," highlights the need for more highly educated nurses. The report suggests that by 2020, 80 percent of all nurses should have a B.S.N. degree or higher.
Dr. Kim Litwack serves as dean for academic affairs in the UWM College of Nursing. She said community partners asked UWM to respond to the growing demand for nurses in southeastern Wisconsin. "Our limits on admission are dependent on the availability of clinical learning sites," Litwack said. "If health-care agencies step up with additional committed clinical sites, we can increase our admission rate.
"Those partners did step up, and we did increase our enrollment. This is a perfect example of industry listening and supporting education, and education listening and supporting industry."
The increase is the second in the past two years. In 2014, UWM raised the admission limit from 27 to 32. By the start of the fall 2017 semester, 80 students will be enrolled in the UWM/UW-Parkside nursing program.
Strong Partnership
"Our partnership with UWM is strong," said Dr. Emmanuel Otu, dean of the UW-Parkside College of Natural and Health Sciences. "The advantage we have is that students in the region who find it inconvenient to drive to Milwaukee, do not have to attend classes at UW-Milwaukee. Faculty from Milwaukee come here to teach. Everything, including clinical sites, is here. Students work with United Healthcare, Aurora Health Care, and Wheaton Franciscan Healthcare – All Saints. We are always looking to find ways to increase the capacity we can offer."
The UWM College of Nursing is celebrating its 50th anniversary in 2016. UWM is the largest College of Nursing in the state, and the highest ranked public nursing program according to the prestigious U.S. News and World Report. The UWM/UW-Parkside consortial nursing program started in 1980. The program gives area nursing students the opportunity to earn a B.S.N. degree.
More Options for Students
Approximately 55 to 60 students petition for acceptance in the UWM/UW-Parkside nursing program each year. UW-Parkside also provides a variety of academic options for pre-nursing students, including applied health sciences, biological sciences, and the newest program – a health psychology minor.
"Students may pursue the health psychology minor in their third year and a psychology major in their fourth year," Otu said.
Master's Available in '18
Approval of a master of science program by the UW Board of Regents creates a new path to success in the field of health care for UW-Parkside students. Admission to the master of science in clinical mental health counseling, UW-Parkside's newest master's program, is set to begin in fall 2018.
For more information on the UWM/UW-Parkside nursing program contact the UW-Parkside Admissions office at admissions@uwp.edu or call 262-595-2355.