Applications Open for UW-Parkside's Office of Multicultural Student Affairs Mural
Published: December 16, 2022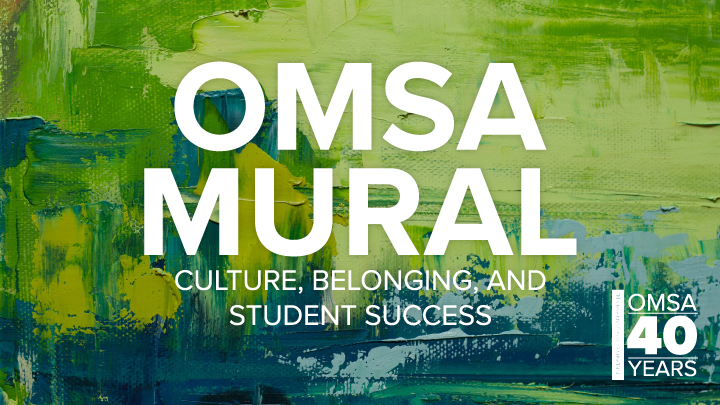 In celebration of the 40th anniversary of the Office of Multicultural Student Affairs (OMSA) at the University of Wisconsin-Parkside, we are accepting student and alumni applications for a mural to be displayed in the OMSA office in Wyllie Hall. Submissions are open now through Jan. 17, 2023.
The mural submissions should embody the office's mission; "to holistically support underrepresented students in their success while fostering a culture of belonging, recognition, and equity at UW-Parkside." The submissions should also incorporate the office's values of Advocacy, Belonging, Development, and Recognition. The purpose of the mural is to build the communal environment by adding more color and life to the space as well as cultural representation.
"We wanted to provide an opportunity for a UW-Parkside student or alumnus to contribute to the university and make an impactful statement through their art. In turn, hopefully this mural will bring the community together and students can see themselves as part of our space and feel a sense of belonging with OMSA and UW-Parkside" stated Luis Benevoglienti, Associate Director of Multicultural Initiatives at UW-Parkside.
Following the submission period, a UW- Parkside Jury will select the finalists by Jan. 20, 2023. The finalists will then be voted on by campus, from Jan. 23 to Jan. 25 with the winner being announced on Jan. 27. The mural will be painted onto panels, then mounted on the wall. The painting of the mural will begin on Jan 30, and will be completed by March 31.
The OMSA Mural Dedication Event will tentatively be held on Wednesday, April 12, 2023 from 12 p.m.-1:30 p.m. This event will be open to the public. For more information visit: https://www.uwp.edu/live/offices/multiculturalaffairs/omsamural.cfm.