Outstanding Graduates December 2018
Published: December 14, 2018
Brenna Eaves (Graphic Design) Chancellor's Award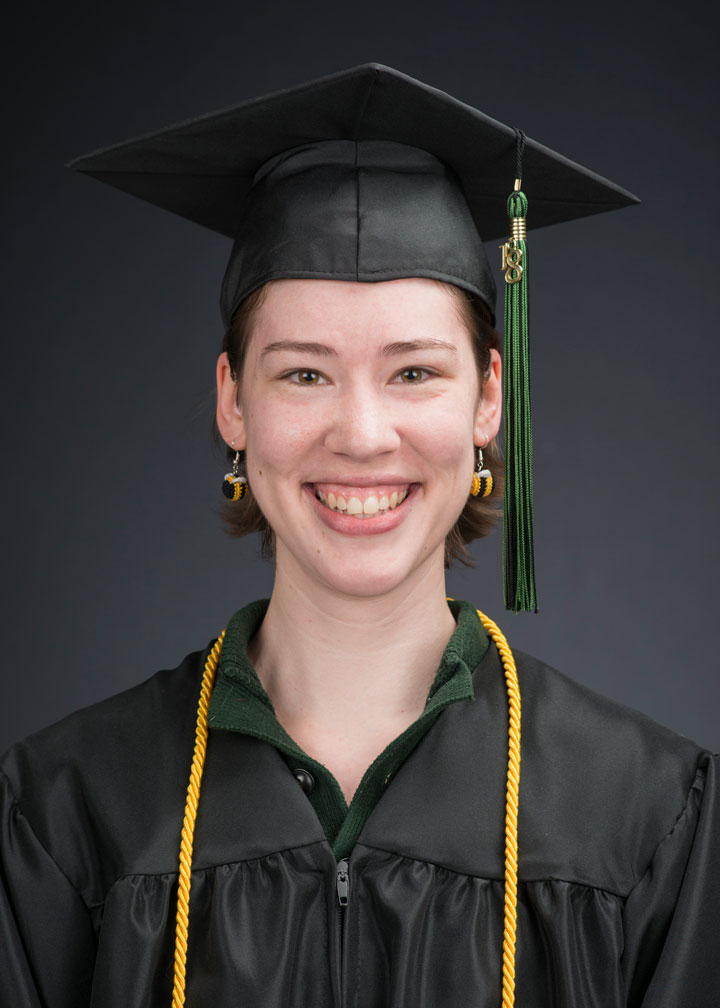 Brenna Eaves is a graphic design major and is this semester's Chancellor's Award winner. Not only has she maintained a high level of academic excellence, but she continually proves to be a great leader, entrepreneur, and artist. Her presence at this university has benefitted many other students as she has served as a writing, math, and art history tutor in the PARC throughout her academic career. Although Brenna has proven to be a great student in any endeavor she undertakes, she chose graphic design because of her love of art. This passion and hard work has served Brenna well as she earned a summer internship as Assistant of Corporate Communications with Hollister Incorporated. 
Brenna's leadership as President of the UW-Parkside Art Club has been invaluable in the organization's success and growth. Her success as an entrepreneur can be traced back to her creation of the Little Raven Fiber Arts, when she was just 13 years old.
Community Service is another area in which Brenna has an impressive resume. As the leader of the Kenosha Klovers 4-H Club, she was responsible for securing funds from the Youth as Resources Board that the group used to purchase backpacks and basic necessities for the homeless. In recognition of these efforts, the group was awarded the 2010 Leonard R. Johnson Award for community service.
Professor of art Lisa Marie Barber writes, "Brenna is a top student both academically and artistically. It was clear to all of her instructors that she wasn't just prepared for college, but would be a valuable mentor to her peers across disciplines."
Grusha Ahluwalia (Management Information Systems with a certificate in Cybersecurity) Outstanding Graduate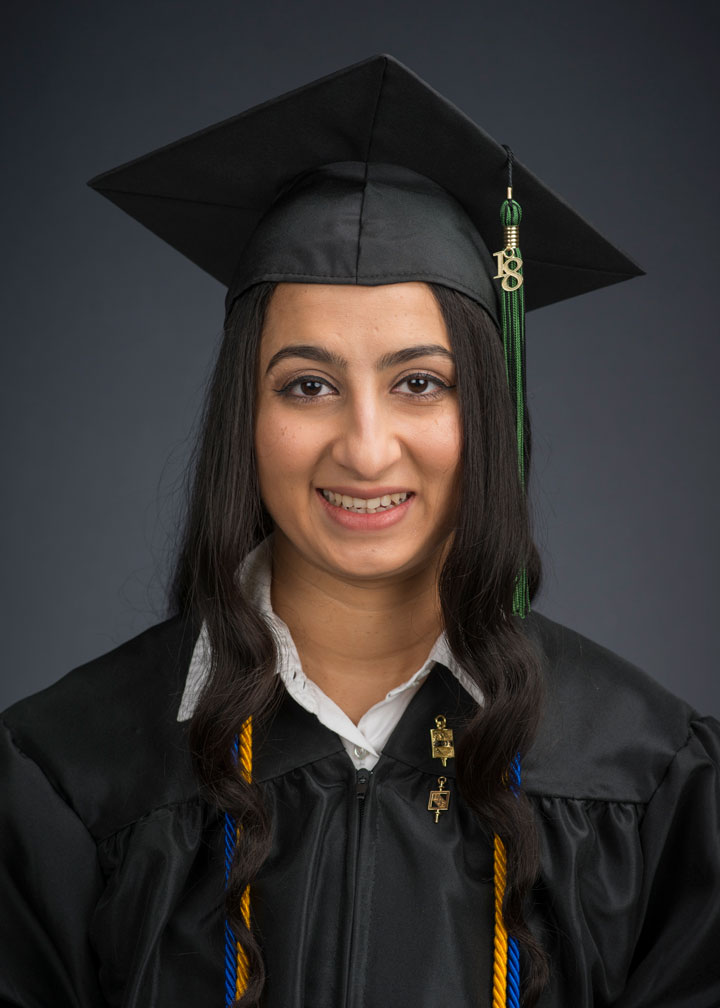 In addition to maintaining a high level of academic excellence in the challenging Management Information Systems major, Grusha Ahluwalia also earned a certificate in Cybersecurity, served as the vice-president for the Parkside International Club (PIC), worked as a social media and IT intern for the College of business, economics, and computing, and presented and helped at new student orientations, transfer transitions, and experience days.
Her leadership experience includes helping to organize the World Fest Week through PIC Grusha also served as a project manager and coordinator for the App factory. Her hard work and dedication also earned her an internship with Uline in 2018.
Giving back to the community is another passion of Grusha as her efforts on App Factory projects such as creating a database for the Racine Arts Council and built functional websites for the Bethany apartments, who help victims of domestic abuse, and for the Kenosha Archaeological Society. With all of these activities, Grusha has still managed to maintain a 3.91 GPA
Dr. Suresh Chalasani says, "Grusha Ahluwalia is one of the most well rounded students to walk the halls of UW-Parkside in recent years. Grusha will continue to serve as an exceptional ambassador for UW-Parkside."
Elliott Crifasi (Computer Science) Outstanding Graduate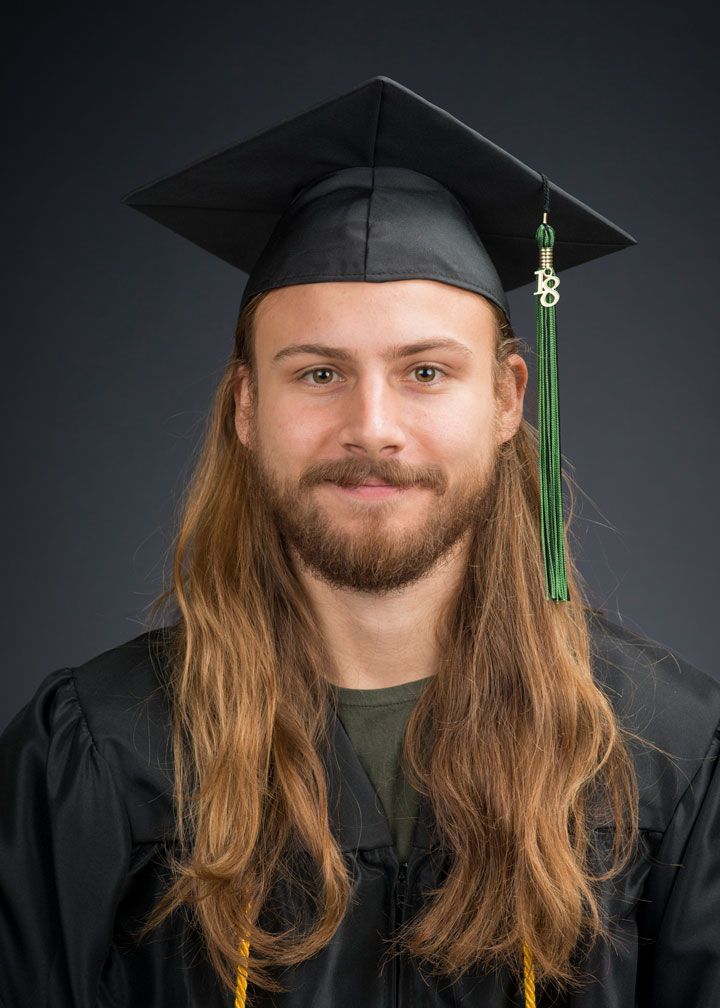 Elliott Crifasi majored in Computer Science during his academic career here at UW-Parkside. He was also awarded a prestigious internship in the App Factory for two summers. Elliot has a passion and gift for helping others. In addition to his academic excellence and invaluable work in his internships, he also serves as a tutor in the PARC, and volunteered to help software engineering students and be a mentor for those in need of guidance.
Leadership is another strong suit of Elliot. He has been the team leader for two different projects. In this role, Elliot delegated tasks to other student and served as the point of contact for clients. Based on one of these projects, Elliot presented a research paper that, at a conference. It was also published in IEEE.
Dr. Zaid Altahat praises Elliot's leadership and willingness to help others by saying, "Elliot has been my go to expert when it comes to programming. He helps students at the App Factory all the time. He also engaged well with his peers and helps motivate them to succeed in academics and in life."
Siva Shankar (Physics) Outstanding Graduate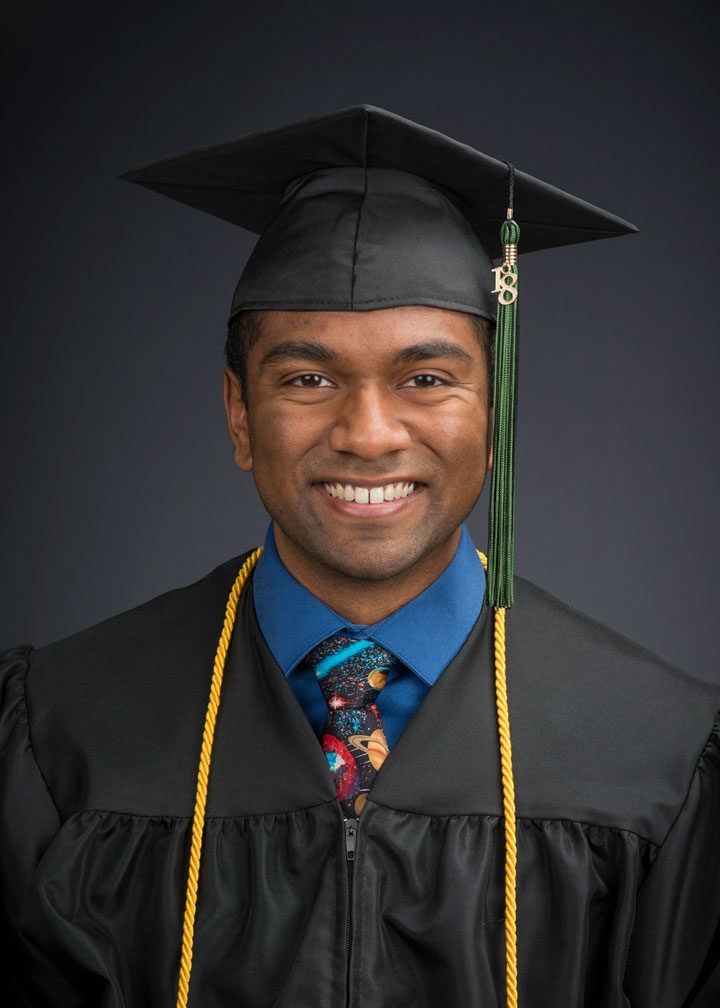 Siva majored in Physics during his illustrious career here at UW-Parkside. He also has served the community as an EMT for the Somers Fire Station since 2017. Throgh his experience as an EMT and diver he has also served the community as a member of the Kenosha County Dive team since 2017. He also served the university community by serving the Office of Admissions and New Student Services as an orientation leader in the summer of 2018.
His excellent work on a research project in his senior seminar class, concerning damping of a pendulum due to drag on its string, led to a research paper that was later published and earned him a spot at the April meeting of the American Physical Society.
Siva's presentation earned him the best undergraduate presenter Award. His work was also honored by the Board of Regents at their meeting at UW-Parkside on October 5. He had a second research paper published based on a computational research project that he worked on.
Says Dr. Paul Mohazzabi, "Siva is a very brilliant student. This is quite an accomplishment; an undergraduate student with two research publications."
Terrill Taylor (Biology) Outstanding Graduate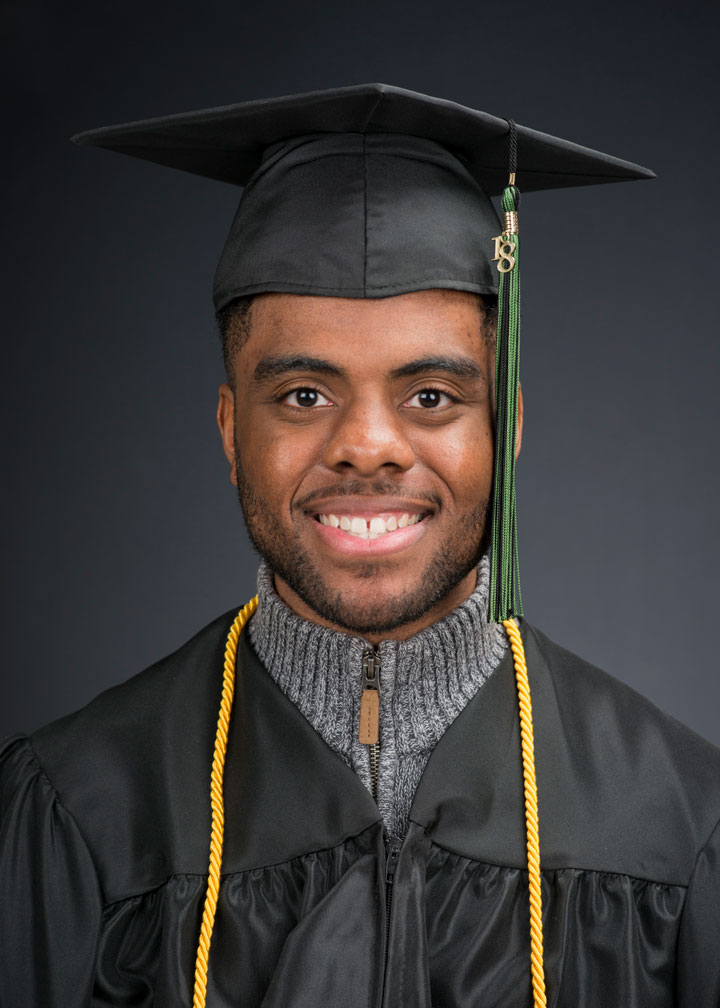 Terrill Taylor, who majored in biology was also named an Outstanding Graduate for UW-Parkside. Terrill's perseverance, leadership, and willingness to learn have made him a model student, not only academically. His willingness to help other students who were struggling demonstrate his desire to truly better those around him.
Terrill is also very active with volunteer and service organizations, not only on campus but around the community as well. In 2016, he was chosen to participate in UW-Madison's Rural and Urban Scholars in Community Health Program. That experience helped pique Terrill's interest in the public health field, and in 2017 he moved on to the Community health Internship Program through the Racine Department of Public Health. He also used this passion to benefit the campus community as he served as a Peer Health Educator through the Student Health and Counseling Center. His impressive resume as a volunteer also includes work with 21st Century School in Racine, Campus Ministry, and Kenosha Hospice Care.
In his nomination letter, Terrill's nominators wrote, "Terrill is one of those rare breeds of student who combine keen academic skills with an easygoing, positive attitude. He is one of our favorite students to work with because he is bright and inquisitive, bringing a true enthusiasm about learning to the classroom."
Marley Uran (Communication /Public Relations minor) Outstanding Graduate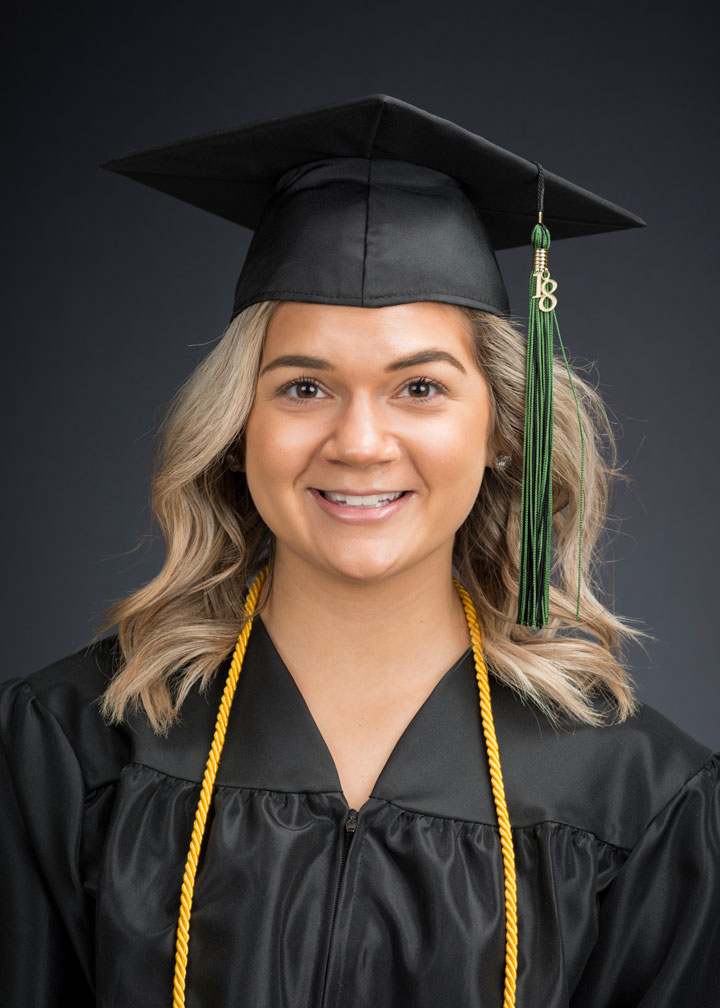 Marley Uran is graduating with a communication major and a minor in public relations. Her excellence in academics, service, and leadership have not only served her well, but are both a testament and benefit to UW-Parkside and her home community of Racine. Marley's extraordinary 3.987 GPA is made even more impressive when considering all of her campus and community involvement throughout her academic career here at UW-Parkside.
Her Academic excellence extends beyond traditional classroom coursework as she completed two independent study programs that complement her own goals and commitment to bettering her community. Marley's list of internships is also impressive. She has worked as a Vista Veterans Outreach Coordinator, helped disadvantaged children as a part of the Building Our Future organization, and has gained valuable experience as a Sales Marketing Manager at Meadowbrook Country Club. She has also volunteered with Habitat for Humanity, Halo, Point in Time, Charity Water, and Hands at Work Africa.
Dr. Teresa Castor says, "Marlry Uran is a brilliant student, an accomplished leader, and a compassionate world citizen. Marley's work shows how much she values her local community of Racine, where she has grown up. She has done a great deal of community volunteering work, and is serving in a role now that will help to vision the future."