Outstanding Graduates May 2019
Published: May 16, 2019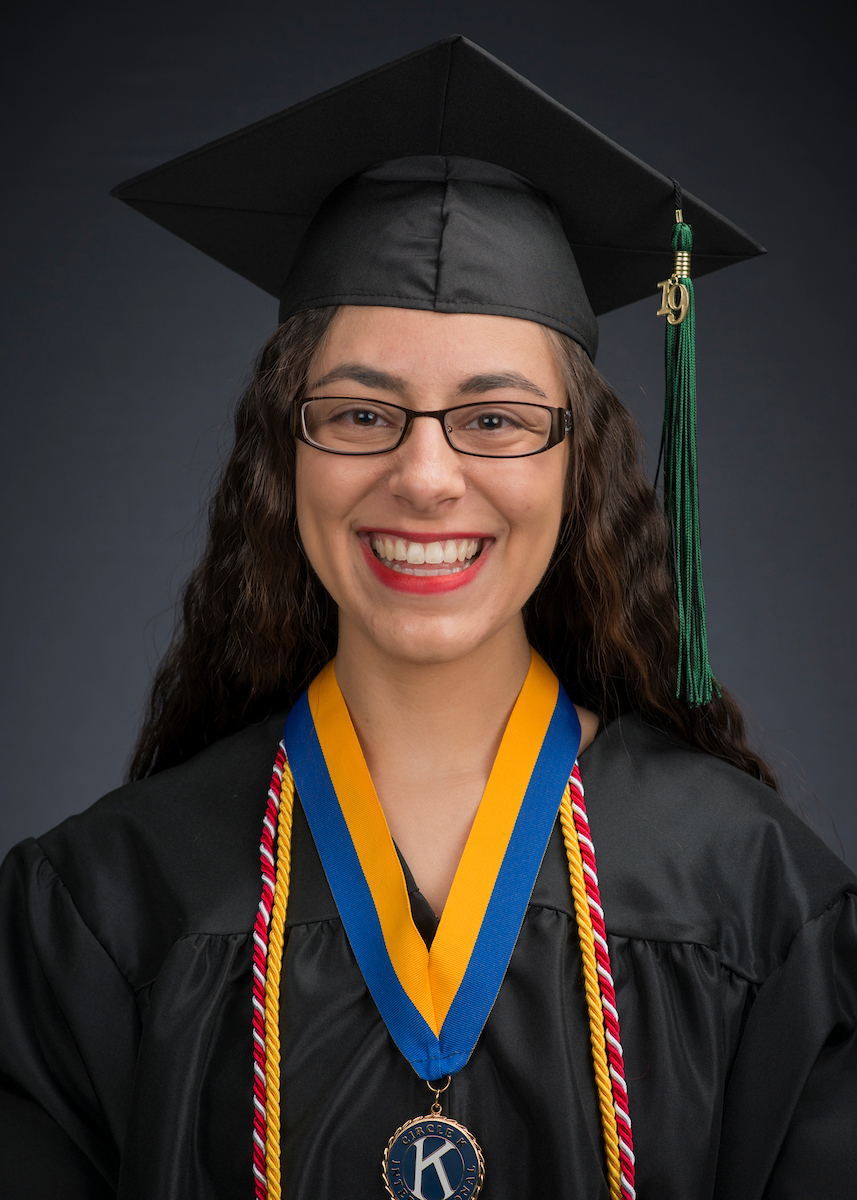 Julia Alberth – (Biology)
Hometown: Paris Township/Kenosha County
Julia Alberth began at UW-Parkside in Fall 2015. She quickly distinguished herself and earned the respect and admiration of faculty, staff, and fellow students alike. Julia is an academically gifted individual who excels in both the classroom and in her research. Julia is a leader on campus and in her community. In the PARC she has tutored anatomy, chemistry, and biology as a Supplemental Instruction (SI) leader. Julia has also served as a success coach in the Office of Multicultural Affairs and as a big sister in the Big Brothers Big Sisters program.
Julia has volunteered countless hours as president of Circle K International and for Women and Children's Horizons. She completed independent research in psychology with Dr. Sylvia Beyer, and worked with Dr. Fabian Preuss on mouse colony care. She was also selected for the highly competitive RUSCH program (Rural and Urban Scholars in Community Health) at the UW School of Medicine and Public Health and completed the CHIP program (Community Health Internship Program) at the Medical College of Wisconsin where she researched HPV awareness and realized her passion for public health.
One of her greatest achievements is earning a full scholarship to attend medical school at UW-Madison. She will be completing a five-year dual degree program to earn both her M.D. and Masters in Public Health. This is a truly exceptional accomplishment and a testament to her extraordinary academic career.
Nicholas Bielski – (Molecular Biology and Bioinformatics)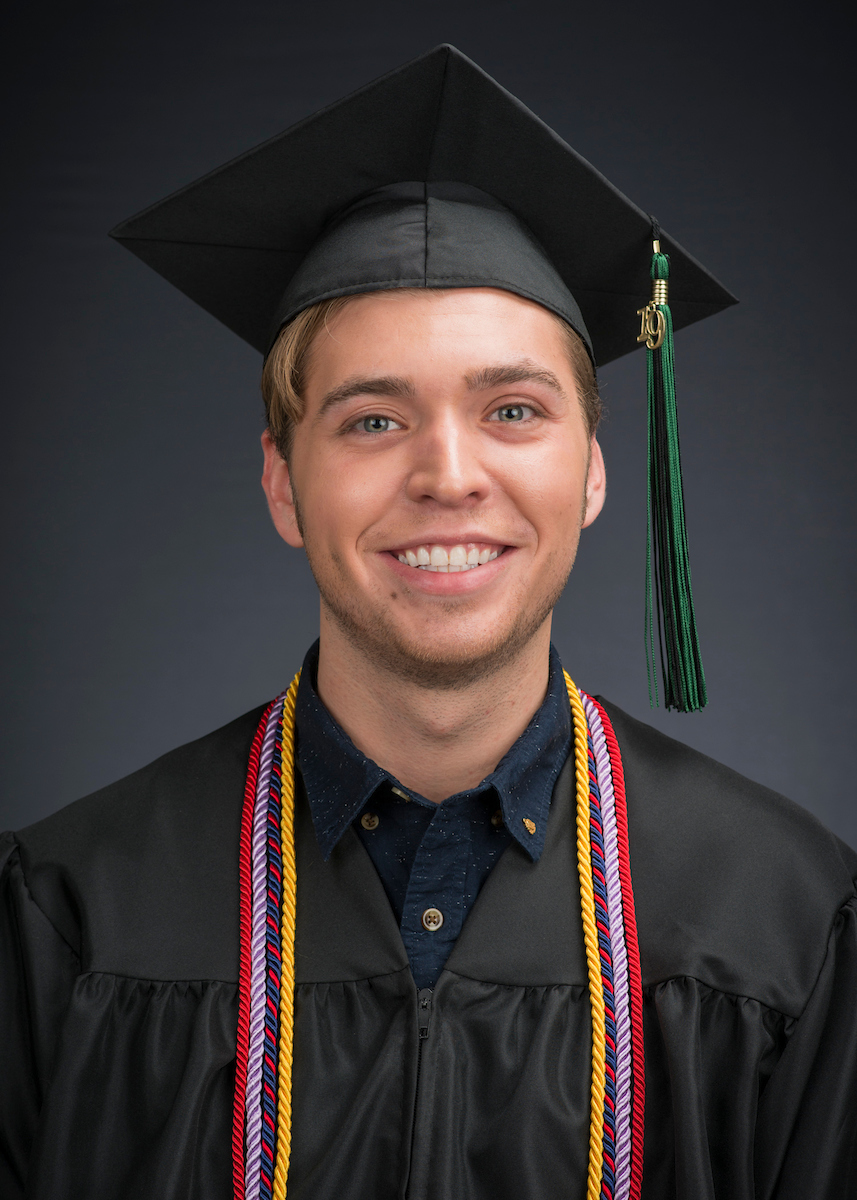 Hometown: Bristol, WI
Not only has Nick Bielski distinguished himself in all academic areas, including achieving a perfect academic record with a 4.0 GPA in a challenging and competitive major, he has been nationally recognized for his research experience and potential by receiving a Barry M. Goldwater Scholarship—the most prestigious STEM scholarship in the U.S.
Nick is also an effective science communicator and mentor. He has given nine academic presentations at local, state, national, and even professional conferences. At these meetings, Nick was able to clearly explain his research and its implications for aquatic ecology and environmental monitoring. Notably, these include three national reviewed presentations at the National Conference for Undergraduate Research (NCUR), and was personally contacted and invited to present at Rice University. Nick has also helped recruit underclassmen into research and has taken a leadership role in training these students in experimental design, laboratory techniques, insect identification, statistical analysis, and presentation skills. As one student put it, "Nick has very high standards, but he helped me to meet those standards and become more independent. Nick does a great job of demonstrating and explaining material while leading by example."
His research experiences were the foundation of Nick's successful application for a Thomson Fellowship and for the Goldwater Scholarship. In 2018, Nick was one of only three students in Wisconsin to receive the Goldwater Scholarship. Nick has been accepted to join the Arizona Biological/Biomedical Sciences Doctoral Program at the University of Arizona this fall.
Chloe Calderon – (Physics)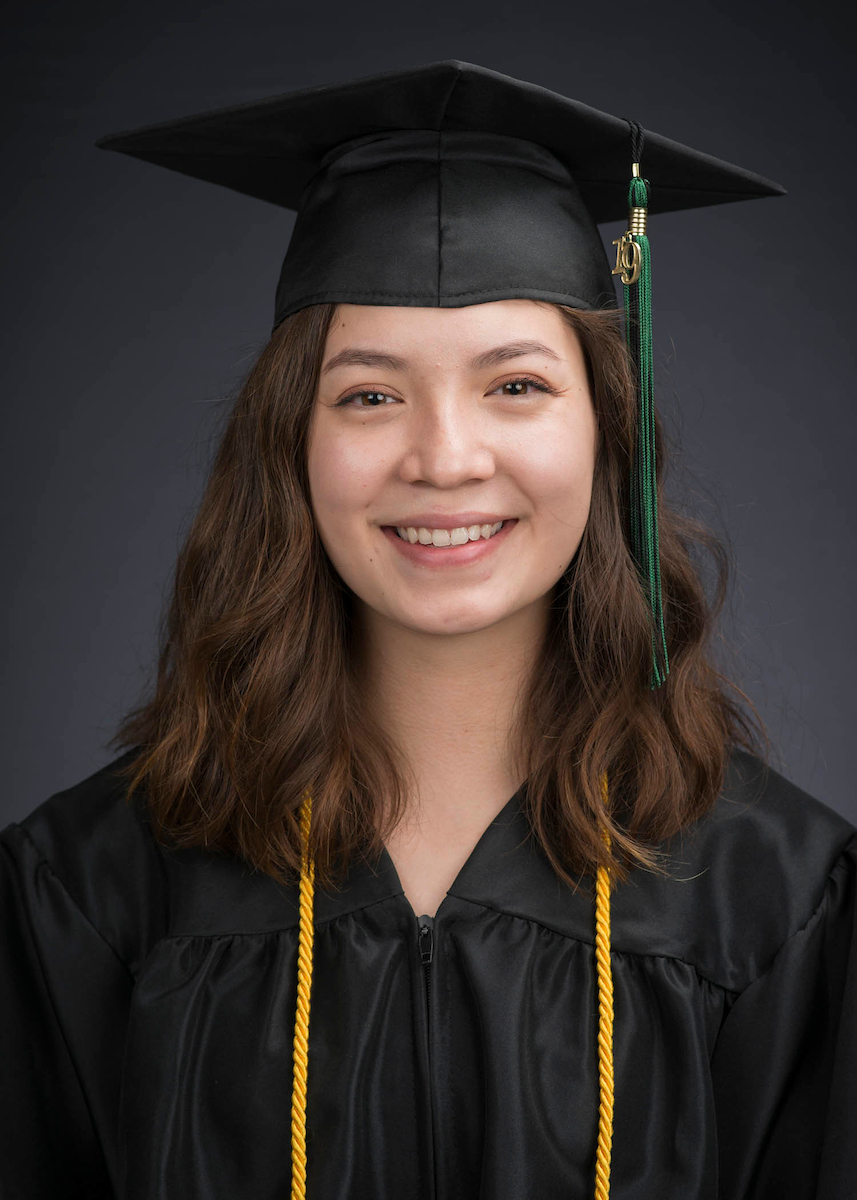 Hometown: Zion, IL
Chloe Calderon started college at the age of 15. She spent her first two years of her college education at the College of Lake County in Illinois before transferring to UW-Parkside in the Fall 2017. At age 19, she has already completed many advanced courses. Chloe maintained a 4.0 GPA while also conducting research. She has published two research papers in peer-reviewed international journals. She is currently involved in two other research projects, one in electrodynamics and the other in kinetic theory of gas phase reactions using molecular dynamics simulations. On October 4, she made a presentation on her research to the UW System Board of Regents.
Chloe was admitted to the Ph.D. program in physics at Northwestern University with a full-tuition waiver and full stipend. She will be working in the field of biophysics. Chloe is not only a devoted scholar, she also commits to her role as a leader. She was actively involved in the Physics Club as its treasurer, she sat on a student panel to encourage girls to enter the STEM field and led chemistry demonstrations with Dr. Lori Allen for junior high girls during the 2018 GEMS conference (Girls Empowered by Math and Science), and she also volunteered to help Dr. Laura Schultz and Dr. John Bennett with science demonstrations for the high school freshman visiting from Racine Unified School District.
Anna Cotto – (Political Science)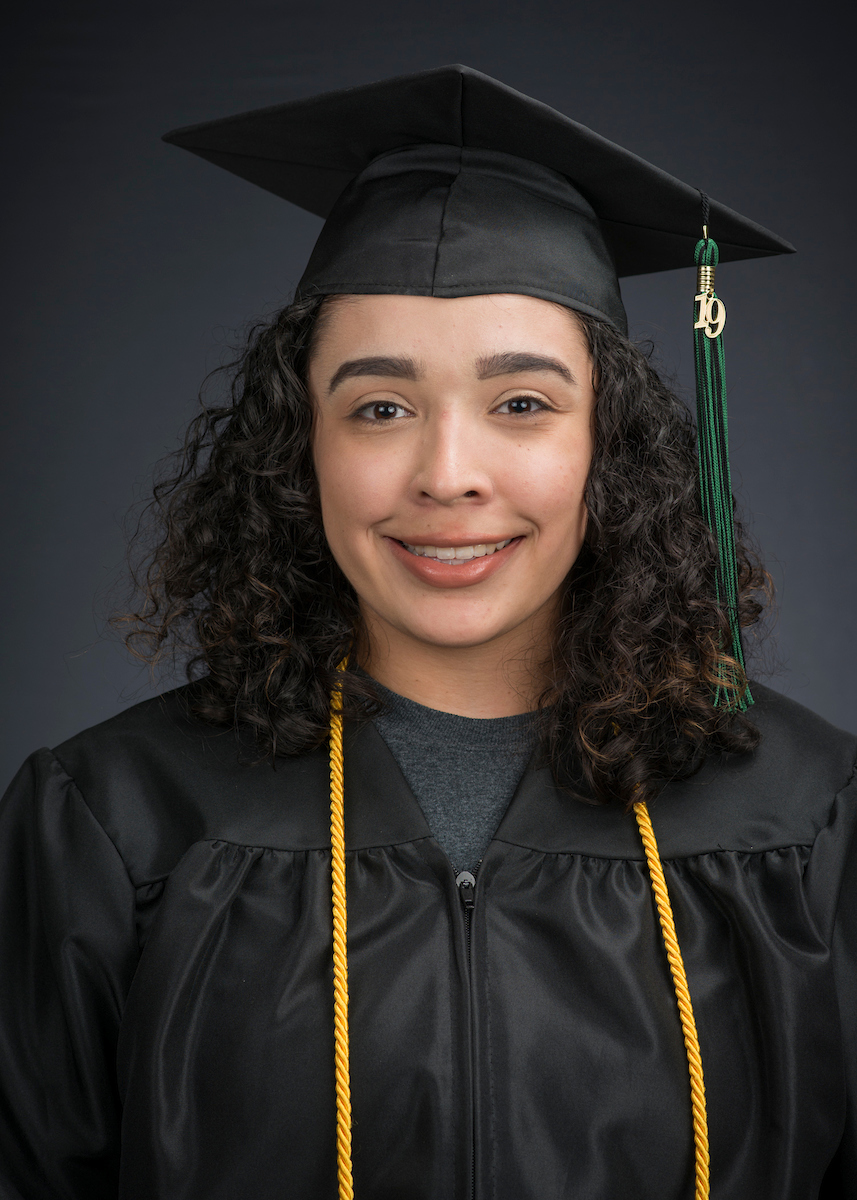 Hometown: Gurnee, IL
Anna Cotto will graduate with a bachelor of arts in political science with a concentration in law, and minors in legal studies and criminal justice. Anna is well regarded among the faculty in the Politics, Philosophy, and Law Department, and was unanimously and enthusiastically chosen to be their nominee for the Outstanding Graduate Award. Anna is an exceptionally gifted student, and is the only student to have achieved an A grade in Research Methods, which is traditionally the hardest course in the major.  Her final research paper/article was also of incredibly high quality.
Beyond just performing well in her classes, Anna maintained a 4.0 GPA for her entire undergraduate degree. Even more amazing, Anna has been enrolled in 15 credits per semester, while working 32-42 hours a week outside of the university, and also raising a 3-year-old child. On top of that all, Anna is an active student when it comes to participating in student organizations, departmental organizations, academic events/competition, and internships related to her future career.
Anna is a member of the Mock Trial Team, and she also participated in both the Model Constitutional Convention and the Midwest Model European Union competitions. Anna held a summer internship with Judge Mary Wagner at the Kenosha County Circuit Court.
Bryan Malek. Jr. – (Liberal Studies)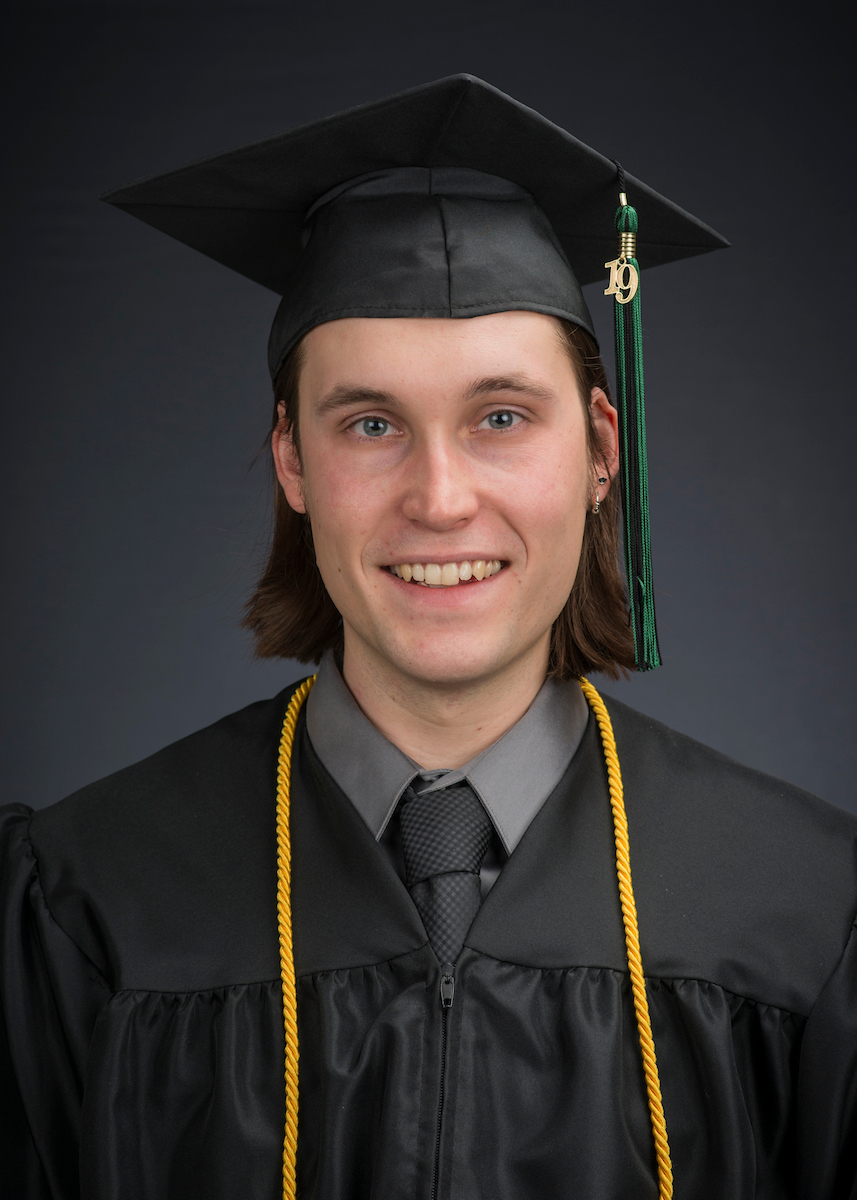 Hometown: Crystal Lake, IL
A 2016 transfer student, Bryan Malek Jr. decided to major in Liberal Studies because it allowed him to combine his interests and academic background in marketing, public policy, and environmental studies, by concentrating in social science with an environmental studies theme. Bryan has earned placement on the Provost's List and Dean's List every semester, and has an overall GPA of 3.919.
Bryan seized opportunities to participate in undergraduate research and community-based learning projects related to southeastern Wisconsin's watershed, prairie restoration, and environmental policy. He contributed to studies and reports used by organizations.
Bryan also trained students—both on lab equipment and a scientific collection process—to continue the geomorphology research his classmates started last year. In addition, Bryan is the public relations officer for the Parkside Environmental Club. Major projects Bryan helped oversee were the club's involvement in Greening Greater Racine and Eco Fest. Leveraging both his education and his volunteer activities, Bryan secured a selective position with the Wisconsin Department of Natural Resources (DNR), where he performs important tasks like habitat restoration, hazard tree removal, and trail and land maintenance in the Kettle Moraine State Forest, Southern Unit.
Bianca Ruffolo - (Molecular Biology and Bioinformatics)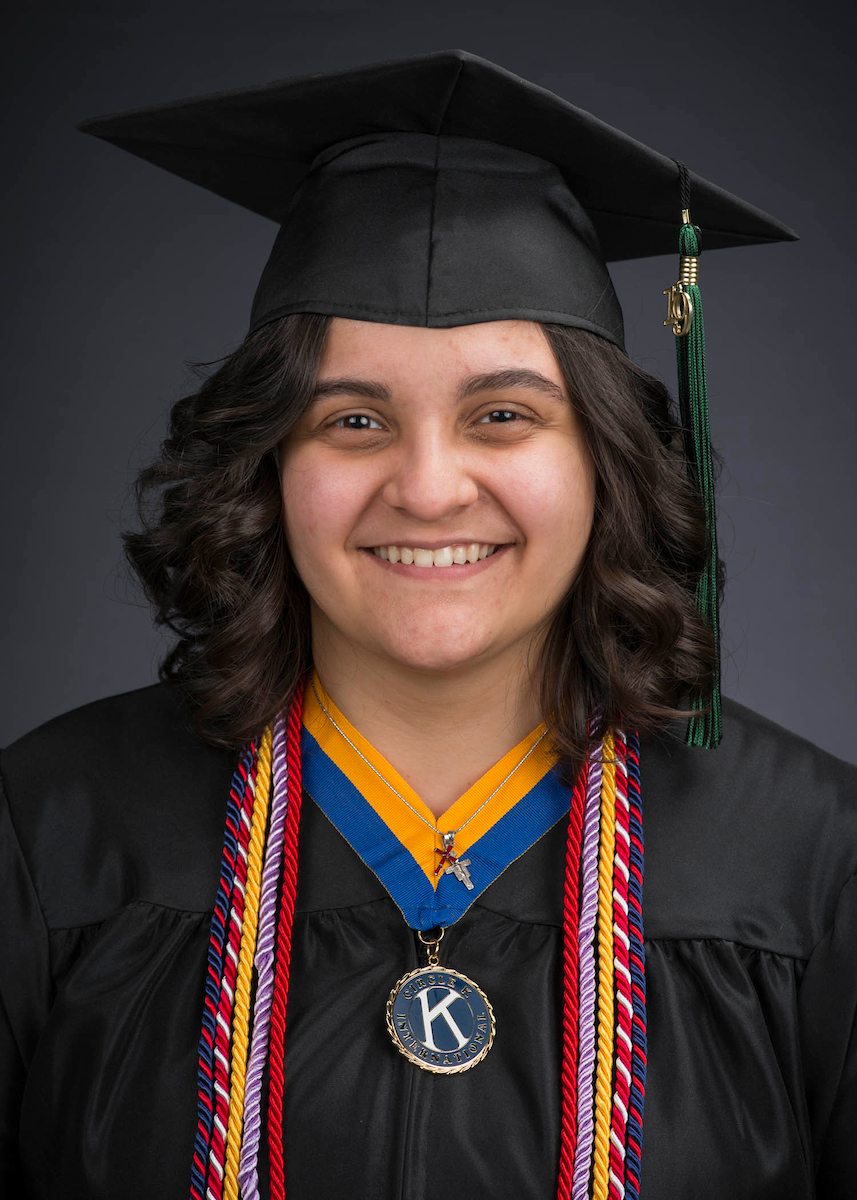 Hometown: Kenosha WI
During her four years at UW-Parkside, Bianca Ruffolo has consistently performed at the highest level of academic achievement. She is one of only nine students to be accepted into the prestigious joint M.D./Ph.D. program at the University of Cincinnati-College of Medicine. Bianca has earned a 3.97 GPA while pursuing a challenging degree in molecular biology and bioinformatics with minors in chemistry and sociology. 
Bianca has completed more than 400 hours of community service at the Shalom Center, Feed My Starving Children, Tiny Homes for Veterans, the GEMS (Girls Empowered by Math and Science) conference, and Make a Difference Day among others. She has served in leadership positions in three different UW-Parkside clubs including as president of the student Molecular Biology Club. One of her proudest accomplishments is starting Harry Potter trivia at UW-Parkside. She has also held eight different positions working on campus, including supplemental instruction leader for Bios 101 and as a building manager for the student center. Her extensive community work earned her the Newman Civic Fellowship.
Bianca has completed two research programs in health-related scientific research. Additionally, her research on campus resulted in receiving the Thomson Fellowship Award. In 2017, Bianca was selected for the highly competitive RUSCH program (Rural and Urban Scholars in Community Health) at the UW School of Medicine and Public Health. After spending eight weeks in the lab of Dr. Fotios Asimakopoulos at UW-Madison, Bianca's work resulted in co-authorship on an article published in the scientific journal Blood. In the summer of 2018, Bianca was chosen for the selective SPUR (Summer Program for Undergraduate Research) program in Dr. Jeffrey Medin's laboratory at the Medical College of Wisconsin.
Justin Van Ee – (Mathematics and Environmental Studies)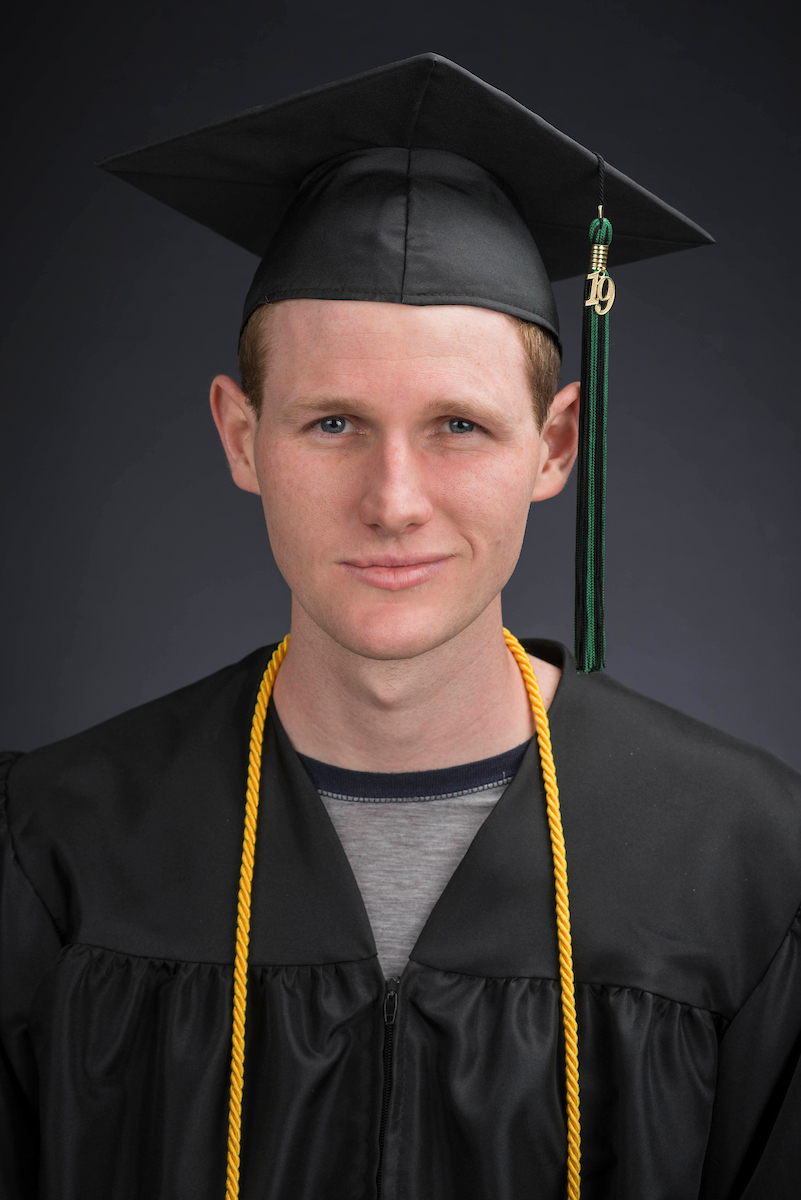 Hometown: Kenosha, WI
Justin Van Ee holds a 4.0 GPA in two majors and two minors, biological sciences and economics. He has been accepted for admission to study statistics at Colorado State University. Associate Professor Dr. Victor Kreiman added that the math graduates of the 2019 class are some of the strongest he's seen—with Justin as arguably the strongest. The number of math majors who perform at the highest levels in the department's advanced courses is at least twice as numerous as in previous years.
Justin collaborated on independent research projects with three professors during his Parkside career. Working under Ranis Ibragimov, David Rogers, and Jessica Orlofske, Justin was able to apply his course work to real-world problems; he feels these experiences have prepared him well for a Graduate Degree in Statistics. Outside of school, Justin serves in two local churches, and has invested into the Parkside and Kenosha disc golf community. In his free time, he enjoys spearfishing, mountain biking, and playing ultimate frisbee.