Nichole Miller Gives Back Her Way for Parkside Day
Published: April 21, 2023
UW-Parkside and Versiti Partner to Host First Ever Parkside Day Blood Drive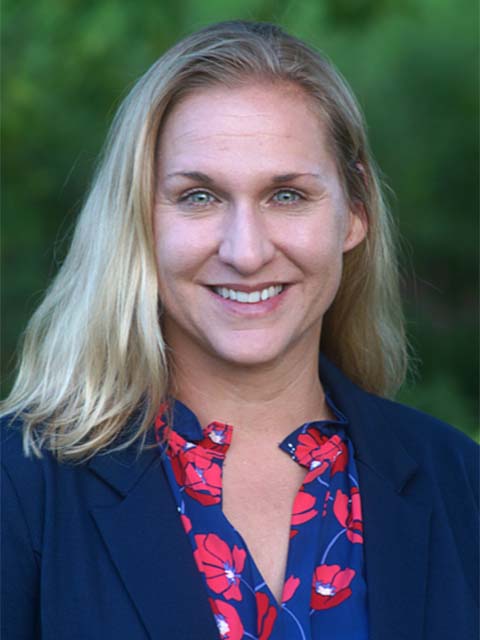 The University of Wisconsin-Parkside will host its annual Parkside Day event on April 26, with virtual and in-person opportunities for the community to engage, support the university, and give back to the community in the days leading up to it. Whether one volunteers their time or supports something they care about monetarily, every act and gift is valuable and a difference maker. For UW-Parkside alumna Nichole Miller, her way of giving back is near and dear to her heart: a blood drive. The Parkside Day blood drive, hosted by Versiti Blood Center of Wisconsin, will take place in the De Simone Arena on Tuesday, April 25 from 11 a.m. to 5 p.m.
Nichole is the director of specialized production and the chief of staff at Versiti Blood Centers. She sees the Parkside Day Blood Drive as an important partnership which provides another unique avenue for people to give back and support something they really care about for Parkside Day.
She explains, "As a nonprofit, Versiti understands that people need people. From the sharing of lifesaving gifts to supporting the community through education, Versiti and Parkside are both rooted in a mission of service. We are grateful for this opportunity to serve and give back to the community together."
In addition to hosting the blood drive, Versiti will have a career booth at the event to let people know about the organization's career opportunities including business, marketing, human resources, recruitment, and healthcare services roles.
But for Nichole, giving blood is even more meaningful than her career and passion; it helped save her life. When Nichole was giving birth to her daughter, her body went into shock. Both of their vitals plummeted, and she started going to cardiac arrest, necessitating an emergency c-section to deliver. After successfully delivering her daughter, the doctors realized that she was bleeding profusely, and her blood was unable to clot.
Nichole recalls, "It was a trauma situation, requiring a significant amount of blood to support my body, also known within a hospital as a massive transfusion protocol. It's a very serious situation, and one mass transfusion can decimate the available blood supply. I was in Milwaukee at Froedtert, a hospital that Versiti serves, and all of the life-saving gifts that I received that night were donated from individuals from the community. I needed over 20 blood products that night of platelets, plasma, and red cells to survive. I was transfused for many hours, and I wouldn't have had that chance if the life-saving gifts weren't available."
That harrowing event gave Nichole a new perspective on life and gave a greater sense of the importance of community volunteerism. "That has allowed me to be a mom, a wife, a daughter. I got another chance at life. The way to say thank you is to do my utmost and use my skills to give someone else another chance at life."
Nichole is also very proud of the fact that this has become a part of Parkside Day and thinks that it is a good indicator of UW-Parkside's commitment to the community. "Providing life-saving gifts by donating blood is another form of community service" Nichole explains.
The Parkside Day Blood Drive hosted by Versiti Blood Center of Wisconsin at UW-Parkside on Tuesday, April 25 is open to the community. Interested volunteers can learn more and sign up for a donation time at https://donate.wisconsin.versiti.org/donor/schedules/drive_schedule/259300.
This sense of community has been important to Nichole even before her medical emergency. It can be traced back to her experience as a UW-Parkside student and specifically her time as a student-athlete. She reminisces that in her senior year of high school, Dr. Bryan Lewis came to visit Case High School in Racine. Nichole was still undecided about where to continue her academic career and Dr. Lewis sat down with her and sold her on UW-Parkside's Pre-med program.
Dr. Lewis is currently the Associate Dean for the College of Natural and Health Sciences, and the Director for the Pre-Health Programs and Center for Health Sciences. He is still a dynamic and valuable part of the UW-Parkside learning community, remembers Nichole fondly and proudly watches as she achieves great things in her career." Nichole Miller holds a special place in my heart during my 23-year career at Parkside. I have distinct memories of meeting with Nichole as a High School senior, at her school, in her guidance counselor's office, talking to her about following her heart as she pursued her career into the healthcare field."
"He sold the concept of a small university and the community, the stellar program, and the one-on-one support he would provide over the next four years," Nichole explains. "He came and explained this is what your classes are going to look like for the next four years. He had everything prepared so I could see myself succeeding at Parkside under his leadership and his passion and energy for what I wanted to do." The passionate faculty, convenient location, high quality programs, and small teacher to student ratio all attracted Nichole and made her feel like she belonged at UW-Parkside.
Dr. Lewis recalls, "During her time at UW-Parkside, Nichole was one of the hardest working students I had. Clearly intelligent and insightful, but when you combined that with her work ethic, she was unstoppable; and doing all of that as a student athlete as well, simply amazing."
The athletics program also proved to be a big draw for Nichole, who at the time of choosing where she would go for school, thought she was done with her athletic career. Her high school advisor encouraged her to reach out to the softball coach and the coach invited her to try out as a walk-on. After earning her spot on the team as a walk-on, she was able to continue to develop and play. She ended up playing more and more every year after her freshman year and went from a walk-on to playing a considerable amount in her junior and senior year seasons.
"I loved it. It was just a sense of sisterhood and community. People were willing to work hard and be dedicated to their sport." = Her time as a college athlete also taught her the importance of time management and instilled in her the desire to be part of a team and to lead others to help them be their best.
Nichole believes that one of the most important things she learned was how to work in a diverse team and how to respect people's strengths and differences. "There were people who were stronger than me in their athletic abilities. There were times where I did have to sit the bench and understand and reflect on why that is. As you get into the professional world you want to build a high performing team that has strengths different than your own. "Being a collegiate athlete, you just learn to respect people's strengths and your own strengths and the benefit of them being different," she says.
The partnership of Versiti and UW-Parkside is another way for people to give back from a different aspect. "I enjoyed my experience so much at Parkside, But I didn't necessarily know what was in store for me when I went to Parkside. The combination of the strong education and the collegiate athletic experience I received from Parkside has allowed me to succeed in the areas I have chosen professionally."
Nichole is proud that people are seeing UW-Parkside as a school that has made its mark on the community and is continuing to invest in the future for students. She is proud to be a Ranger and to continue to contribute to the UW-Parkside and surrounding communities.