Student Honors Faculty Advisor
Published: November 5, 2015
UW-Parkside Associate Professor of Theatre Arts Jody Sekas received the U.S. Department of Defense Employer Support of the Guard and Reserve (ESGR) Patriot Award.
Tianna Field, a theatre arts major and student employee in the UW-Parkside Theatre Arts Department, serves in the Wisconsin Army National Guard. The Patriot Award reflects the efforts made by an individual to support what the ESGR calls "Citizen Warriors." Field nominated Sekas for the support he provided to help make her Parkside schedule and National Guard fit together.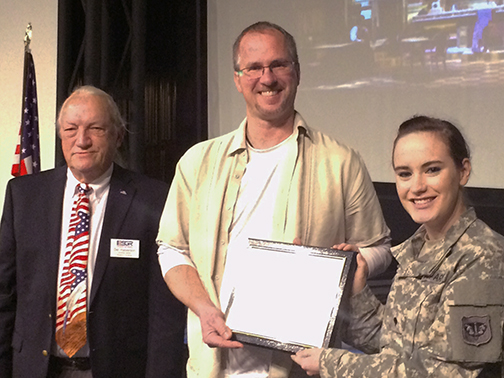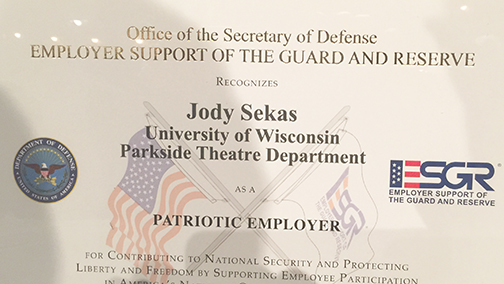 (left to right) LTC (Ret.) Del Halverson, ESGR; Jody Sekas; and Tianna Field

Field grew up in Shawano, Wis., joined the Wisconsin Army National Guard in high school and completed her training after graduating in 2013. She currently lives in Racine and enrolled at UW-Parkside in 2014. Field is a public affairs broadcast specialist in the Wisconsin Army National Guard.

"When I entered the (National Guard) initially, I didn't know what to expect as far as knowing what scheduling conflicts I would face with my military obligations," Field said. "I found out soon enough that there would be a lot of them." 
She expressed her concerns to Sekas, who is also Field's faculty advisor. "He told me that we would find a way to make it work," Field said. "He has done that without fail."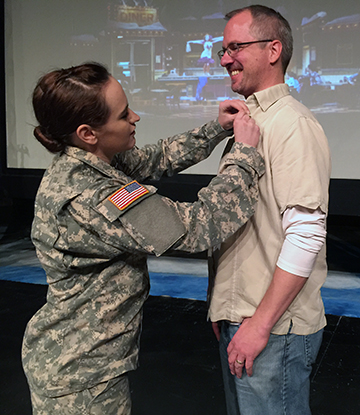 Field said she fell in love with Parkside after a tour of the campus through Upward Bound. 
"When I learned how great the theatre program was, I applied right away, I didn't even apply at other schools because I was determined to get in here," she said.

Field says she has missed work days, mandatory attendance of shows, learning on location events, and multiple classes. "At one point last spring, I was out of the country for three weeks for a mission," she said. "While it may not have been easy, Jody always found a solution;and so did the entire staff and faculty. 
"They worked together to find out the best way for me to meet class and major requirements, and never made me feel as if it was a burden to them." Field was even able to hold the role of assistant stage manager for a show and receive the practicum requirement, despite having to miss two of the shows due to drill.  
"Jody's willingness to find a solution, and his dedication to the Theatre Arts Department, its students, and the university mirrors a soldier's dedication to their unit, their fellow soldiers, and to their country," Field said. "That made Jody a perfect candidate for the Patriot Award."