Viramontes and White Honored by UW System
Published: August 19, 2015
Award for Parkside professor with working-class roots - Journal Times

For LGBTQ - A SafeZone at Parkside - Journal Times

The University of Wisconsin System has announced recipients of the 2015 Outstanding Women of Color in Education Award, and the Dr. P.B. Poorman Award for outstanding achievement on behalf of LGBTQ people.
UW-Parkside Associate Professor of Communication Dr. Adrienne Viramontes received the Outstanding Women of Color Award in Education Award. UW-Parkside Advising and Career Center Advisor Kim White received the P.B. Poorman Award.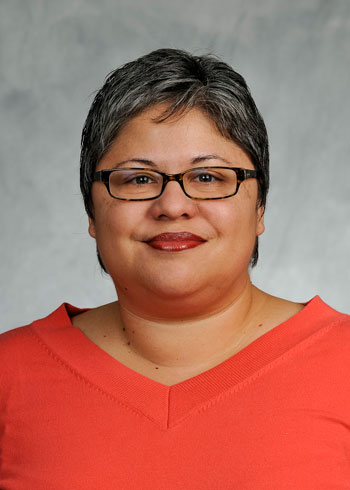 Adrienne Viramontes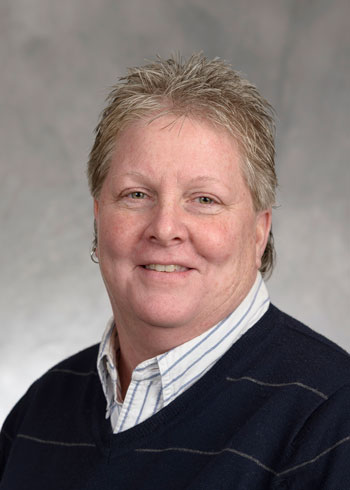 Kim White
"We are proud and fortunate to have quality individuals on our faculty and staff who display a passion and commitment toward the success of our students," said UW-Parkside Chancellor Debbie Ford. "Each is well deserving of this important recognition."

The Outstanding Women of Color in Education Award is an annual honor given to faculty, staff, students, or community members to recognize their contributions to diversity and the status of women within the UW System. This year marks the 20th anniversary of the award.   
The P.B. Poorman Award was established to publicly recognize UW System faculty, staff, students, or community members for their excellence in advocacy, research, teaching or service on behalf of the LGBTQ communities. The award honors the memory and legacy of Dr. Paula B. Poorman, a faculty member at UW-Whitewater who played an instrumental role in the foundation of the UW System Inclusivity Initiative. This year marks the expansion of the P.B. Poorman Award from a single recipient for the entire UW System to honoring a recipient from each institution.   
UW System President Ray Cross said the UW System is committed to providing a safe, welcoming atmosphere for all students, faculty, and staff, as well as a commitment to promoting diversity. "Those we are honoring remind us how individual contributions can make a real difference in promoting respect and understanding within the university and the broader community," Cross said. "These individuals are shining examples of how innovative thinking and dedication can come together to impact and enrich the UW experience for everyone."   
Recipients will be formally recognized on Oct. 9 in Madison at an awards ceremony and luncheon.   
In addition to Viramontes, the 2015 Outstanding Women of Color in Education honorees are: 
Renée Gralewicz, Associate Professor, Anthropology, UW Colleges (UW-Fox Valley )

Dandrielle Lewis, Assistant Professor, Mathematics, UW-Eau Claire
Crystal Chevalier, 4-H Youth Development Educator and Co-department Head, Menominee County, UW-Extension
Idella Yamben, Entrepreneurial Consultant and Program Manager for Ideadvance Seed Fund, Division for Business and Entrepreneurship, UW-Extension
Juliet Cole, Associate Director, Institute for Learning Partnership, UW-Green Bay
Xia Vang, Financial Aid Counselor, UW-La Crosse
Heather Johnson, Assistant Professor, Department of Medicine, UW-Madison
Earlise Ward, Associate Professor, School of Nursing, UW-Madison
Michelle Lopez-Rios, Associate Professor, Theatre, Peck School of the Arts, UW-Milwaukee
Sylvia Carey-Butler, Assistant Vice Chancellor for Academic Support of Inclusive Excellence, Center for Equity and Diversity, UW-Oshkosh
Yunmei Reeder, Director, Confucius Institute, UW-Platteville
Hli Vang, Director, Pan-Asian Student Services, Augsburg College, and Alumni Advisory Board Member, UW-River Falls
Ka Lia Smith, Financial Aid Advisor, UW-Stevens Point
Doris Strehlau, Office Operations Associate, Memorial Student Center, UW-Stout
Simonita Perales Simkins, Graduate Student (now Alumna), Co-founder and Past President, Hispanic Organization/Organización Latino Americana (HOLA), UW-Superior
Ozalle Toms, Assistant Professor, Special Education, UW-Whitewater   
In addition to White, the honorees for the 2015 Dr. P.B. Poorman Award for Outstanding Achievement on Behalf of LGBTQ People are:
Lisa Hager, Associate Professor, English, UW Colleges (UW-Waukesha)
Christopher Jorgenson, Director, Women's & LGBTQ Resource Center, UW-Eau Claire
Stacie Christian, Coordinator, Inclusive Excellence & Pride Center, UW-Green Bay
Jay Lokken, Senior Major Grants Officer, University Advancement, UW-La Crosse
Gabriel Javier, Director of LGBT Campus Center and Assistant Dean of Students, UW-Madison
Roy Badger, Project Manager, University Information Technology Services, UW-Milwaukee
Liz Cannon, Director, LGBTQ Resource Center, UW-Oshkosh
Todd Savage, Associate Professor, Counseling and School Psychology, UW-River Falls
Andrew Stoner, Assistant Professor, Communication, UW-Stevens Point
Jeanne Foley, Professor, Mathematics, Statistics and Computer Science, UW-Stout
Debbie Cheslock, Student Program Manager for Gender Equity Resource Center, UW-Superior
Cynthia Konrad, LGBT Coordinator, Student Affairs and Academic Affairs, UW-Whitewater
UW institutions submit nominations for the awards, which highlight each recipient's contributions to diversity, equity, inclusion, activism and efforts to improve the climate for and visibility of LGBTQ people, or to improving the status and climate for women, particularly women of color. For more information about the awards and past recipients of the P.B. Poorman Award, see https://www.wisconsin.edu/grants-awards/poorman-award/.

For more information about the awards and past recipients of the Women of Color Award, see https://www.wisconsin.edu/grants-awards/women-of-color/.