Life of an Athlete - On the Road
Published: March 31, 2017
Raegan Fingerman

is a communications assistant working in University Relations for the spring 2017 semester. She is a member

of the UW-Parkside Rangers softball team and wears the #7 j

ersey

. "Se

ven" gives us an inside look at a softball road

trip

.



Do I have my jersey? Did I remember to pack my cleats? Is there Wi-Fi on the bus? Should I pack some snacks for the bus ride? These are just some of the hundreds of questions student athletes ask themselves before leaving on a road trip. Planning ahead is critical before even stepping foot on that bus.
Earlier this season, the Parkside softball team headed off to Missouri and Illinois. It was the first weekend that we were playing two different teams in two different states in one weekend, so you could say this weekend was going to be a long one.
The Trip Begins
We left for Missouri on Friday around 3:30 p.m. Coach Ortman created "Travel Friday's" where we all dress up for a theme that she has picked for that day. This weekend's theme was St. Patrick's Day. We were separated in groups and had our followers on Facebook vote to decide which group dressed the best for the theme. 
It was going to be about a five-hour road trip so everyone prepared ahead of time to find things to do on the bus. During the whole bus ride we were watching movies of our choice so we would be distracted and not think about how long the ride was. We get to take the Badger Bus on all road trips, which every bus we take has outlets and Wi-Fi. A lot of us do homework on the bus. Personally I like to get my homework done earlier in the week so that I don't have to worry about something happening on the bus like not being able to turn in a quiz on time because the Wi-Fi isn't working. It is also easier to get it all done earlier so bus sickness doesn't play a factor during the trip. Last year I decided it would be a good idea to sit in the back of the bus, but I didn't think so after I almost got sick. The bus moves more in the back than it does in the front, and moves even more when you are trying to concentrate on something that isn't moving while you are. That is one of the reasons I like go get my homework done earlier in the week so I don't have to read a book on the bus.
After a few hours of driving, Coach Ortman takes a poll of where we all want to eat for dinner. Sometimes we post a poll on our twitter page for our followers to choose what we are going to have for dinner to make it a bit more interesting. We have Noodles & Company addicts on our team so most of the time that is what we eat for dinner. The school pays for our meals when we are on road-trips. The best part about eating out on these trips is seeing the look on the employees' faces when they see 21 college athletes walk into their restaurant. "Oh my gosh" is what comes out of their mouths first, and then comes the rushing of putting all the food together.
We got to the Missouri hotel around 10 p.m. Coach Ortman told us that everyone must be in their beds right when we got to our rooms. Once I got the key for my room we went upstairs to find that our room key didn't work. I went back downstairs to find out that he had given us the wrong key to the wrong room. All I wanted was to be asleep in bed. We had to be up by 9 for the hotel breakfast, which closes at 9:30. We played our games at noon and 2 in the hot Missouri sun where all of us were sunburnt on our faces. 
 It had been cold and gloomy on campus for the past month. Our skin was not ready for the sun at all. Even putting on sunscreen didn't help prevent sunburn. I thought that I could use some color until I couldn't feel my face during the middle of the second game. Right after the games were over we packed up and left for Illinois. Fortunately the school we were playing on Sunday was only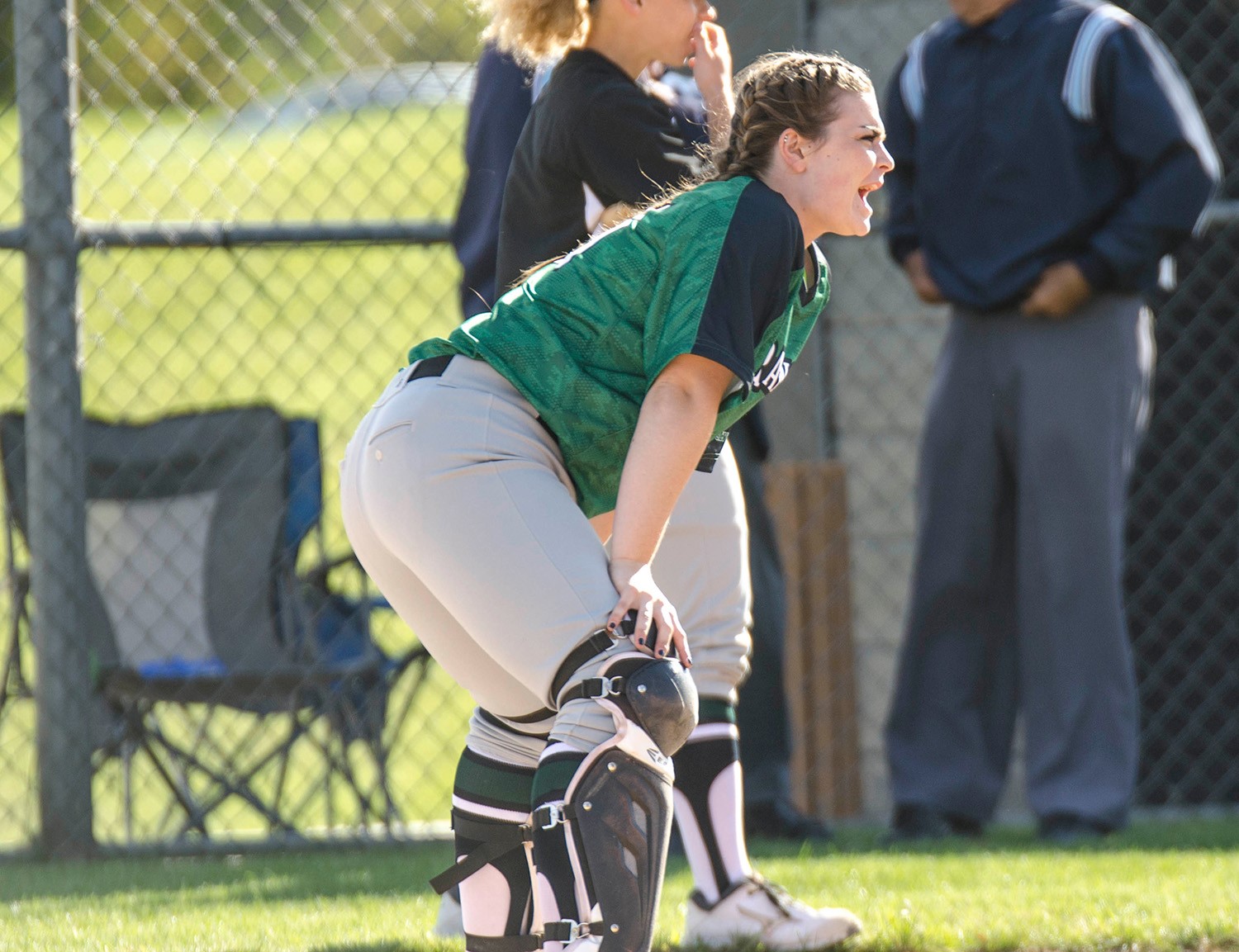 about an hour and a half away.
Coach Ortman looked up restaurants in the small town we were staying and found a "mom and pop" pasta place. Once we got to the restaurant we found out that they had a special: all you can eat spaghetti and garlic bread! As you can imagine, for 21 hungry, sunburnt, tired softball players this was a dream come true. We were challenged to see who could eat the most plates of spaghetti and the winner only had three. (The garlic bread was insanely good.) After dinner we headed to our hotel. It was approximately 7 so we had study tables for an hour to make sure that we were getting all of our homework done for the weekend.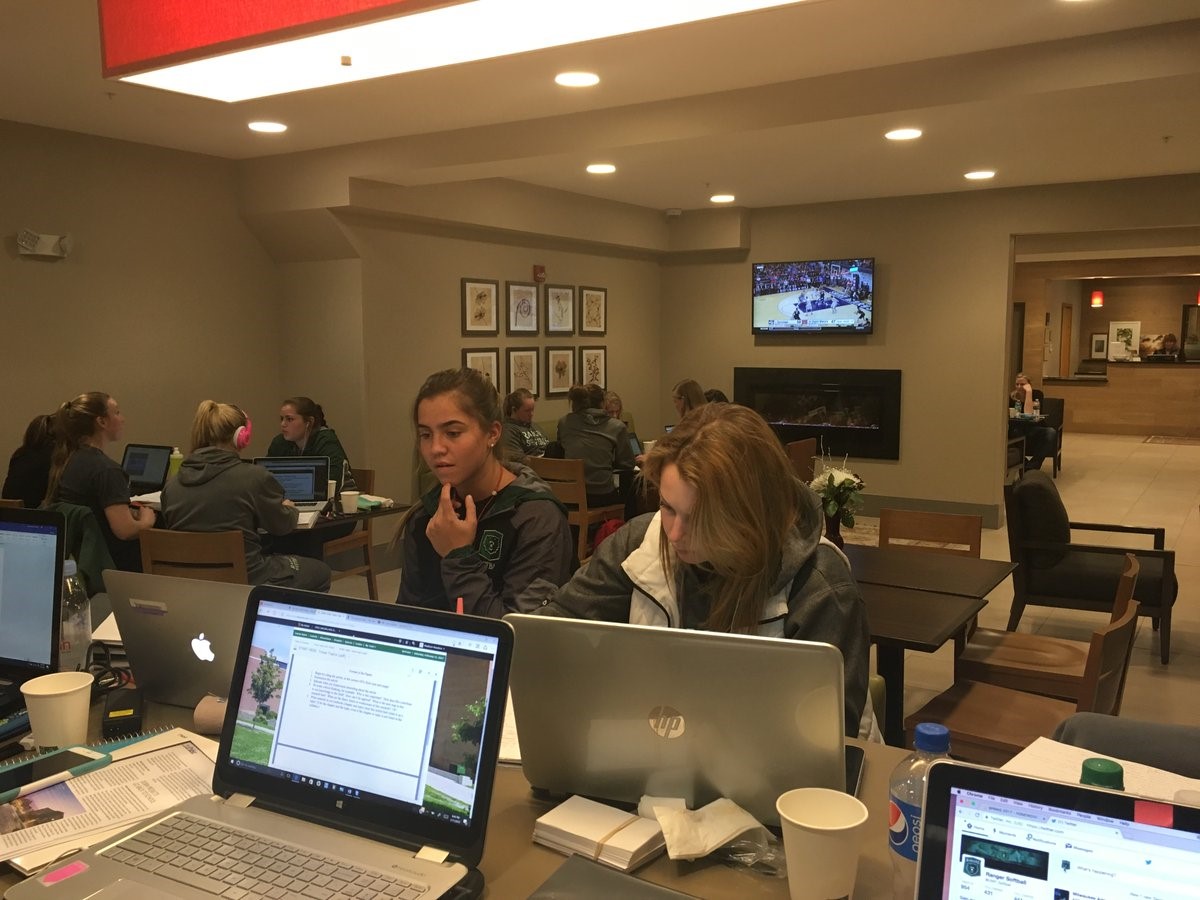 Curfew was 9:45 p.m. for players who went out to dinner with their families. Most families come out to all of our games, even if it's a six-hour drive. After our games we are allowed to be with our families for dinner and to hang out until curfew. The next day we played at noon and 2 again.
We got back to Parkside around midnight. We were all exhausted and a little cranky. Every time we come back late we make sure the bus is clean before anyone gets off. We grab the softball bags, buckets, and carry on bags under the bus and uniforms are taken to the laundry room right away so they will be ready to go the next game. Once everything was put away we were cleared to leave and go to bed. Monday we start preparing for our next road trip. I can hear the wheels rolling now for the 7-hour road trip to Kentucky.