RAREA Scholarship Committee awarded $8,000 in scholarships to two UW-Parkside students in the IPED Program
Published: June 17, 2019
SOMERS – The Racine Area Retired Educators Association (RAREA) awarded two University of Wisconsin-Parkside students with newly-implemented scholarships at a special luncheon event at Infusino's Banquet Hall in Racine Wednesday, June 12. Amy Hughes was awarded the $3,000 RAREA/UW-Parkside scholarship and Brantina daSilva was awarded the $5,000 RAREA/UWP Martenas Family scholarship. These two students were selected via the RAREA scholarship committee in late April. Both recipients have declared teaching as their career goals.
The RAREA/UW-Parkside scholarship is funded by RAREA membership dues, while the Martenas Family scholarship is funded by the Martenas family and awarded through RAREA. The RAREA/UW-Parkside scholarship was designed to support junior students in the UW-Parkside Institute of Professional Educator Development (IPED) program, and will be given out annually, starting this year. Peggy James, the dean of the College of Social Sciences and Professional Studies at UW-Parkside, helped coordinate the scholarship. Denise Olstinske, a UW-Parkside program manager in the college participated in the selection process for the Martenas Family scholarship. James and Olstinske presented the awards to UW-Parkside students in the IPED program at the event.
Amy Hughes was inspired by her high-school English teacher. "A good teacher in any subject is someone who is passionate about what they do," says Hughes. She began the teaching education program at UW-Parkside in fall 2016 and has had her fair share of obstacles. In spring 2017, several of her immediate family members were diagnosed with serious health-related issues. Amy showed great commitment to her family as well as her education during this extremely difficult time, all the while maintain excellent grades, excelling in her clinical field placements, and taking summer and winter courses to ensure that she could stay on track for graduation. As she was preparing for fall 2018, both she and her father were in a severe car accident. Amy required surgery and several months of therapy as a result. Yet, she continued on her path, and completed her degree in the fall of 2018. In the spring, Hughes was placed at St. Catherine's High School for her clinical experiences. She has demonstrated a clear passion for teaching.
Brantina DaSilva always knew that she wanted to be an educator. As a college student, accountant, wife, mother, musician, and volunteer, she has faced many challenges on her long and winding path to this point. As a volunteer who worked with struggling readers in her son's 3rd grade classroom, she was encouraged by his teacher to jump back into educational path she had started years before, and found the Institute for Professional Educator Development (IPED) at UW-Parkside to be a perfect fit for her. daSilva has thrived in the program, maintaining a perfect 4.0 GPA. One IPED professor wrote that she "is a peer leader in our department, an exemplary student, and a model teacher candidate." daSilva is one of four mentors within the IEPD program who is available to help meet individual needs of education students, promote collaboration, and build community. She also serves as board member and treasurer of the PTO at Riverview Elementary School. daSilva's goal is to teach math or science to middle-school students.
RAREA, which is affiliated with the Wisconsin Retired Educators' Association (WREA), was founded in 1951 and is open to all public school retirees in the Racine area. RAREA's purpose is to provide members with up-to-date educational information, provide social opportunities, and help maintain friendship among past colleagues.
You can find out more about RAREA on the group's Facebook page:
You can read more about WREA at their main website:
###
Contact Info:
Peggy James
Dean, College of Social sciences and Professional Studies
University of Wisconsin-Parkside
james@uwp.edu
262-595-2993
Brantina daSilva (Left) and Amy Hughes (Right), scholarship award recipients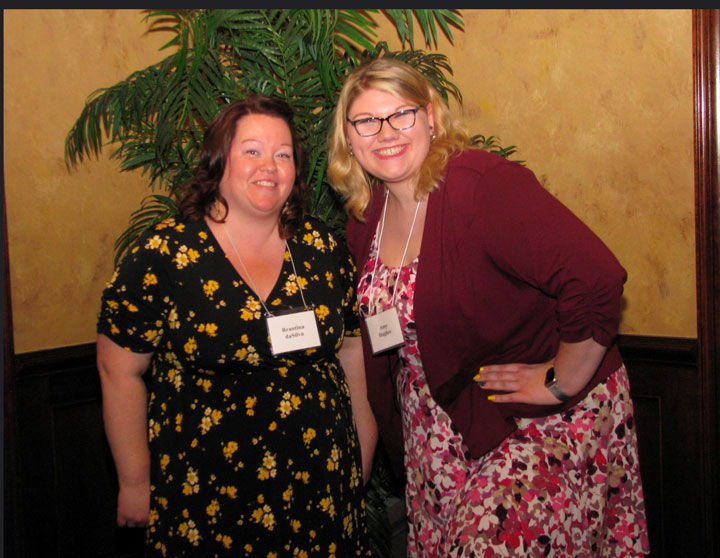 Brantina with her husband Bill (Left), and Amy with her parents, Mr. & Mrs. Hughes (Right)