UW System President Ray Cross Visits UW-Parkside
Published: April 2, 2019
SOMERS - UW System President Ray Cross toured operation areas of the University of Wisconsin-Parkside campus Tuesday, April 2. UW-Parkside Chancellor Debbie Ford and Facilities Director John Bruch described areas on campus in need of restoration and replacement, including the campus fire alarm system.
Renovation of the campus fire alarm system is part of Gov. Tony Evers' capital budget request. The $6.8 million project will replace fire alarm systems in all major buildings, improve smoke and heat detection systems, and provide additional audio/visual alarm signals now required by ADA code.
"What we're seeking in the capital plan is maintenance money, for upgrading, replacing, repairing, replenishing," Cross said. "Two years ago, we got nothing in maintenance. So that really set us back. We're pleased that the Governor put forth an aggressive agenda."
Despite the advanced age of heating-and-cooling, electric, and fire safety systems, Chancellor Ford applauded the efforts of the UW-Parkside Facilities Management team in keeping systems clean and functional.
"The continued investment from the State of Wisconsin into our request is really important to us," Ford said. "Our physical plant and our learning environment are some of the greatest assets we have as a university. Our investment in helping maintain these facilities is vitally important."
Dr. Ford mentioned an inspection by Liberty Mutual which singled out the UW-Parkside heating and chilling plant as the cleanest, safest plant in the entire UW system. Yet, the system was implemented in the early 1970s, and it's clear that maintaining an aging system is not the safest and most cost effective solution.
Cross said that over 60 percent of buildings within the UW System are between 45-70+ years old.
 "This a beautiful facility that is well maintained. But within the bowels of the facilities, that's what really makes things function," Cross said. "That's why this maintenance money so important."
Despite whatever efforts put in to maintain and keep systems going, they inevitably need to be repaired or replaced. Gov. Evers has requested more than $2.5 billion in his two-year building projects capital budget, with close to half of the proposed money going to upgrades and renovations at UW system facilities.
"We can't continue to defer investment," Cross said.
###
Media contact:
John Mielke
262-595-3226
mielkej@uwp.edu
President Cross inspecting systems at UW-Parkside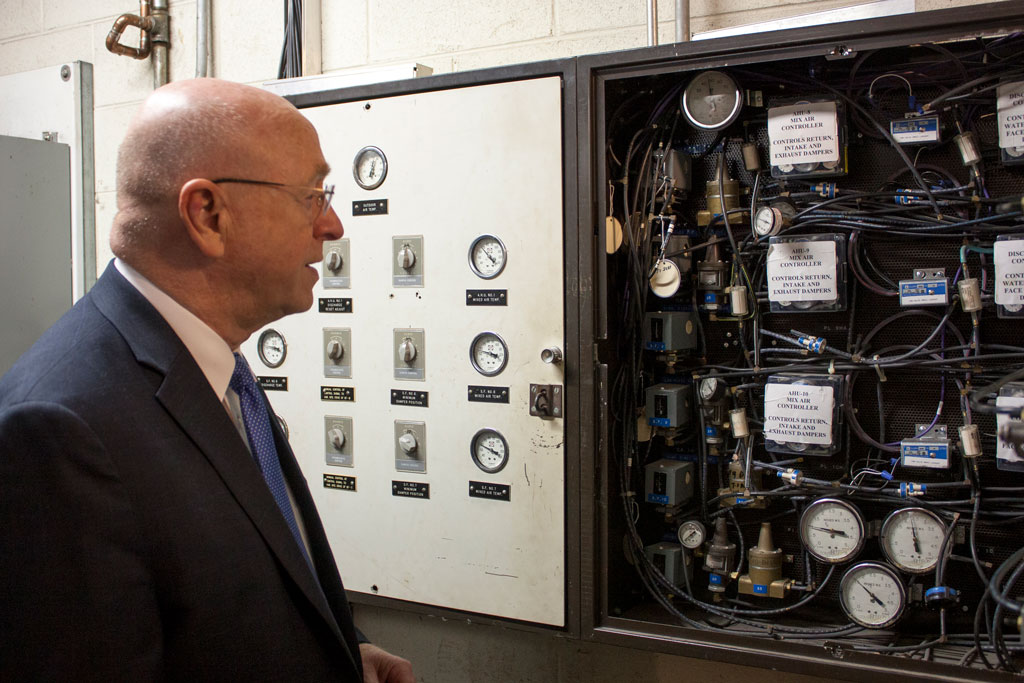 President Cross and Chancellor Ford addressing maintenance issues