Ready Badger mobile app unveiled
Published: April 28, 2016
READY BADGER MOBILE APP AVAILABLE
TECHNOLOGY ASSISTS EMERGENCY MANAGERS AND COMMUNITY
Emergency managers were on hand April 12 for the debut of a mobile app designed to speed the process of gathering and sharing emergency information.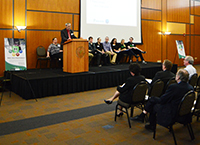 Working with county emergency managers in southeastern Wisconsin, the App Factory at the University of Wisconsin-Parkside developed Ready Badger. According to Dr. Derek Riley, UW-Parkside assistant professor of computer science and co-director of the App Factory, Ready Badger allows emergency managers across the state to update emergency information and app users to follow local alerts. 
"If an emergency happens in a county you are following, the emergency manager can push out a notification that will show up on your phone the same way you get a text message," Riley said.
Alerts could be anything from emergency weather notifications to road closings. A "report damage" function allows users to report damage to a local emergency management office.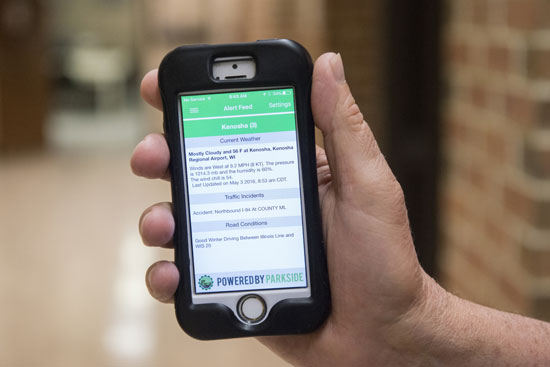 Peter Jensen, assistant team leader for Southeastern Wisconsin Incident Management, said emergency managers have traditionally been challenged collecting and understanding exactly where the damage is following any sort of emergency. "That information is used not only to help direct local emergency responders," Jensen said, "but to help justify disaster declaration. The old way of doing things is basically going out in your car and driving around looking for the damage."
Jensen said he expects Ready Badger to simplify and speed the process of applying for disaster aid or submitting a FEMA request if the emergency warrants that action.
Getting the Word Out
Now that the app is available for Android and iOS devices at no charge from Google Play and the App Store, the next step is raising awareness. "I hand out a lot of information," said Donna Haugom, emergency manager for Jefferson County. "There are probably a thousand people I can reach out to and identify what this app is and explain how to use it."
Wisconsin Assembly Minority Leader Peter Barca and Wisconsin State Senator Van Wanggaard were in attendance. The two Wisconsin legislators were some of the first to download Ready Badger.
Two-Way Communication
"Emergency management directors in southeastern Wisconsin found that other apps really did not meet the needs of the local government," Jensen said. "Some apps may have replicated information that was available from other sources such as the National Weather Service. This app goes beyond by establishing the capability of people sending information directly to the emergency management office.
"The big advantage is that this provides the local emergency management office with direct communication with the public. Local emergency managers can now tailor alerts for literally any type of emergency that occurs and get information out to the public in a timely fashion."
Jensen noted that without the UW-Parkside App Factory, the emergency management community would not have been able to afford development and ongoing support of Ready Badger. "The beauty of the collaboration," Jensen said, "is the reward of seeing the students in the beginning and now. When they came in, they were students, they were taking a class. Now they are prepared to go out into the real world … they've received a real-life experience."
And, developed what could be a real life-saving device.