Agreement brings Russian students to UWP
Published: June 8, 2015
UW-Parkside Expands International Partnerships
When University of Wisconsin-Parkside Chancellor Deborah Ford traveled to Russia in May to sign a memorandum of understanding with Saint-Petersburg State University of Economics, she did so to broaden the educational experience for students from each country.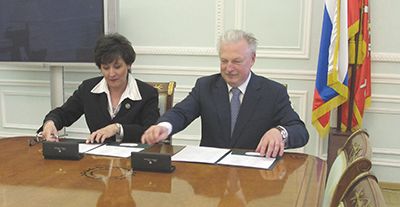 UW-Parkside Chancellor Debbie Ford and Saint-Petersburg State University of Economics Rector Igor Maximtsev
Accompanied by her husband, John, and UW-Parkside Associate Professor of Business Dr. Abey Kuruvilla, Ford highlighted the value of international education partnerships in a rapidly changing global environment. 
Part of the agreement allows 12 executive M.B.A. students and two faculty from St. Petersburg to visit UW-Parkside in August and September. The students and faculty will take a course on "Strategies of Entrepreneurship: Doing Business in the USA" taught by Dr. Kuruvilla. The Russian contingent will visit businesses in Racine and Kenosha along with others in the greater Chicago area and learn from lectures and presentations by business leaders. 
The agreement also allows UW-Parkside students to spend a semester in Russia as a part of their degree completion. Professor Igor Maximtsev, rector of Saint-Petersburg State University of Economics, stressed the importance of growing the partnership to include different levels of student and faculty exchanges. 
Saint-Petersburg State University of Economics is the second-largest economic and management university in Russia. Dr. Kuruvilla, who was invited to deliver lectures to the executive M.B.A. program in St. Petersburg last November, spoke about the potential for international agreements building a sustainable partnership that would create a successful experience for students from both universities.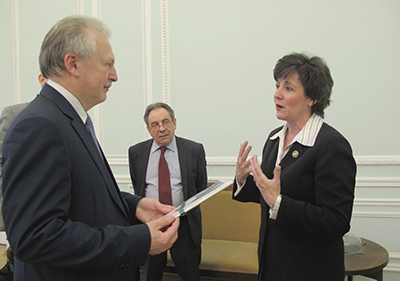 Chancellor Ford presents Rector Maximtsev with a gift of student artwork
At the signing ceremony, Ford presented Rector Maximtsev with artwork created by UW-Parkside art student Sabrina Miner. In turn, Ford received a Saint-Petersburg State University of Economics medal from Rector Maximtsev. The UW-Parkside delegation also had detailed meetings with Vice Rector for International Relations Professor Dmitry Vasilenko, Scientific Chancellor of the Higher Economic School Professor Valentin Galenko, Vice Rector for Scientific Work Professor Alexander Karlik, and Manager of International Projects Olga Tabelova.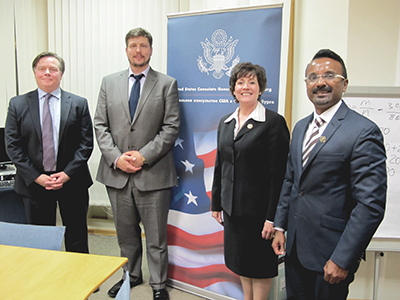 Chancellor Ford and Associate Professor Abey Kuruvilla (right) at the U.S. Consulate with Public Affairs Officer John Land and staff
Following the signing, Ford and Kuruvilla visited the Consulate of the United States in St. Petersburg. James Land, public affairs officer at the U.S. Consulate, and other officials hosted the UW-Parkside delegation and discussed partnerships between American and Russian universities. Land offered the support of the consulate in expanding this partnership and suggested ways to keep it sustainable. He emphasized the role of educational institutions in developing people-to-people contact between the two countries.