UW-Parkside Presents 28th Parkside National Print Exhibition
Published: February 17, 2023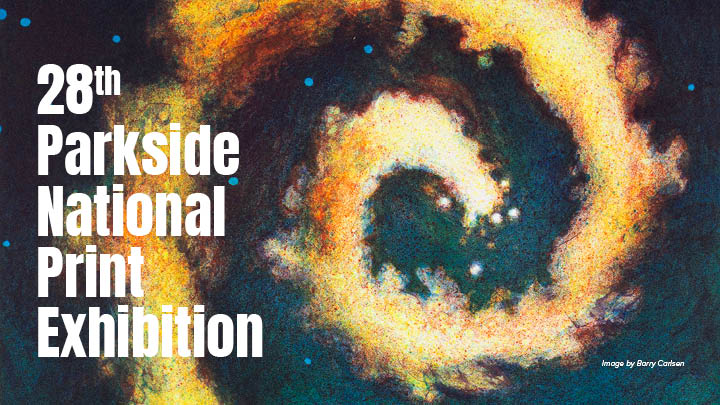 The University of Wisconsin-Parkside is hosting the 28th Parkside National Print Exhibition from Feb. 14 through July 28 in the Emile H. Mathis Gallery. There will be a public reception, announcement of awards, and juror's remarks on Thursday, March 2, 4-6 p.m. A full-color catalog will accompany this exhibition. 
2023 marks the 28th presentation of the Parkside National Print Exhibition over thirty years since the first show opened at UW-Parkside. For three decades, the PNPE has shown some of the finest examples of original prints from artists nationwide. It is one of the longest-running competitive print exhibitions in the Midwest.
The Exhibition was founded at UW-Parkside in 1987 by printmaking professor Doug DeVinny. This tradition continues without size limitations in the recently renamed Emile H. Mathis Gallery in the Rita Tallent Picken Regional Center for Arts & Humanities at the UW-Parkside.
The juror is Barry Carlsen, printmaker and co-founder of Vox Populi Print Collective. Carlsen was born in Omaha, Nebraska. He received a BFA from the University of Nebraska–Omaha and MFA from the University of Wisconsin–Madison.
Carlsen curated Big Ten(t) University of Wisconsin Alumni Artist Showcase, a 60-artist show presented in Chicago, New York and Madison and UW Alumni Art fair at ArtHelix Gallery. His work has been exhibited nationally and in Europe. Public collections include universities and corporations across the country.
The gallery and reception are free and open to the public. For more information visit https://www.uwp.edu/therita/artgalleries.cfm
---
The University of Wisconsin-Parkside is committed to high-quality educational programs, creative and scholarly activities, and services responsive to its diverse student population, and its local, national, and global communities. We are a dynamic learning community grounded in academic excellence and focused on student success, diversity, inclusion, and community engagement. The campus serves as a premier comprehensive public institution and a destination of choice, serving as a focal point of local, regional, and global progress. 
---
Media Contact:
Colin Matthes
University of Wisconsin-Parkside
Gallery Director
matthes@uwp.edu