UW-Parkside Students Present Research at Research in the Rotunda
Published: March 27, 2023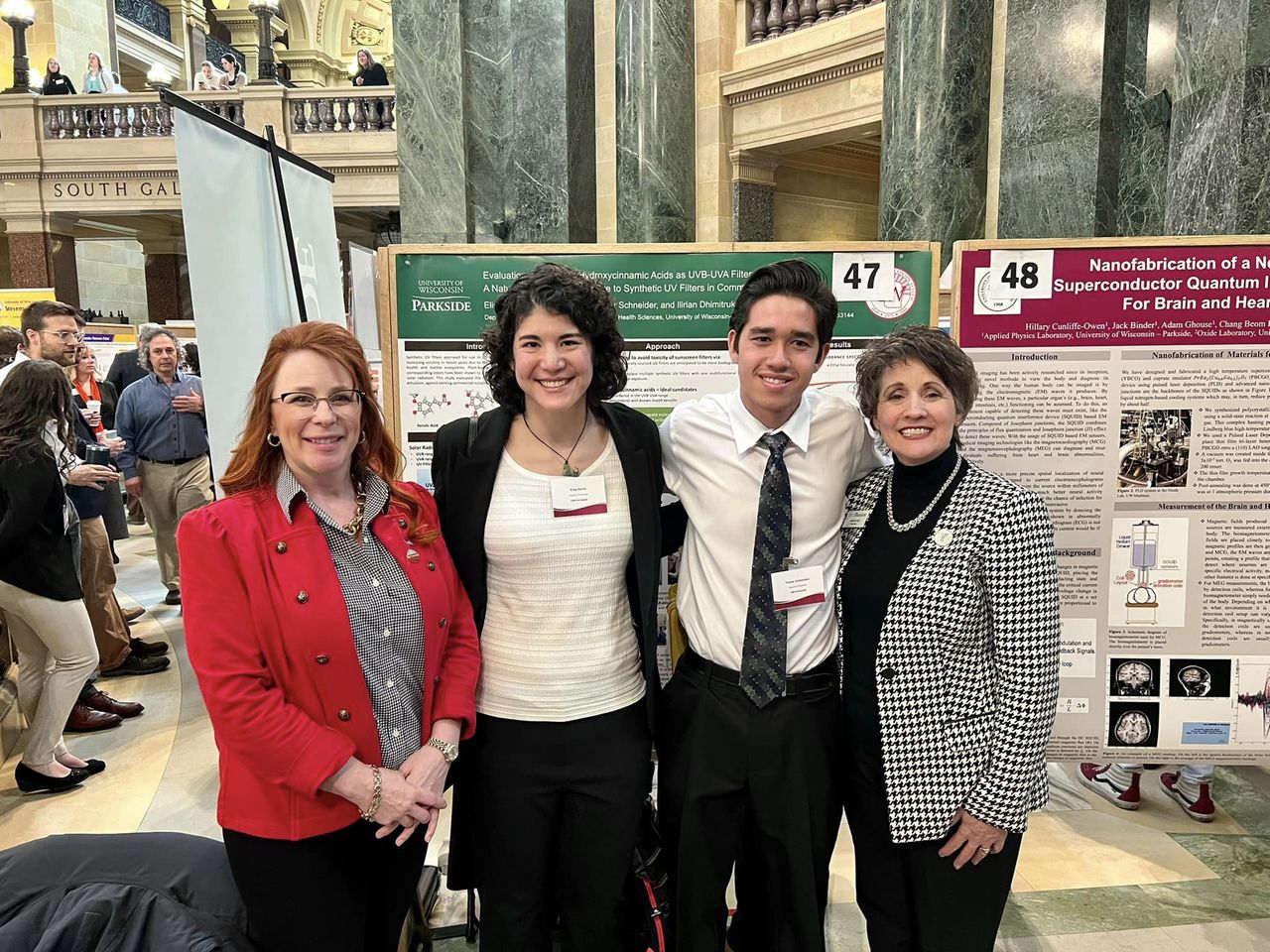 Eleven students represented the University of Wisconsin-Parkside among nearly 150 undergraduates across the University of Wisconsin System to showcase their outstanding research at the 19th annual Research in the Rotunda on March 8. Together with their faculty advisers, students shared their research findings on a variety of important topics with legislators, state leaders, UW alumni, and other supporters in Wisconsin's Capitol Rotunda.
The names and majors of UW-Parkside students who participated (faculty mentors in parenthesis) include:
Abby Lentz, Natalie Meyer, and Nicholas Winter (Jessica Orlofske)  
Elise Zevitz and Trever Schneider (Ilirian Dhimitruka)  
Hillary Cunliffe-Owen and Jack Binder (Hom Kandal)  
Payton Leutner and Yincheng (Jeremy) Jin (Sylvia Beyer)  
Ris Homar (Bob Sasso)  
Elisa Kurber (Adrienne Viramontes) 
UW-Parkside students Elise Zevitz and Trever Schneider, under faculty mentor Ilirian Dhimitruka, presented their research investigating the UV-blocking potential of naturally occurring, plant-based compounds in sunscreens. Zevitz is from Mt. Pleasant, WI, and is in her second year as a pre-medicine student at UW-Parkside. She has been a student in Dr. Dhimitruka's research lab since the Summer of 2022 and also works as a Supplemental Instruction leader for the organic chemistry courses at UW-Parkside.  
Zevitz explains the importance of their research stating, "Synthetic UV filters approved for use in US sunscreen formulations have come under increasing scrutiny in recent years due to the suspicion of undesirable effects on human health and harm to aquatic ecosystems. The limited number of FDA-approved chemical filters are not easily biodegradable and all suspected of causing coral bleaching, leading to legislative bans at the state and local levels," she explains.
She continues, explaining that these factors necessitate the need for alternatives. "For that reason, there is a pressing need for the development of greener, less toxic alternatives from natural products commonly available in the US. That's what we're exploring in Dr. Dhimitruka's research lab," Zevitz adds.   
The Research in the Rotunda event provides students with valuable experience with conducting and presenting their research, as well as being able to see the work of their peers from across the UW System. Zevitz explains, "The experience taught me how to think about our research from a broader perspective and communicate what we do in the lab to the general public and audiences outside the walls of the university."   
Zevitz was also impressed by the variety of research topics displayed at the event. "The poster presentations that I visited comprised an impressive range of topics, from genetic mutations in Staph bacteria to German immigration to Wisconsin in the nineteenth century," she says.  
She noted this same variety in the projects presented by her peers at UW-Parkside. "I enjoyed learning about the research being conducted by UW-Parkside faculty and fellow students, including an archaeological excavation in our own backyard and a study of how habitat restoration on campus grounds affects bumblebee distribution," she states.   
UW-Parkside students and their faculty mentors displayed their posters inside the state Capitol Rotunda. The event featured six selected undergraduate student research projects with presenters from each of the 13 UW campuses. Attendees also included chancellors, provosts, and vice chancellors.