UWP STUDENTS RUNNERS-UP IN NATIONAL SALES COMPETITION
Published: April 5, 2019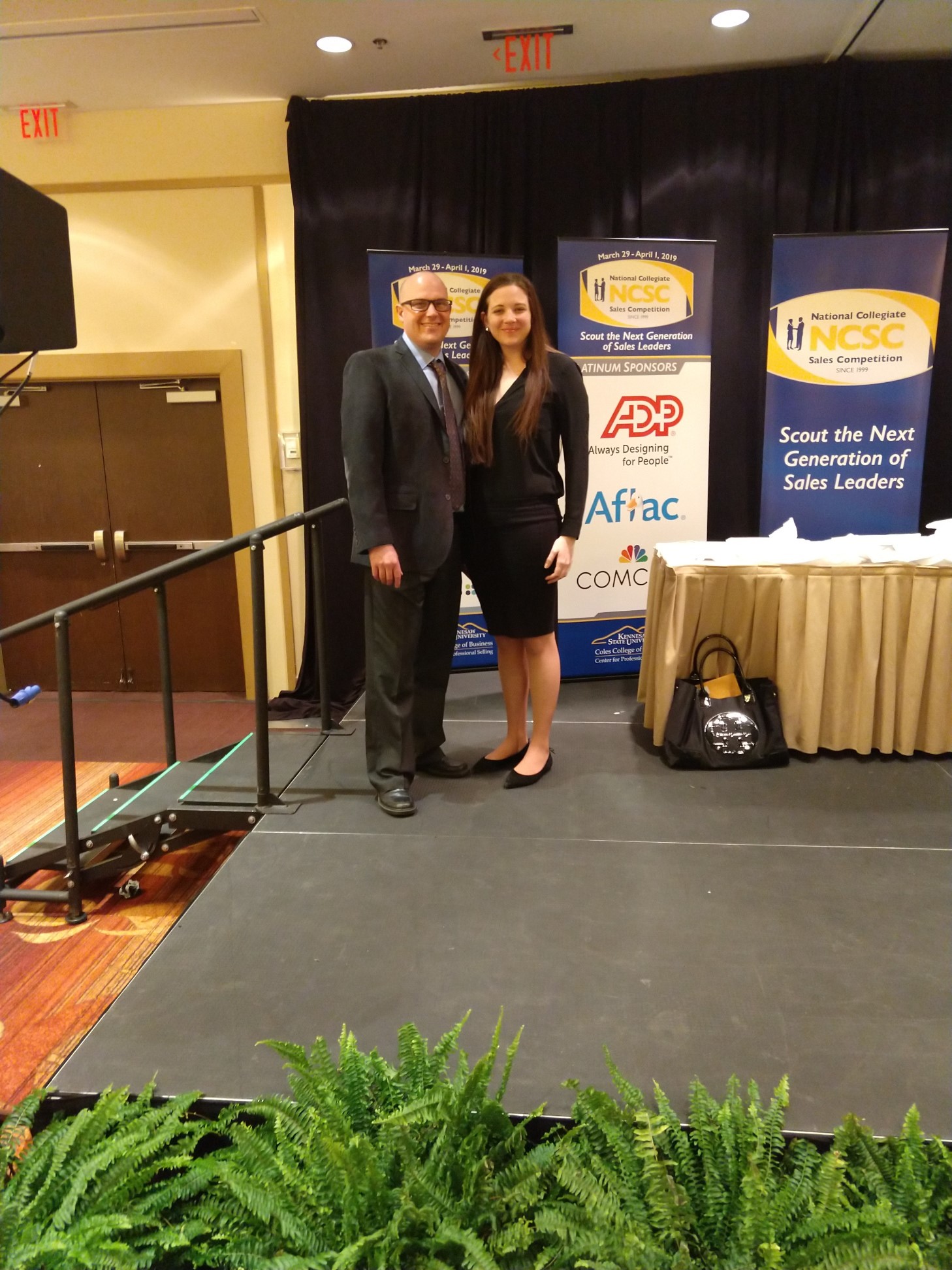 Graduate students Tali Torhorst and Mike Zarletti demonstrated the essential business skills they've acquired at UW-Parkside by earning second overall in the Graduate Division of the 2019 National Collegiate Sales Competition. UW-Parkside earned five individual and team awards during the competition at Kennesaw State University in Kennesaw, Ga. Over the past five years of the competition, UW-Parkside students have earned three runner-up awards, and one first-place award. 
Torhorst earned her undergraduate degree at UW-Parkside in May 2016 and also completed the university's Sales Certificate Program. She is from Lake Geneva, Wis., and attended Badger High School.
Michael Zarletti is from Kenosha and attended Tremper High School. He previously graduated with a degree in computer science and is currently enrolled in the MBA program.
Torhorst and Zarletti are each pursuing an MBA. Torhorst is on track to graduate in May with a concentration in marketing, and participates in UW-Parkside's Sales Alumni Network.
Placing at this competition, Torhorst says, is validation of her hard work and she is proud to continue the successful tradition of UW-Parkside's decorated sales program. "We put in a lot of work in preparation for this competition, so it was rewarding to earn second place in such a challenging field," Torhorst explains.
Zarletti believes that this success proves the relevance and importance of UW-Parkside's sales program. "The skills that I have learned are exactly what employers are looking for," Zarletti said. "Of course Tali and I put in hours of hard work preparing for the competition, but without the proper direction from faculty and access to the sales lab, finishing second overall would not have been possible."
Torhorst sees great value in learning and developing sales skills. "The most important aspect of sales technique is effective communication. During preparation for competition, I improved in many aspects of my professional communication that I am sure will benefit my future career," she said.
Like his teammate, Zarletti asserts that the exhaustive preparation was the most challenging, and rewarding, part of the competition. During the competition, the duo encountered situations that they had prepared for. "No matter what the situation, a salesperson needs to handle it in a positive way," Zarletti said. "When Tali and I were in a team-sell call, the buyers completely walked out of the room in an upset fashion. Tali and I looked at each other and smiled because we practiced for this, we regrouped on our strategy and were ready when they came back in the room."
Torhorst says the most challenging part of the competition was the deep analysis of their role play cases and the exhaustive preparation they had to do in order to be prepared for every possible scenario. Although she admits that it was a great challenge, Torhorst says she truly enjoyed the opportunity to work and travel with her fellow UW-Parkside sales students, as well as meeting and networking with talented students from across the country.
"Joining Dr. Knight's sales program at UW-Parkside was an excellent decision for my career. There is so much more to learn from our teachers and faculty at the university than just what they teach in class. I will always suggest extra-curricular involvement to any student who wants to enrich their education experience at any level," Torhorst explains.
Zarletti says this experience provided good material for his resume. It also changed his perception of sales and salespeople, and developed important professional and personal skills. "Prior to this competition I had never sold anything and actually really did not care much for salespeople," he said. "It was an eye-opening experience gaining stronger skills in showing empathy, active listening, mindfulness, situational awareness, tenacity, relationship building and being confident without being arrogant."
Both team members are proud of their achievement and they genuinely enjoyed the learning opportunities and building relationships along the way.