SC Johnson Integrated Science Lab Grand Opening
Published: August 31, 2017
Surrounded by business partners, community leaders and elected officials from southeastern Wisconsin, the University of Wisconsin-Parkside and SC Johnson opened the SC Johnson Integrated Science Lab on the UW-Parkside campus. The newly renovated scientific lab in UW-Parkside's Greenquist Hall is designed to meet the STEM talent needs of the future.
The lab is named in recognition of SC Johnson's leading contribution to the project.
The donation assists the university in adding opportunities for students, such as research fellowships, scientific career exploration, and development activities.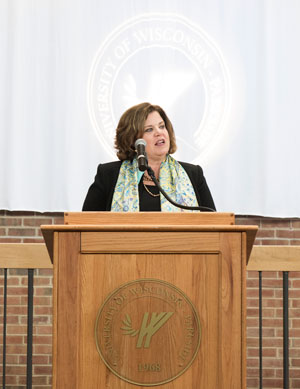 Kelly Semrau
Senior Vice President - Global Corporate Affairs, Communication and Sustainability
SC Johnson
This high-quality lab space will enhance educational experiences for local students and provide students with a collaborative environment," said Fisk Johnson, Chairman and CEO of SC Johnson. "We're thrilled the new SC Johnson Integrated Science Lab will help support future science professionals who are better prepared for the workforce, and will assist with meeting future workforce demands of the region."
Chancellor Debbie Ford eagerly welcomed the partnership with SC Johnson "Recognizing SC Johnson as a leading employer and a pioneer in the scientific industry, we are thrilled to receive this investment in our learning environment," Chancellor Ford said. "The SC Johnson name represents a longtime commitment to innovation in science. Their commitment to advancing science at UW-Parkside is and will continue to be an inspiration to our students." 
Science is a cornerstone at UW-Parkside
For nearly 50 years, UW-Parkside has provided its students with the opportunity to achieve the highest levels of success in science. UW-Parkside's track record of placing students in medical school and other professional programs is unparalleled in the region. Recent data indicates an 89-percent placement rate in health-related professional schools over the past 14 years – more than double the national average (41 percent).
Today, science remains a cornerstone of the university and continues to grow. Increasingly, students choose UW-Parkside for scientific education: the number of students enrolling in science and health majors at UW-Parkside has increased more than 30 percent in the past five years. There are more declared majors in the UW-Parkside College of Natural and Health Sciences than in any other college at the university. The college's programs feature Applied Health Sciences, Biology, Chemistry, Engineering, Environmental Studies, Nursing, Pre-Health, Psychology, and more.
The growth in science majors has resulted in an increase of more than 20 percent in UW-Parkside students graduating with degrees from the College of Natural and Health Sciences over the past five years.
Partners come together to advance science at UW-Parkside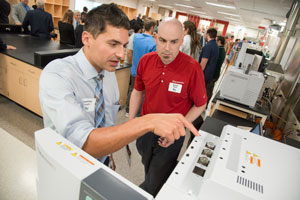 Carmine Savaglio, SC Johnson senior research scientist and UW-Parkside graduate, reviews Shimadzu instrumentation with Shimadzu Field Service Engineer David Hobbs
To realize this significant investment in infrastructure and student needs for science at UW-Parkside, partnerships from the community, the state and across the globe came together. Through a highly competitive grant process, the University of Wisconsin System and the State of Wisconsin awarded a $1.3 million dollar grant to fund the renovation of two existing science Lab spaces into a single, advanced lab.
The SC Johnson Integrated Science Lab represents a breakthrough opportunity for students, faculty, businesses and community organizations to partner on projects using industry-quality instrumentation in an environment ideal for precise academic and scientific research.
The SC Johnson Integrated Science Lab boasts an array of high-quality equipment from Shimadzu Scientific Instruments. The partnership with Shimadzu provides a broad range of analytical instruments indispensable for research, development, and quality control in a variety of fields. 
Dr. Emmanuel Otu, Dean of the College of Natural and Health Sciences at UW-Parkside, noted the value of the partnerships. "The support of SC Johnson is a tremendous endorsement of the quality of our students and faculty in advancing science," he said. "I am also very excited to be in partnership with Shimadzu as they too bring a level of excellence and ongoing guidance that will ensure our lab is and remains of the highest quality."
Shimadzu will be a continuous partner with UW-Parkside to sustain the equipment and provide training and support to faculty and students. The company will feature the lab as a demonstration site for area industry in the use of high-precision Shimadzu instrumentation.
Private foundation partners have also contributed to the establishment of the lab including the Greater Milwaukee Foundation Enroth Family Fund, the John J. and Ruth F. Kloss Charitable Trust, and the Palmer Foundation.
Applied and Relevant Learning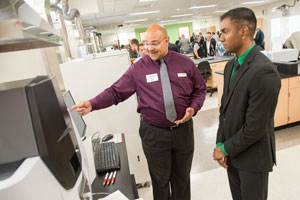 UW-Parkside pre-med student Siva Shankar of Kenosha talks with Shimadzu Engineer Delano Turner
The unique design of the SC Johnson Integrated Science Lab provides for class-based lectures and labs as well as affording space for independent research. 
The collaborative lab space allows UW-Parkside to expand and enhance opportunities for students to experience research with faculty members, collaborative projects that engage teams in solving real-world industry or community problems, internships or other field work. These experiences engage students in the learning process and prepare them for continued education and successful careers.
Research fellowships, including those with industry partners, provide students with opportunities to explore careers in high-demand fields and receive mentoring from current professionals in STEM industries. UW-Parkside received a gift of more than $100,000 from Dr. Scott and Alice Thomson to support student research fellowships in the biological sciences. The Thomsons were inspired by the talent of our students, the commitment of the faculty, and the understanding that undergraduate research unlocks passion and develops skills needed to succeed in medical school, graduate school, or industry. The SC Johnson Integrated Science Lab provides an ideal setting to enhance the learning experiences made possible through the Thomson Research Fellows and other student research programs.
UW-Parkside will develop additional scientific career exploration and activities, making the SC Johnson Integrated Science Lab available for collaboration with industry-based scientists, sponsored research, and short-term projects facilitated by faculty and students.
The Future of Science at UW-Parkside
A sustained focus on science and STEM learning continues at UW-Parkside. Further investment and additional partners are needed to sustain the opportunities for students, address the talent demands of the area, and ensure the long-term success of the region. 
For more information on the SC Johnson Integrated Science Lab, investing in science at UW-Parkside, or exploring partnerships with the College of Natural and Health Sciences contact John Jaraczewski (jaraczew@uwp.edu) Assistant Chancellor – University Advancement and Relations.