Convocation Highlights Successful Semester
Published: January 30, 2015
In a week filled with news concerning the state budget, UW-Parkside Chancellor Debbie Ford had this message for members of the campus community during the annual Spring Convocation held Jan. 28:
"We know there are challenges on the horizon for higher education in general and for the UW System in particular. I can guarantee you, the next few years will demand hard work….Through the challenges, together we will continue to embrace our core values of student success, community engagement, and the celebration of diversity and inclusion. Our shared mission will guide us through these ever-changing times." 
As evidence of the dedicated effort by UW-Parkside faculty and staff, the 2015 Spring Convocation included highlights of what it means to "Be. Real. Amazing."
COMMUNITY CONNECTIONS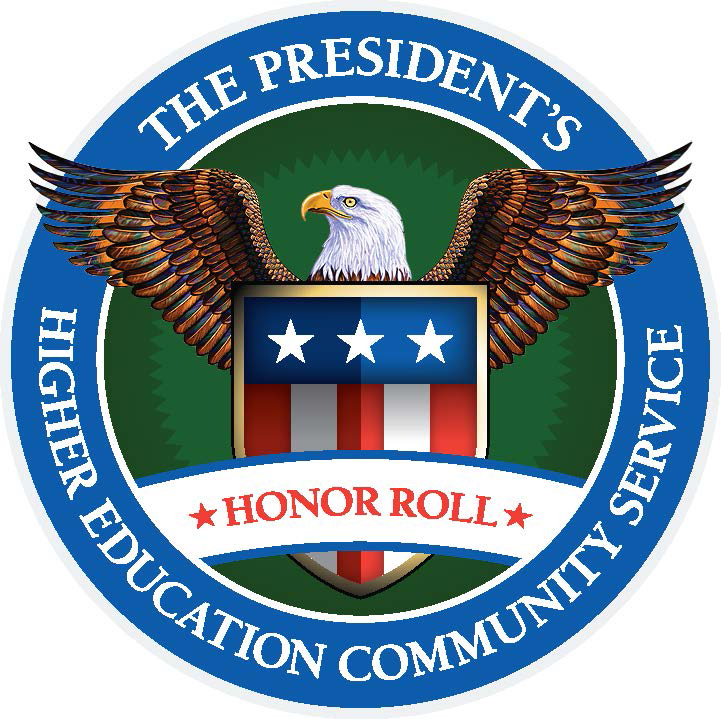 Interim Executive Director of Continuing Education and Community Engagement Debra Karp announced that the university had received recognition from the Carnegie Foundation for the Advancement of Teaching, and the President's Higher Education Community Service Honor Roll. 
Each recognized UW-Parkside for community service and engagement. Parkside was selected to receive the Carnegie Foundation 2015 Community Engagement Classification, an honor the university originally earned in 2006. 
The university has been included on the President's Higher Education Community Service Honor Roll each year since the program began, also in 2006. 
Tracy Hribar, clinical program coordinator for the Institute of Professional Educator Development (IPED), told a story of "George," a third grader who is currently being tutored by an IPED teacher candidate. "When they started working together," Hribar said, "George was two years behind in both reading and math. After working together twice a week, George is now reading at the third-grade level and is one year ahead in math." 
The tutoring was a partnership between teacher candidates in IPED and Scholarships, Opportunities and Access in Racine (SOAR). The mission of SOAR, a charitable, nonprofit organization, is to eliminate the academic achievement gap among children from families with limited financial resources. 
ON STAGE
The "Golden Hand Truck Award" may not sound like something theatre-arts students aspire to win. At the 2015 Region III Kennedy Center American College Theatre Festival in Milwaukee earlier this month, it was a goal for the company from UW-Parkside. Holding his thumb and forefinger a fraction of an inch apart, Associate Professor of Theatre Arts Jody Sekas said, "last year we missed the award by just this much." This time around, the load-in and load-out of "Reasons to be Pretty" earned the Parkside troupe the coveted honor. 
In addition, Zachary Cooper was named a finalist in the National Playwriting Program, One Act Play Festival. 
ALL ABOARD!
From the world of computer science, Assistant Professor Derek Riley and Lecturer Tim Knautz described one of the most recent accomplishments of the newly formed App Factory. Students worked with Kenosha Area Transit (KAT) to develop Android and iOS system apps that allow KAT riders to access schedules and find out when the next bus will be at a particular location. 
The App Factory is also working with the Racine Belle Urban System (BUS). Riley said that this type of app is available in larger cities, however, the high development cost can be an obstacle for smaller municipalities. The App Factory does not charge as it provides valuable experience for students pursuing software engineering and development.
HOOPS ARE HOPPIN'
A group that could have used a bus-schedule app might have been the Parkside Rangers women's basketball team. The team started the season with 15 road games and logged more than 7,000 miles. The "have basketball, will travel" strategy seems to be paying off.
The women's team is on an eight-game win streak in the Great Lakes Valley Conference. The Rangers men's team is off to the best start in school history and is ranked No. 20 nationally in NCAA Division II and defeated the No. 1 team in the nation, Indianapolis, Thursday night.  
IF IT'S WEDNESDAY, IT MUST BE FINLAND
Someone else adding to his frequent-flyer mileage account is Associate Professor of Business Abey Kuruvilla, who also serves as special assistant for international relations to Chancellor Ford. 
As a visiting professor in 2012 at Mikkeli University of Applied Sciences in Mikkeli, Finland, Kuruvilla saw an opportunity for Parkside to connect one of the country's top applied sciences universities. Working with Mikkeli's Head of Business Marja-Liisa Kakkonen, the culmination of Dr. Kuruvilla's vision took place Nov. 25 when a memorandum of understanding was signed between the two institutions creating pathways for student and faculty exchange. 
Kuruvilla is also working on partnerships with institutions in Russia. 
GENEROUS SUPPORT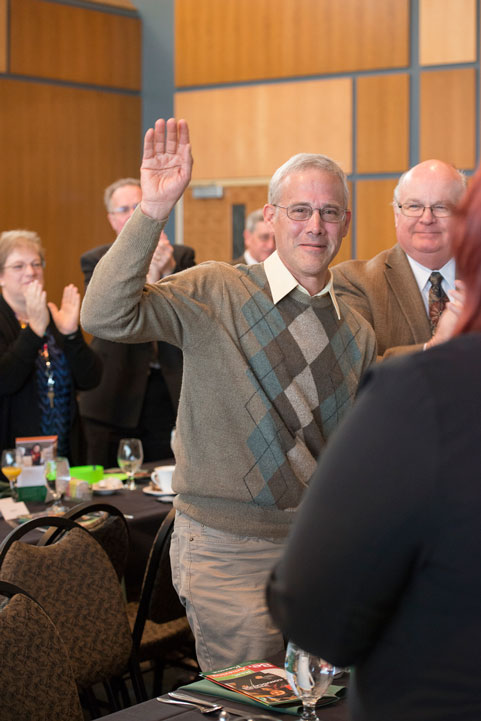 Assistant Chancellor for University Advancement John Jaraczewski, who also served as emcee for the event, announced new scholarship support from former professors Frances Bedford and Scott Thomson. Both Bedford and Thomson were in attendance and received a heart-warming round of applause from their colleagues.
Emeritus Professor of Biological Sciences Scott Thomson




SERVICE TO THE U! 

It is the custom at each Spring Convocation to recognize service anniversaries; this year 61 faculty and staff celebrating 935 years of service were honored. Don Kolbe and Rich Walasek led the class of 2015 with 35 years of service each. 
Chancellor Debbie Ford with Don Kolbe and Rich Walasek (right)
PERSISTENCE AND COMPLETION 
An important initiative under way at UW-Parkside involves improved retention and graduation rates. Associate Vice Chancellor for Enrollment Management DeAnn Possehl delivered the good news from last year and presented goals for 2014-2015. 
JOY
Chancellor Ford closed the convocation by asking her colleagues a question. "I ask you, for a moment, think about your work and what brings you joy." Ford said. "Let's agree to focus on what brings us joy and focus on our core mission of education." 
During her inauguration in November 2009, which Ford said "sometimes seems like just moments ago," she offered this challenge: "Let's go to the moon and shoot for the stars … together. Let us test ourselves, challenge ourselves and one another … reveal our weaknesses, build upon our strengths and aspire to achieve something great…. We know our successes will be many and meaningful. They will be measured by the bright futures and changed lives of the worthy students who will cross our paths as they reach their full potential as University of Wisconsin-Parkside graduates."