Record Graduating Class - Again!
Published: May 13, 2017
As student retention and student success continue to grow at the University of Wisconsin-Parkside, so do the number of graduates. The spring 2017 graduating class is on track to become the largest in the history of UW-Parkside.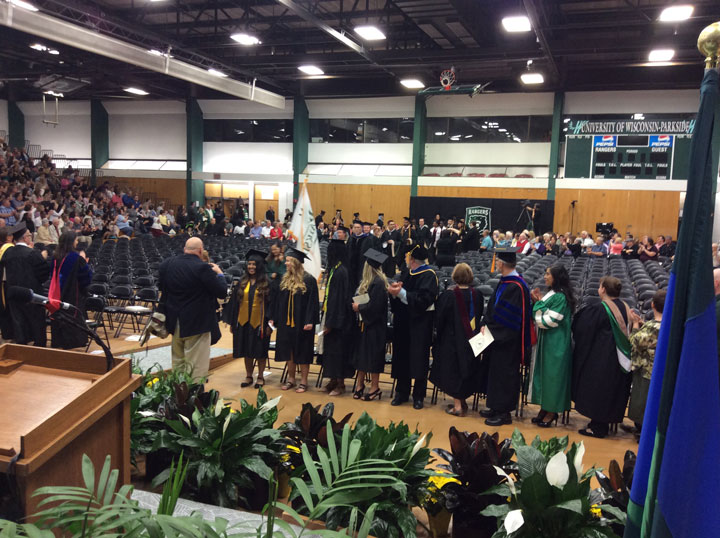 This year 529 students were eligible to participate in the spring ceremonies held May 13, surpassing last year's record class by 8 percent. In the past seven years, more students have graduated from UW-Parkside than during any other seven-year period in the university's history.
Outstanding Graduates
The 2017 graduating class included six Outstanding Graduates nominated by academic departments and selected by university committees. This year's honorees are Simmi Bharvani (psychology); Monica Drea (business management, and sport management); Nick Terrell (communication); Kedona Thompson (biological sciences); Nora Willkomm (biological sciences); and Nathan Van Ee (environmental studies) who earned the Chancellor's Award signifying the top graduate in the class.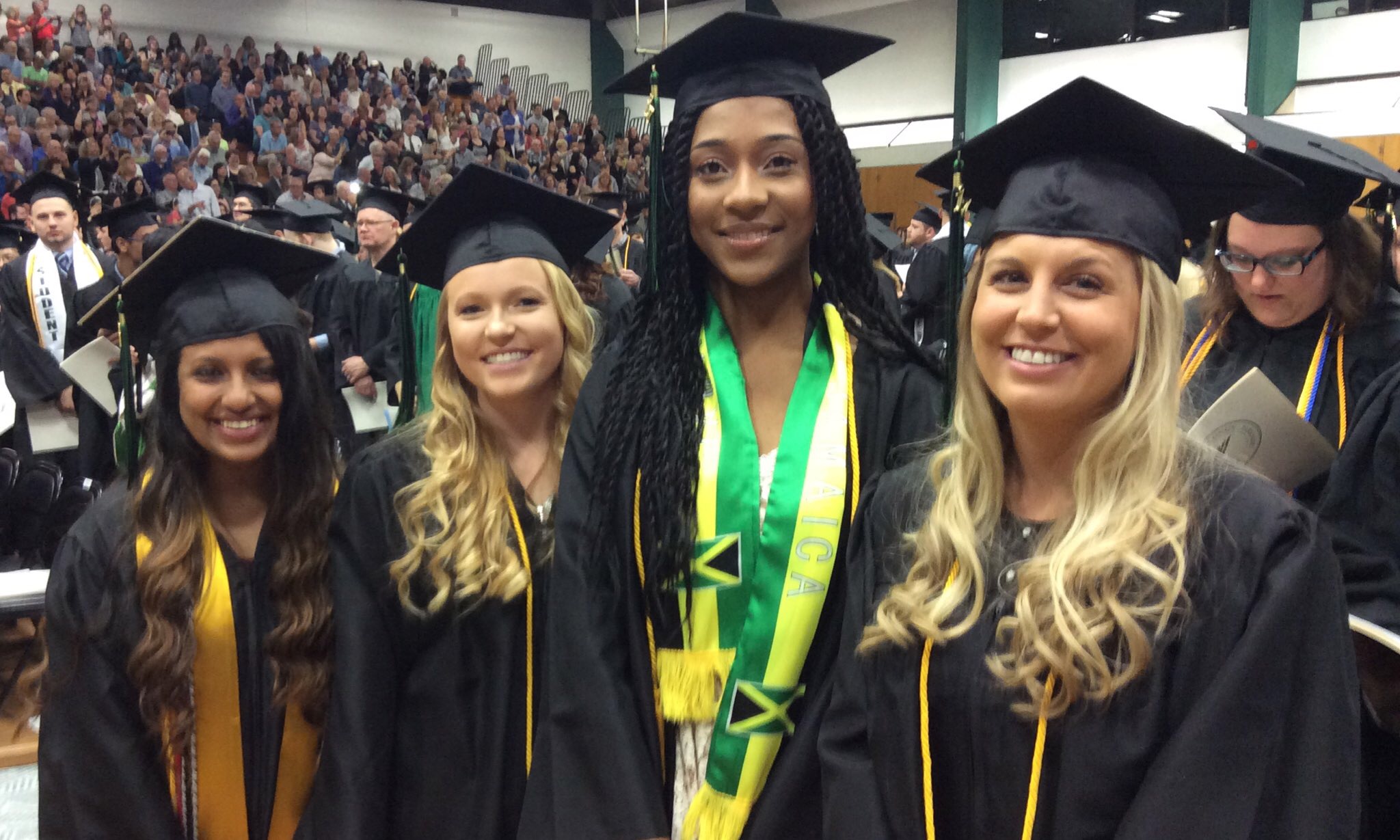 (l to r) Simmi Bharvani, Monica Drea, Kedona Thompson, Nora Willkomm
In his remarks, Van Ee told fellow graduates to approach education with fervent curiosity. "Curiosity manifests an intrinsic momentum that is unhindered by fail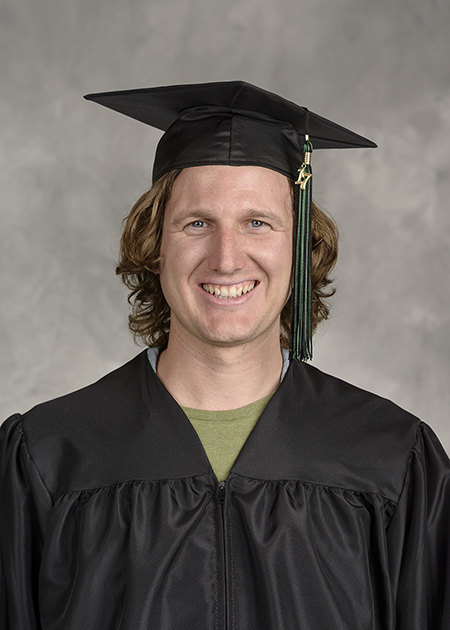 ure or misfortune," Van Ee said. "Curiosity cannot be quenched by hasty answers. Curiosity finds excitement in the mundane. Curiosity will never settle for freeriding and sufficiency, but demands ownership and mastery. And finally, curiosity initiates a positive feedback loop that promotes lifelong learning.
"Today we graduate, but tomorrow we can continue our lifelong education. I hope that you all enjoy this day to its fullest, but even more, I hope that you all remain curious with me.
Regent Bryan Steil
At commencements across the University of Wisconsin System, a member of the UW Board of Regents brings a message of congratulations. Regent Bryan Steil asked graduates why the journey toward a goal is often remembered more clearly than the accomplishment of the goal. To answer the question, Steil said he sought advice from some of the great philosophers.
"And then I came across just the right person for this moment," Steil said, "Winnie the Pooh."
Winnie the Pooh, the honey-eating bear? Yes, that Winnie the Pooh. In "The House at Pooh Corner," Steil said the bear explains that the moment before you begin to eat the honey is better than actually eating the honey.
"Today," Steil said, "graduation is eating the honey. It's a great thing. But your time here at UW-Parkside, the time leading up to graduation will be even more memorable. It's the moment just before you eat the honey that is best."
Mike Haubrich
During his introduction of commencement speaker Mike Haubrich, UW-Parkside Provost Rob Ducoffe said he was honored to be introducing a speaker with deep and valued connections to the university.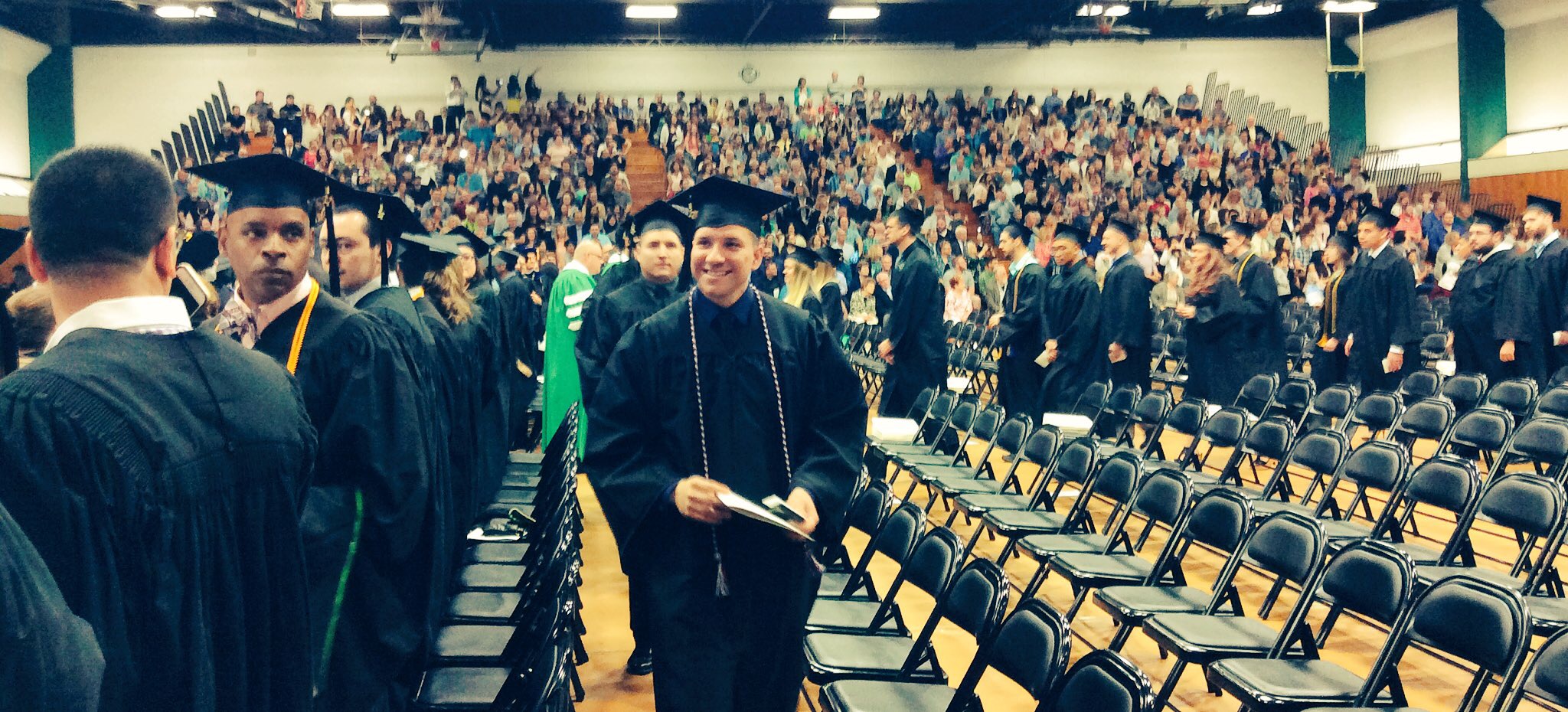 Haubrich shared some of his life stories, including that he was raised by his maternal grandmother, an immigrant from Russia, after Haubrich's mother was killed in a car accident when he was 5 years old. Haubrich said his grandmother always viewed the United States as a land of opportunity.
"As I was growing up, she constantly reminded me about how fortunate we were to be in this great country," Haubrich said. "She'd say to me, 'Mikey, there's no excuse to not succeed in America; you can always work harder.'"
By starting her own business, an assisted living center for veterans, Haubrich said his grandmother created a place of opportunity. As a young boy, Haubrich worked part-time during the school year and full time in the summer assisting veterans. "It was at this place of opportunity that I witnessed hard work, 14 to 16 hours a day," Haubrich said. "You see, my grandmother's work ethic was my inheritance."
Haubrich then discovered another place of opportunity – Parkside – as both a traditional and nontraditional student. After graduating high school in 1975, Haubrich said he didn't know exactly what he wanted. After two years, he took time off to start a family and a new business, and then followed his grandmother's advice of working smarter not harder. He returned to Parkside – this time with focus. "I was ready to dive back into Parkside to complete my business degree," he said. "In both cases, as a traditional and nontraditional student, I experienced Parkside as you do: relatively small class sizes with outstanding faculty who were fully engaged and committed to my success."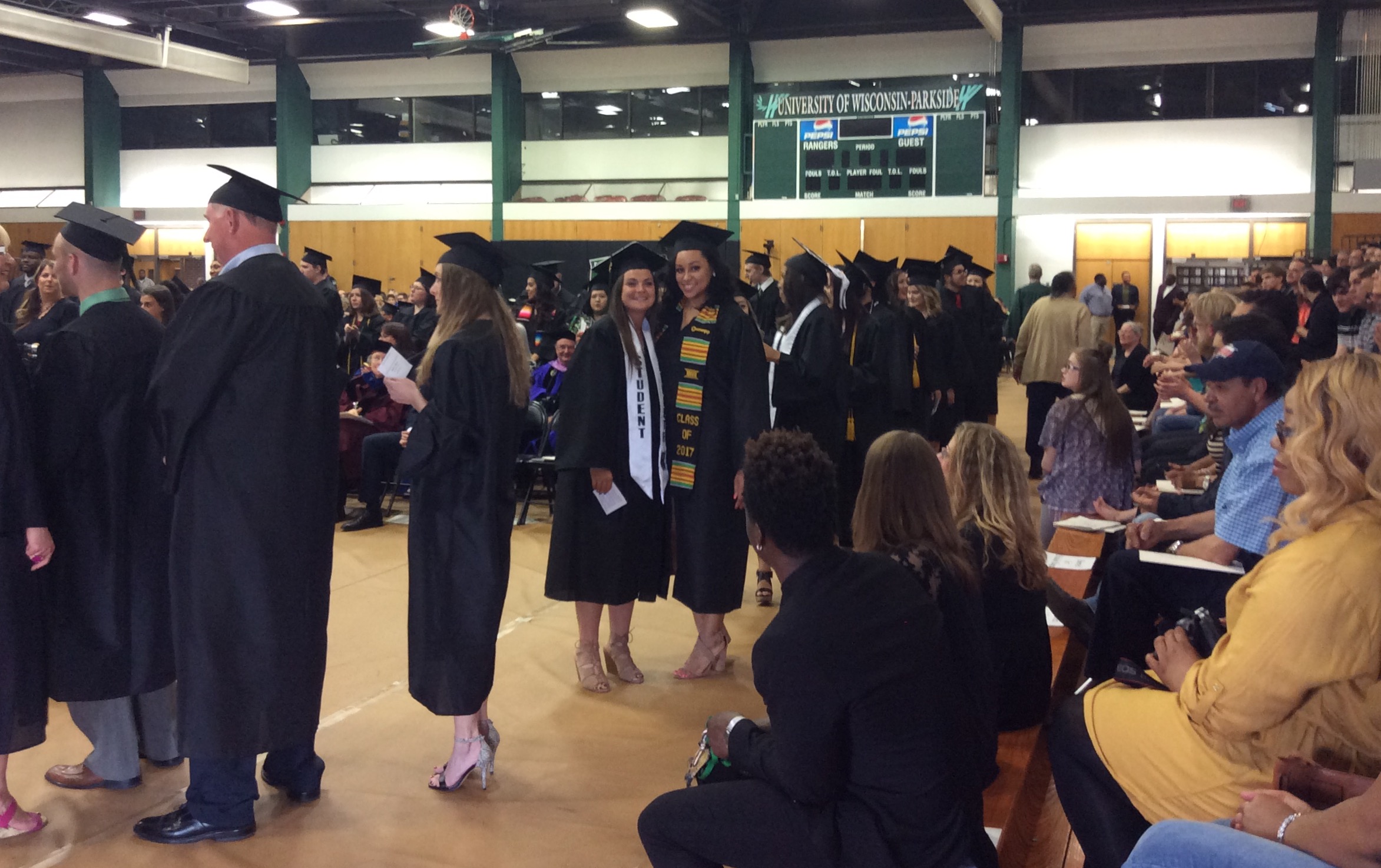 Honorary Doctorate
Commencement included the award of an honorary doctorate of humane letters to Dr. George Kuh, founding director, senior scholar, and co-principal investigator at the National Institute for Learning Outcomes Assessment, and the Chancellor's Professor of Higher Education Emeritus at Indiana University.
Kuh told graduates that many of them will end up in a career that has not yet been invented. "Last year, more than 30 million people in this country had jobs that did not exist the year before," Kuh said. "If that prospect is a little nerve wracking, the good news is that Parkside has helped you cultivate skills that do not show up on your transcript…. I'm referring to a capacity to learn on your own in real time, which you need to survive and thrive in this dynamic, rapidly evolving global economy."
Believe
UW-Parkside Chancellor Debbie Ford reminded the record number of graduates that they are prepared and ready to contribute on day one. "But, what abou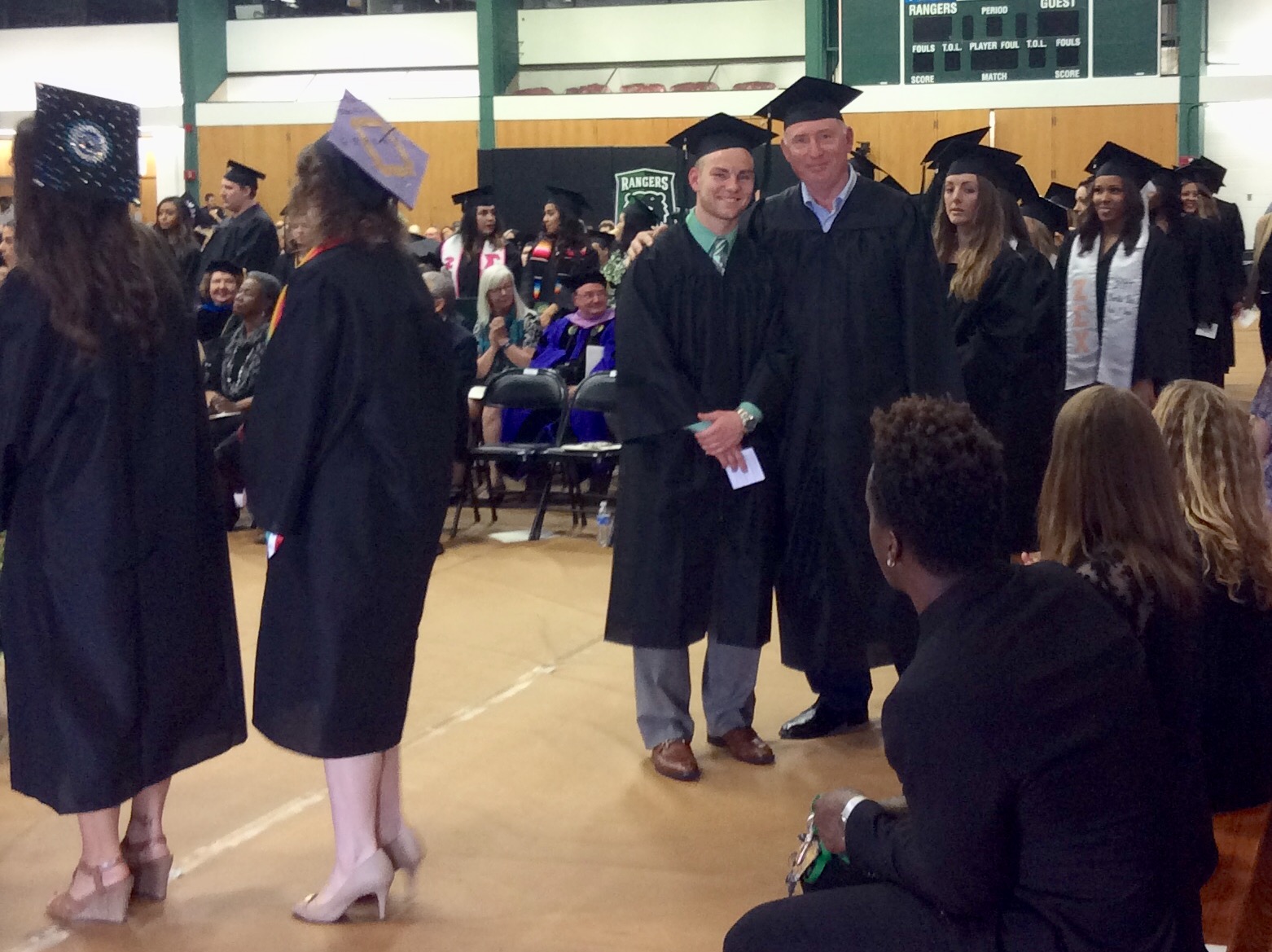 t after day one?" Ford asked. She noted a few keys to long-term success after Parkside, which included believing in yourself.
"UW-Parkside has prepared you to succeed," Ford said. "Sometimes the difference between achieving goals and just wishing you could achieve goals is believing in yourself – don't stop believing."