Traditions of Excellence 2015 Honors Eight
Published: May 15, 2015
The University of Wisconsin-Parkside has a long history of Traditions of Excellence, and Friday marked the second annual Traditions of Excellence celebration honoring alumni that have excelled in achievement and service.
Two alumni from each of the university's four colleges were honored Friday. Each was nominated and selected under the category of achievement or service and was recognized for their outstanding accomplishments.
2015 Honorees
College of Arts and Humanities
Cynthia Delgado Galvan
1998
Distinguished Alumni Service Award

James McPhaul
2000, 2005
Distinguished Alumni Achievement Award

College of Business, Economics, and Computing
Cory H. Mason III
1972
Distinguished Alumni Service Award

Karen A. Scarfone
1993
Distinguished Alumni Achievement Award

College of Social Sciences and Professional Studies
John P. Culshaw
1986
Distinguished Alumni Achievement Award

Judge Anthony G. Milisauskas
1976
Distinguished Alumni Achievement Award

College of Natural and Health Sciences
Nicolet DeRose, DDS, MS
1975
Distinguished Alumni Service Award

Beth A. Damitz, MD
1992
Distinguished Alumni Achievement Award

2015 Traditions of Excellence Honoree Bios
College of Arts and Humanities

Cynthia Delgado Galvan
1998
Distinguished Alumni Service Award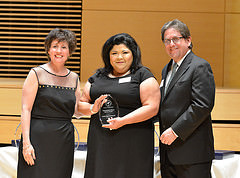 As a full-time tenured faculty member and instructional chair of English and reading through the Prepared Learner Initiative at Milwaukee Area Technical College, Cynthia Delgado Galvan aims to mold the next generation and help her students and community succeed.
She holds a bachelor's degree from UW-Parkside in Spanish literature, a master of science degree in education from UW-Platteville, reading specialist training from Viterbo University, and a master of arts degree in English with a creative writing emphasis from Mount Mary College. Through the Wisconsin Technical College System, Cynthia holds certifications to teach Spanish-foreign language, communications, reading, English, ELL, career education and college success strategies.
In 2006 and as a partner to her community, she was recognized by her peers and received the Hispanic Excellence in Education Award by the Racine Hispanic Business Professionals Association of the Hispanic Chamber of Commerce.
Most recently, Cynthia was appointed to the Superintendent's Advisory Council for Racine Unified School District and volunteers on several boards in the community while fulfilling her personal goals to contribute in making Racine a better place to live. She is a current board member of Miss Latina Racine, an organization that offers scholarships and mentoring opportunities to college bound Latinas in Racine and Kenosha. She serves on the UMOS (United Migrant Opportunity Services) Corporation - Board of Directors, the largest Hispanic-managed, nonprofit organization in Wisconsin and one of the largest in the nation. She is a member of the UMOS Board Personnel and Bylaws committees, providing guidance in strategic planning.
Cynthia has served her community while raising four daughters and a son.
James McPhaul
2000, 2005
Distinguished Alumni Achievement Award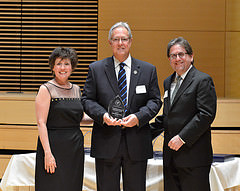 James (Jim) McPhaul currently serves as the director of the Wisconsin Small Business Development Center at UW-Parkside. He teaches sales, marketing and entrepreneurial principles at the university. McPhaul is a retired banker, serving in numerous roles in southeastern Wisconsin for more than 30 years. His last position held was as senior vice president of Bank of Kenosha, a division of Banks of Wisconsin.
Jim holds an undergraduate degree in Interdisciplinary studies and his M.B.A. from UW-Parkside. McPhaul is a GrowthWheel certified advisor and also a certified PROBE advisor for small businesses.
Jim finds great pleasure and purpose in bringing his decades of experience in local banking to help support business growth in our region. He has also been involved in the Kenosha Area Business Alliance mentor program in the Kenosha middle schools for the past 14 years
He currently sits on the board of directors of the Kenosha Performing Arts Association, the UW-Parkside Alumni Association and the Racine County Economic Development Corporation. He has previously served as a board member for Community Bankers of Wisconsin, Kenosha Rotary and the Spanish Center of Southeastern Wisconsin.
He is married to Cheryl and the couple's two sons, Jason and Ryan, grandson Jaxson and granddaughter Zoe, live in Eugene, Oregon.
College of Business, Economics, and Computing
Cory H. Mason III
1972
Distinguished Alumni Service Award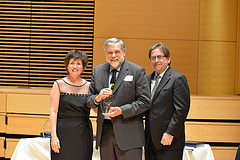 Cory H. Mason III graduated from UW-Parkside in May 1972, as part of the first four-year graduating class (250 students). He graduated with a double major in business management and chemistry. He also holds an M.B.A. from Marquette University.
During senior year at UW-Parkside, Cory worked full-time at S.C. Johnson and Son, Inc. as a computer operator. After graduation, he held several positions in the IT field at the company, rising to director, worldwide corporate IS architecture planning and policy. He left S.C. Johnson in 1994, to become the director and chief information officer, produce products group at Harley-Davidson. He joined UW-Parkside in 2002 as the Small Business Development director, working with entrepreneurs on business start-ups and business expansion. He left UW-Parkside in 2004, and joined Twin Disc Inc. as the director of global information technology and chief information officer (where he still serves today).
His commitment to service has intertwined throughout his professional career. He was a founding member in 1999 of UW-Parkside's IT Practice Center with a mission of bringing IT students and business IT professionals together to enrich their educational experience.
Cory has lent IT leadership skills to several nonprofit organizations, serving as board member and past president of South Eastern Aquatics (1987 to 1992); board member and past chairman of Racine Area Soccer Association (1999 to 2003); board member and past president of Racine Symphony Orchestra (2008 to 2014); board member and past board chair for the Business Advisory Council UW-Parkside (1998 to current). He was a youth soccer coach for 36 years. He was named the State Coach of the Year for boys' soccer in 1993.
Cory married his high school sweetheart, Roseann, and the couple has three children: State Representative Cory Mason IV, Rosemary Mason, elementary teacher at Racine Unified, and Dr. Christopher Mason, associate professor and genetic researcher at Weill Cornell Medical College in New York. Cory and Roseann also have six grandchildren.
Karen A. Scarfone
1993
Distinguished Alumni Achievement Award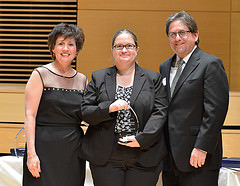 Karen Scarfone is principal consultant for Scarfone Cybersecurity in Clifton, Virginia. She develops cybersecurity-related white papers, technical standards, articles, and other publications for security vendors, media companies, and Federal agencies. She has also co-authored three security books and contributed to eight others, as well as various journal and conference papers on security. Karen has more than 20 years of professional experience in information technology, with over 15 years of that dedicated to information security.
Karen was formerly a senior computer scientist for the National Institute of Standards and Technology (NIST) in Gaithersburg, Maryland, where she oversaw the development of system and network security publications for federal civilian agencies and the public. She has co-authored more than 50 NIST special publications and interagency reports during the past 10 years. In recognition of her work for NIST, Karen received a Federal 100 award and a Department of Commerce Bronze Medal Award. She also received a Gold Medal Award from the Department of Commerce for her contributions to security automation standards development.
Karen holds a bachelor's degree in computer science from UW-Parkside, a master's degree in computer science from the University of Idaho, and a master's degree in technical writing from Utah State University.
In her spare time, Karen volunteers as a technical editor and writer for the Mozilla Developer Network (MDN).
College of Social Sciences and Professional Studies
John P. Culshaw
1986
Distinguished Alumni Achievement Award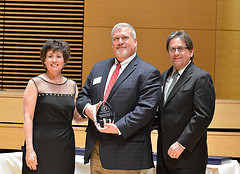 John P. Culshaw is university librarian at the University of Iowa. As university librarian, Culshaw leads the libraries in providing exceptional library collections, services, and spaces to the university community. The University Libraries at Iowa ranks among the top 30 libraries at public research universities in North America. Prior to his appointment at Iowa in 2013, Culshaw was a member of the University Libraries faculty at the University of Colorado Boulder for nearly 22 years, serving most recently as professor and senior associate dean of libraries.
John received his B.A. in history from the UW-Parkside in 1986, pursued additional graduate study in history at Marquette University, and earned an MS degree in information studies from Drexel University. He is the co-author of Managing Information Technology: A Handbook for Systems Librarians (Libraries Unlimited, 2004) and has presented widely on topics related to library information technology and managing libraries for the future. He was twice elected chair of the international Innovative Users Group and in 2014 was elected to the Board of Directors of the Association of College and Research Libraries (ACRL). He is also a 2012 alumnus of the Research Library Leadership Fellows (RLLF) program sponsored by the Association of Research Libraries.
Travel ranks high among John's hobbies. He has visited all 50 states and a whirlwind trip to Mumbai, India, is a recent travel highlight. He resides with his husband, Michael Marcus, in Iowa City, Iowa.
Judge Anthony G. Milisauskas
1976
Distinguished Alumni Achievement Award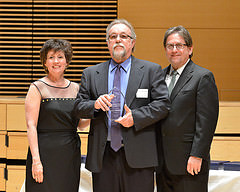 Hon. Anthony Milisauskas was born and raised in Kenosha. He attended UW-Parkside from 1972-1976 earning a bachelor of arts degree in political science. He attended law school at the John Marshall School of Law in Chicago, graduating in 1983. He has both taught and received post graduate training.
Professionally, Anthony opened his law office in Kenosha in 1984 and continued in private practice until 2005. He served part time as the senior assistant corporation counsel from 1991 to 2005. He was appointed as a court commissioner from 2001 to 2005, and as a guardian ad litem, to protect children in civil litigation. He was elected municipal judge for the town of Somers (2000-2005).
Anthony was elected as circuit court judge of Kenosha County in 2005. He was re-elected in 2011. In 2014, he was selected to be the deputy chief judge of the multicounty 2nd Judicial District. He has presided over many criminal and civil jury trials, including a number of homicide cases. He gained national recognition when he started the first Drug Court in the county, which is a specialty court that provides treatment needs for people with addiction issues.
Anthony is married to Ramona. They have five children who all attended St. Joseph's High School. He has been a Cub Scout and Boy Scout leader, coached youth sports team in Little League and CYO Basketball for over 16 years, and was active in the Downtown Kiwanis and as a member of St. Peter's Church.
College of Natural and Health Sciences
Nicolet DeRose, DDS, MS
1975
Distinguished Alumni Service Award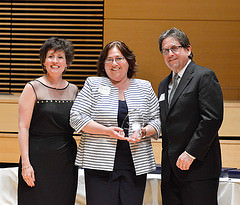 At the end of "My Big Fat Greek Wedding" the big reveal is that the father has purchased the daughter a home for her…next to his. Nicolet DeRose's college choice was a similar scenario. The best college was the closest college according to her first-generation Italian parents. And as time often reveals, Nicolet's parents knew best.
Nicolet graduated from UW-Parkside with a degree in chemistry in 1975. She then went on to get her D.D.S. at Loyola University School of Dentistry and an M.S. in pediatric dentistry from Marquette University. She completed her pediatric dental residency at Children's Hospital of Wisconsin.
Nicolet has received the Pyramids of Pride award from the Wisconsin Dental Association for political action. She is a past president of the Racine Dental Association. She is on the Legislative Committee and currently serves as the public policy advocate for the State of Wisconsin for the American Academy of Pediatric Dentistry.
A strong advocate of policies that provide greater access to quality dental care for the low-income and uninsured of our community, she is active in Give Kids a Smile, Mission of Mercy and Health Care Network programs providing free and discounted care for children in need. Nicolet and her office staff provide dental education to preschoolers and she frequently invites high school and college students to her office to job shadow.
She is passionate about her profession, her community and her family. Her children are also UW-Parkside alums and she is honored to be recognized by UW-Parkside, a university which gave her the foundation upon which to build her life.
Beth A. Damitz, MD
1992
Distinguished Alumni Achievement Award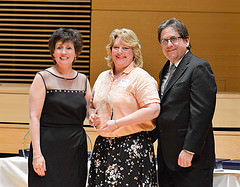 Dr. Beth Damitz is a faculty physician at the All Saints Family Medicine Residency Program and an associate professor in the Department of Family and Community Medicine at the Medical College of Wisconsin.
Beth attended the UW-Parkside from 1988 thru 1992 majoring in biology. She then earned her medical degree at the Medical College of Wisconsin. She completed a one-year internship in general surgery at Rush-Presbyterian-St. Luke's Medical Center in Chicago. She then returned to Wisconsin and completed a three-year residency in Family Medicine at Columbia Hospital in Milwaukee. After graduation, she spent two years in private practice. In 2002, she pursued her passion for teaching and joined the Medical College of Wisconsin's Department of Family and Community Medicine where her primary responsibilities are patient care and resident physician education.
Beth practices full spectrum family medicine including inpatient care, outpatient care and delivering babies. Her professional interests include maternity care, health law and procedural training. Some of her accomplishments include multiple resident and medical student teaching awards, The Milwaukee Business Journal's Forty under 40 Award, Best Doctor's in America Award for the past seven years and receiving a $200,000 grant from the Healthier Wisconsin Partnership Program for research on the impact of stress in pregnancy and its effect on birth outcomes.
Beth grew up in South Milwaukee, Wisconsin. She enjoys spending time playing board games with family, traveling, scuba diving, and going for long walks with her black lab – Jack.