Transfer Transitions Prepares Students for Success
Published: June 10, 2015
Chancellor Debbie Ford concluded her welcome to 40 transfer students with a nod to the future:
"I can't wait to welcome you as UW-Parkside alumni."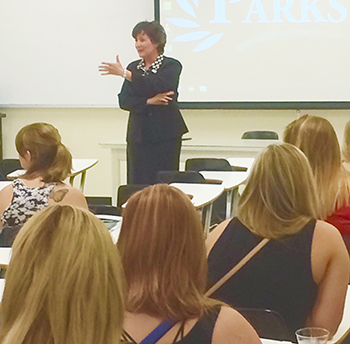 Chancellor Ford and students at Transfer Transitions

The students were the first group this summer to take part in Transfer Transitions, an orientation program designed to address the specific needs of transfer students. In all, UW-Parkside will host 12 Transfer Transitions before the start of the fall semester. 
At Transfer Transition, students tour the campus and learn about opportunities for veterans, community-based learning, student activities, living on campus, and more. "We want students to make contacts," said Jason Herman, UW-Parkside placement and orientation coordinator. "When they leave Transfer Transitions with contacts, it means they'll have someone to turn to when they begin classes in the fall." 
Another goal of the program is to familiarize students with the university's technology and academic process. Chancellor Ford reminded students, even those transferring from other UW institutions, that each campus does things a bit differently.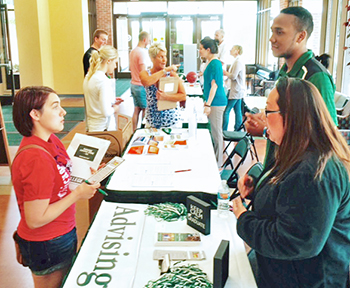 A new transfer student talks with Linda Vang and
Armani Peterson of the Advising Center
After a day of Transfer Transitions, these new Parkside students have the knowledge and resources to help them succeed – and be there to accept Ford's welcome as new Parkside alumni.