UW-Parkside's re-energized ROTC program
Published: September 13, 2017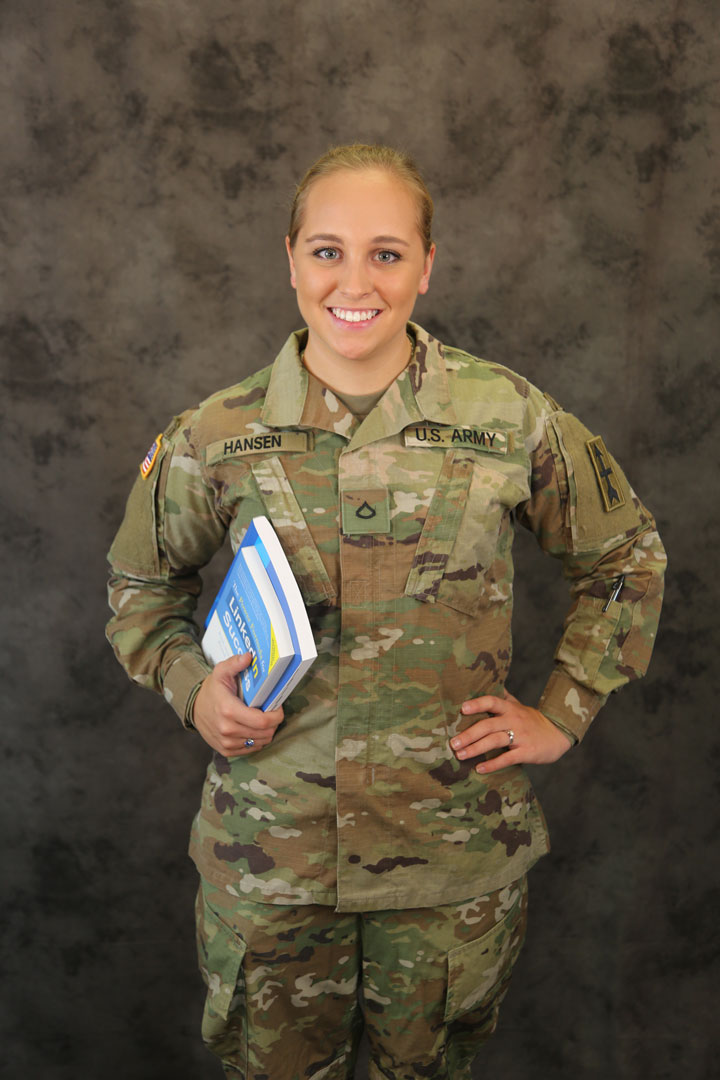 Shelby Hansen is a UW-Parkside sophomore and a member WI Army National Guard. During her first year at UW-Parkside there was no ROTC presence on campus. During her basic training over the summer she decided to check out the ROTC program and as a result is now a cadet in the program. She explains that this is an important step for the program and has personally given her a reason to become more involved in the campus and community. Trzebiatowski elaborates, "This summer huge steps have been made to expand UW-Parkside ROTC, including getting classes in the course scheduling program on SOLAR and getting an office space on campus where students can stop in to get information and we can have that presence. I am also going to be involved with trying to get more presence and participation on campus though activities."
UW-Parkside will be offering the Army Reserve Officer Training Corps (AROTC) on-campus for the first time ever during the fall 2017 semester. UW-Parkside has participated in the AROTC Program as a partnership university for many years through the host, Marquette University, although all classes were held at Marquette. The Center for Professional Studies, in the College of Social Sciences and Professional Studies, worked diligently to establish relationships with the AROTC personnel at Marquette in an effort to recognize the barriers, such as transportation and coordination with scheduling, UW-Parkside students encounter when trying to coordinate their degree programs at UW-Parkside and the AROTC Program at Marquette. Through dedicated collaborative planning UW-Parkside can now offer the Basic courses on campus. Sergeant First Class Joshua M. Pagan is the Military Studies Instructor at UW-Parkside, SFC Pagan also teaches at Marquette University and University of Wisconsin-Milwaukee.
Through extensive leadership training the AROTC provides students with the tools, training and experiences that will help them succeed in any competitive environment. AROTC is divided in two phases, Basic and Advanced. The Basic course takes place during the first two years in college.  AROTC cadets are required to attend classroom instruction, physical training and leadership labs weekly.  Students can take AROTC Basic courses without a military commitment. The Advanced course takes place during the last two years in college. Students will learn advanced military tactics and gain experience in team organization, planning and decision-making. All AROTC courses can be found under the code MILS in the course schedule, and in the catalog under The Center for Professional Studies. UW-Parkside and the AROTC anticipates 8-10 full-time students enrolled in AROTC in the fall, and further projects approximately 40 full-time students enrolled by 2019 – 2020.
The AROTC program offers 2, 3, and 4-year merit-based scholarships. High school students may compete for three and four-year awards which cover the full cost of tuition and fees at UW-Parkside. College students may compete for two and three-year awards of $50,000 to $90,000, which includes a $300 to $500 per month stipend and $900 per year for books. To compete, you must be a full-time student and enrolled in our Military Studies classes.
Faculty, staff and students can expect to see Military Studies Instructors and AROTC students in uniform across campus. SFC Pagan and the AROTC will be conducting training drills on campus that may include training equipment such as training rifles (non-operational), large backpacks, helmets and field communication equipment. There will be signs posted in the area that any training is taking place. Initially the AROTC plans to use the vacant land behind the Police Department for leadership lab training and will use the Sports and Activity Center indoor and outdoor facilities for physical training. 
The College of Social Sciences and Professional Studies began working with the new Junior ROTC program at Park High School in Racine Unified School District in the fall of 2016 with the intention of connecting appropriate learning in JROTC to the college level as well as connections to AROTC. SFC Pagan has established relationships with JROTC Programs at both Park High School and the Kenosha Military Academy.
For more information about the UW-Parkside AROTC Program visit the Army ROTC office in Wyllie D174B, or contact SFC Joshua Pagan, Military Studies Instructor, WYLL D174B, pagan@uwp.edu or Denise Hancock, Army ROTC Liaison, GRNQ 214, (262)595-2162, hancock@uwp.edu or.  For Scholarship and Enrollment information, contact Mr. Reuben Sotolongo at (414) 288-2051 or (414) 288-2050 or reuben.sotolongo@marquette.edu.
https://www.uwp.edu/learn/programs/rotc