UW-Parkside/Fireside Theatre Internship provides professional theatre experience for local students
Published: October 3, 2017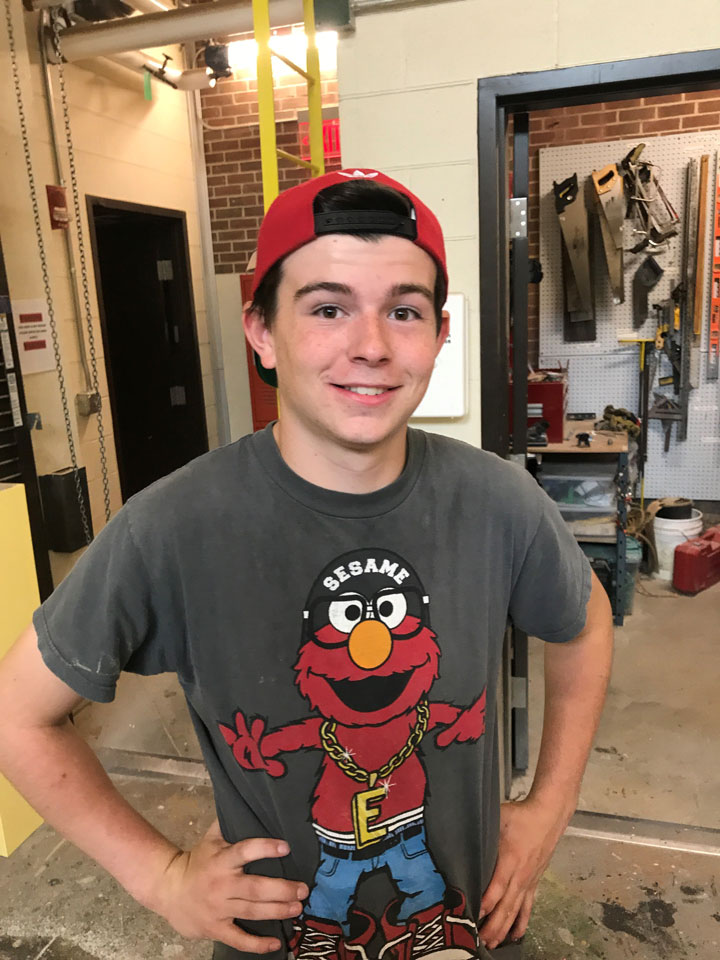 Walden III High School student Dylan Jensen knows that experience is an invaluable asset for young people to help them inform future decisions involving education and a professional career. Jensen – who will be a junior this fall – was fortunate to take part in a partnership program between the University of Wisconsin-Parkside and the Fireside Theatre in Fort Atkinson that has spanned 26 years.
The UW-Parkside/Fireside Theatre Internship provides high school students with the opportunity to experience life as a member of a professional theater operation and gives them experience in carpentry, set design, and a myriad of other skills that are useful for a young person to know. Jensen and three other high school students spent eight weeks in the UW-Parkside scene shop building the set for the current FiresideTheater production of
"Church Basement Ladies."
Local Students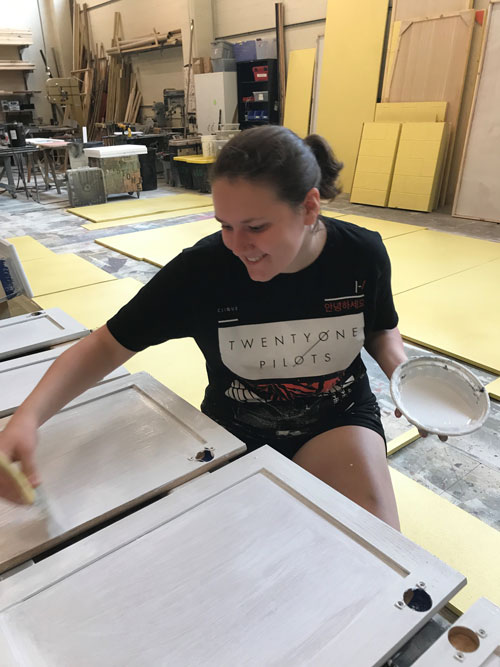 Along with Jensen, Kaley Rust, Harborside Academy, Kenosha; Marissa Rybinski, Marian Central High School, Woodstock, Ill., and Germaje Ford, a recent graduate of Bradford High School in Kenosha, sawed, hammered, painted and nailed the various theatrical elements that bring the "Church Basement Ladies" to life.
Previous theater experience
The students' previous theatre experience ranges from none to having already participated in similar programs. Ford is passionate about theater and believes that it's his calling in life: "It is the only thing I can see myself doing." He's interested in a theatre career even if that doesn't include acting. Ford is using this opportunity to learn another side of theatre that will give him greater versatility and a wider range of skills for perspective employers. "General
knowledge is great," he said. "But the main reason I'm learning any
of this is because it's enjoyable and I also need to know this
because acting is not a for-sure thing."
Jensen is on the other end of the spectrum having never been involved in theatre before. "I don't really have a background so it's something new to learn," he said. "(It's important to know) how to use all the tools, and see how sets go on and how you build them."
The program is helping these students find their niche within the world of theater as well as their interests in the real world. Rust states, "I've done different things at my school with theatre so this is me just trying to find my place and finding out whether I want to continue a career in theatre." She says the college credit earned through the program was an important selling point and a helpful feature for students. Rybinski adds, "I am looking to pursue a stage-management or director career. So this is definitely getting me some background and helping me figure out which one I really want to do."
Challenges and life experience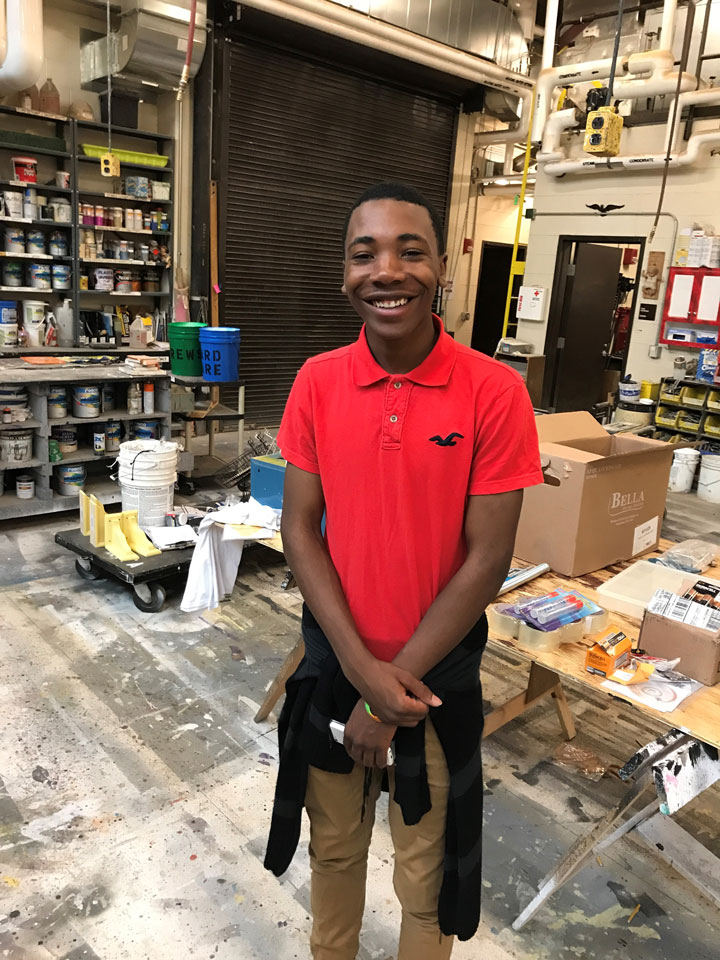 As with any endeavor worth pursuing this one has provided challenges for the students. Jensen states that the hardest part has been meeting the expectations and standards that go along with a professional production. Ford is learning a different lesson but one of equal importance: Punctuality.
He explains, "For me it's being on time. I come in at least five minutes late every day. That's not good. But the thing is, I've been getting better with that and Nate (Stamper) is telling me things like if I was your regular boss I would fire you."
Rust and Rybinski are learning the importance and continual struggle for perfection. "I think the hardest thing is making sure that everything is perfect," Rust said. "We are working for a professional theatre company right now so you have to make sure that
everything is perfect." Rybinski adds, "Just keeping in mind that this
show is really close range to the set because it's a theater in the
round so you're going to see everything and it really has to be precise."
The students have also learned the importance of teamwork and making lasting connections. They have learned that professionalism and healthy workplace relationships are important to working effectively as a team and can act as a catalyst for success of the entire group.
Appreciation for behind the scenes work
Going through the UW-Parkside Fireside Theater internship program has allowed the students to see the forgotten side of theatre and has deepened their appreciation of the unsung heroes of the stage. When asked if this experience has given him a greater appreciation Jenson states, "Yes, everybody has a job that's equally important." Rybinski adds, "Most of what I've done with theatre is behind the scenes so I already had an appreciation for that. But this has just enhanced that because I see how much more work they have to put into it when it's professional."
Past experiences
UW-Parkside freshman Dionisse Molina, who is pursuing a business management major, participated in the program in the summer of 2016. Molina has lived in Kenosha for most of her life and heard about the program through a theatre instructor at Indian Trail High School and Academy. Molina wanted to participate in the program because, at the time, she was hoping to pursue theatre as a profession.
Prior to the internship, she was expecting to be confused and worried about not having some of the skills that would be required. That changed quickly when she learned how to use hand and power tools and became aware of the interconnectedness of a theatre production.
Molina says that her favorite part was walking in and never knowing what she would be working on. "Projects varied from cutting wood one day to painting the next," she said.
The most difficult part for Molina was learning to use the various tools safely. The most important thing she learned was "cooperation between the other interns and myself; using our skills and abilities and how we contribute to the group as a whole," Molina said. "This experience changed my outlook on theatre by allowing me to see the different roles and jobs that contribute to the show."
While she learned many building tips and tricks, the most fun part was loading the new set into the theater and throwing out the old set. After the internship Molina had the opportunity to see the Fireside production that she helped make happen. "It was a wonderful experience," Molina said. "Really magical to see your creations being used in a professional theater."