UW-Parkside/Fireside Theatre Internship gives high school students professional experience
Published: July 15, 2019

FOR IMMEDIATE RELEASE
SOMERS  –The Fireside Dinner Theatre in Fort Atkinson, Wis., is one of the Midwest's most popular entertainment destinations. It is the only Actors' Equity dinner theatre in the state and has a long and celebrated partnership with the University of Wisconsin-Parkside that spans five decades.
In addition to building sets for each Fireside production, lucky high school students are offered the chance to take part in a rigorous, four-week internship program that gives them experience as technical assistants in the UW-Parkside Klopcic Scene Shop. For the past 20 years, students have been given the opportunity of handling set and prop construction, painting, and set installation in a professional setting.
As interns, students are enrolled in an independent study in technical theatre through the UW-Parkside Theatre Arts Department. The items produced by the students are then used in productions at the Fireside. This summer, studentsare worked on sets and props for "Annie the Musical."
The internship program normally begins after the spring term ends and lasts until the set has been installed. Each year, applications are sent to more than 150 high schools around Wisconsin and throughout northern Illinois. Students submit their applications along with letters of recommendation from teachers. UW-Parkside staff conduct interviews and select four candidates. UW-Parkside provides housing, an academic college credit and a stipend for the duration of the internship.
The students selected this year are: Hanna Gray (Pardeeville High School), Gordon Pavlat (Case High School), Claire Michels (Oregon High School), and Austin Dvorak (Muskego High School). Gray, Pavlat, and Michels will be seniors next year, while Dvorak has already graduated and will be starting at UW-Parkside in the fall.
"The interns were fantastic, and always willing to learn," said Nate Stamper, adjunct professor in the Theatre Arts department at UW-Parkside. Stamper is the Fireside Theatre Technical Director/Scenic Lab Supervisor, and oversaw production of the sets this summer.
Students moved into campus apartments on June 17. The set for "Annie the Musical" was installed overnight at the Fireside on July 14. Students traveled back to UW-Parkside, and moved out on July 15.
Claire Michels (Oregon High School)
"I applied on a whim," remarked Claire Michels. She admitted that she didn't know how likely it would be that she would be selected. Luckily for her, she was. Michels, who will be a senior this year, applied for both this program and a local internship with Children's Theatre of Madison. She had been chosen for both, but decided to accept the UW-Parkside/Fireside internship opportunity.
"When I got the call that I was accepted for the internship, I was on my lunch break at school and could hardly contain my excitement," added Michels. "Working with a professional theatre company is extremely important to me, as I plan on majoring in theatre after high school." Being on the UW-Parkside campus has shown Michels that the university offers a renowned theatre arts program and an excellent experience. "After being on campus for nearly a month, I am definitely going to apply here this winter," she added.
Michels had mentioned that she had learned many things over the course of the internship, and also admitted that she actually had little knowledge of how to build a set beforehand, especially one in a space as unique as the Fireside. She learned how and when to use many types of saws, drills, and other tools. Additionally, she picked up on essential crafting and safety skills needed for this line of work. On top of that, she's gained other skills she didn't expect, such as learning how to live away from home, with roommates, and how to collaborate with the other interns on making the set.
"Overall, I am glad I took a risk in applying for and accepting this internship," said Michels. "It has taught me a lot about myself and the world of theatre that will help me as I am applying for schools in the next year, and in my career beyond that."
Hanna Gray (Pardeeville High School)
"To me, this internship is an experience in a world I am not used to back home in Pardeeville," said Hanna Gray. "There, the Theater Department of my high school doesn't have a shop with several saws, a whole room of tools, and a whole wall of paint. We've mainly used our small stage in the old elementary school.
Gray, who will be a senior this year, is hopeful that this internship will give her the chance to bring the things she has learned back home to the Drama Club at her school, where she serves as president. "I've been looking for ways to 'spruce' things up on stage and backstage," she said. "I've learned my fair share of ways to do this at this internship. This internship is a crucial step in my career path as I wanted to learn how theatre arts were at a college setting compared to high school."
Gray is planning on being a history teacher, while directing the theatre department on the side. However, she still isn't sure if she wants to teach high school or college. 
Gray added that this internship taught her things that she never thought she would learn, such as using a wide array of tools (many of which she simply did not have at Pardeeville). "There isn't a day that goes by in this internship where I do not learn how to use a new tool," said Gray. She has also learned how to plan out the designs, how to use different kinds of paint, and how to paint with them effectively. She is especially grateful to Nate Stamper and to her fellow interns for helping her learn.
Gordon Pavlat (Case High School)
"I'd have to say it's an experience you'd never regret," said Gordon Pavlat.
Pavlat, who will be a senior next year, is considering construction for his future career goals. He went into this internship with the expectation that he would learn how to properly handle various kinds of tools and follow strict safety procedures, as well as pick up on other valuable skills. He considers these skills to be a key factor to his trade.
"What I've learned as a whole from this experience is that you can't do everything by going solo. I've been told many times to talk to my teammates and it turns out it's true. It made every project so much easier," said Pavlat. 
Austin Dvorak (Muskego High School)
Austin Dvorak has taken part in this internship opportunity once before, but that has not stopped him from wanting to jump back in. "I am glad that I was able to get this internship a second time so that I would have the chance to improve upon the things I already knew and to hopefully learn something new as well," said Dvorak. "Working here helps to familiarize myself with the space, do quite a bit of carpentry, and to do a bit of painting."
The sets that the interns are constructing are mostly made out of wood, which has allowed Austin and the others to learn carpentry. Austin notes that this will help in his career endeavors as well, as he plans to work on the crew side of theatre. He commented that it will also help him in maintaining a home, once he has one. "I am not the most talented painter," said Dvorak. "So the chance to practice painting and learn some techniques to make painting easier is very welcome to both help with any future sets that I may have a hand in building and with any home maintenance."
Not only that, but Dvorak has noted that this internship gives him a chance to get acclimated to campus living, specifically at UW-Parkside. "Living here for a month helped me get used to the campus before I'm here," added Dvorak. "And working in the scene shop helps me to meet some of the professors that I will work with and learn from in the theatre department."
Dvorak plans to start at UW-Parkside in the upcoming fall 2019 semester, and will double major in technical theatre and in a field related to history. He's still undecided on the latter part, but expressed an interest in archaeology.
#####
Contact:
Nate Stamper
Fireside Theatre Technical Director /Scenic Lab Supervisor
University of Wisconsin-Parkside
stamper@uwp.edu
Interns in the Shop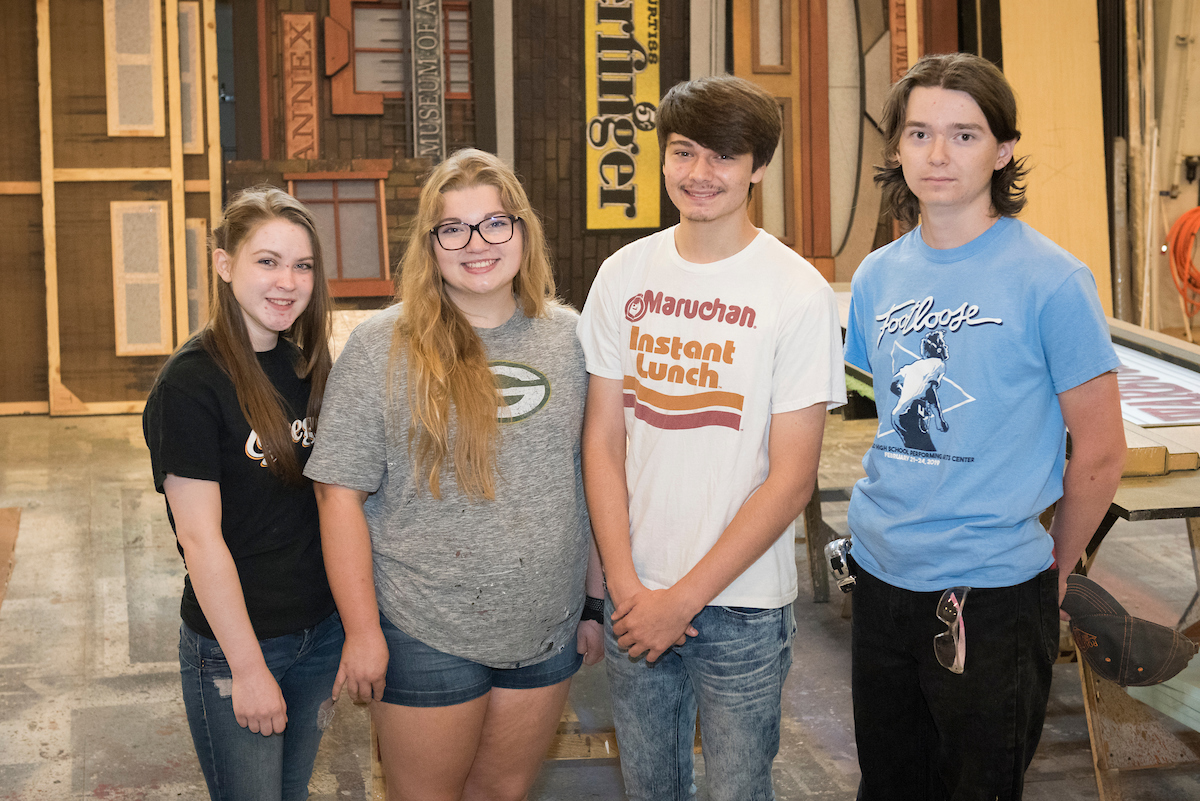 Building the Set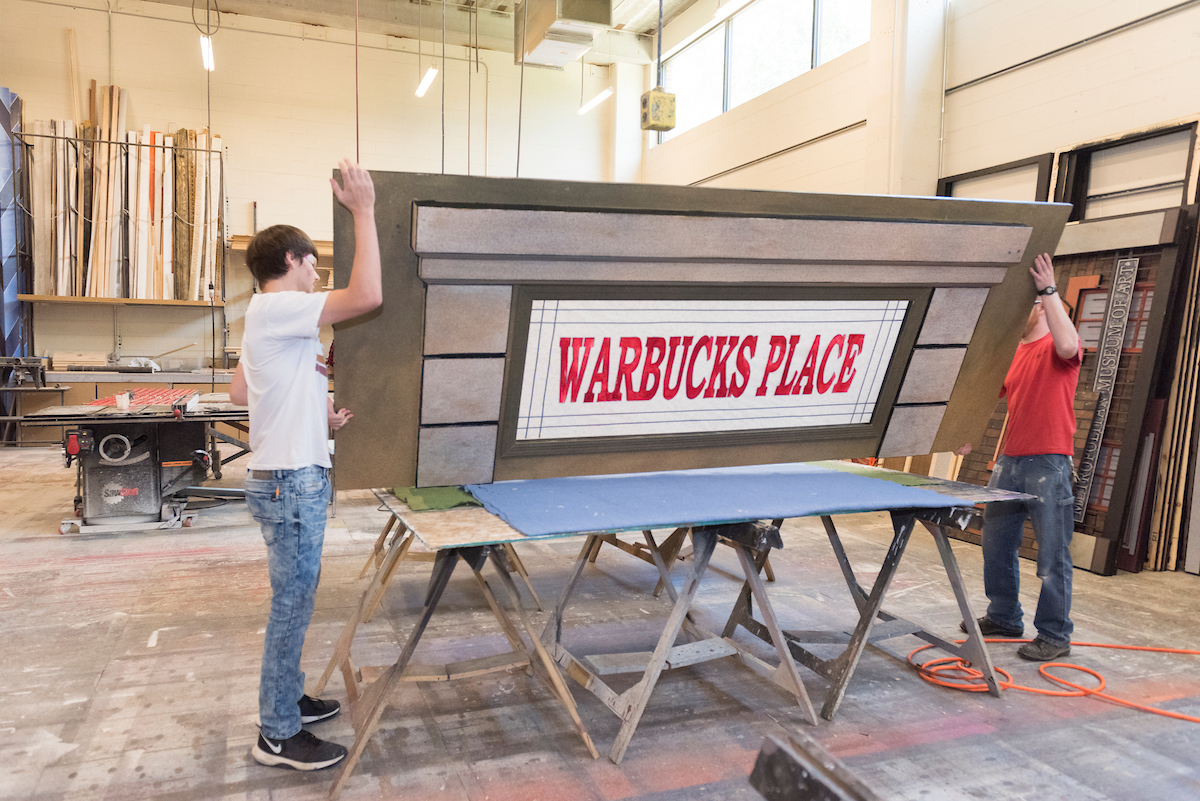 Claire Michels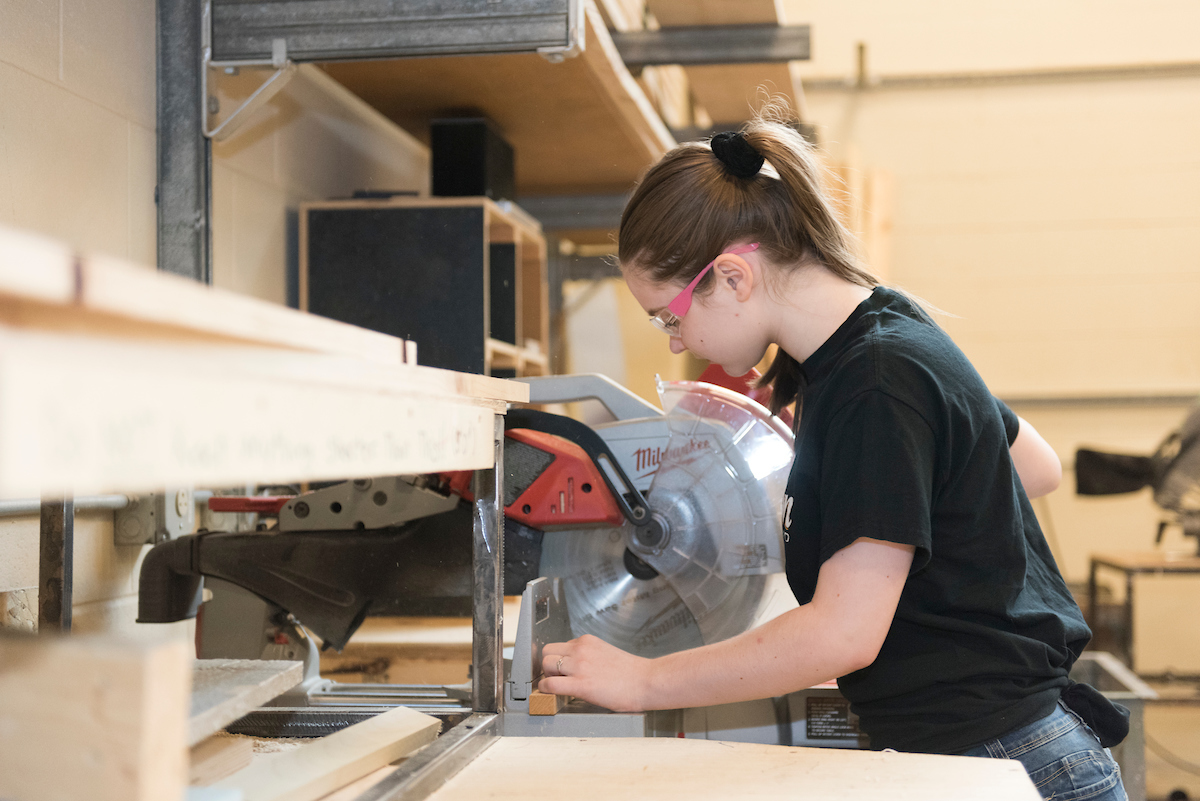 Hanna Gray
Gordon Pavlat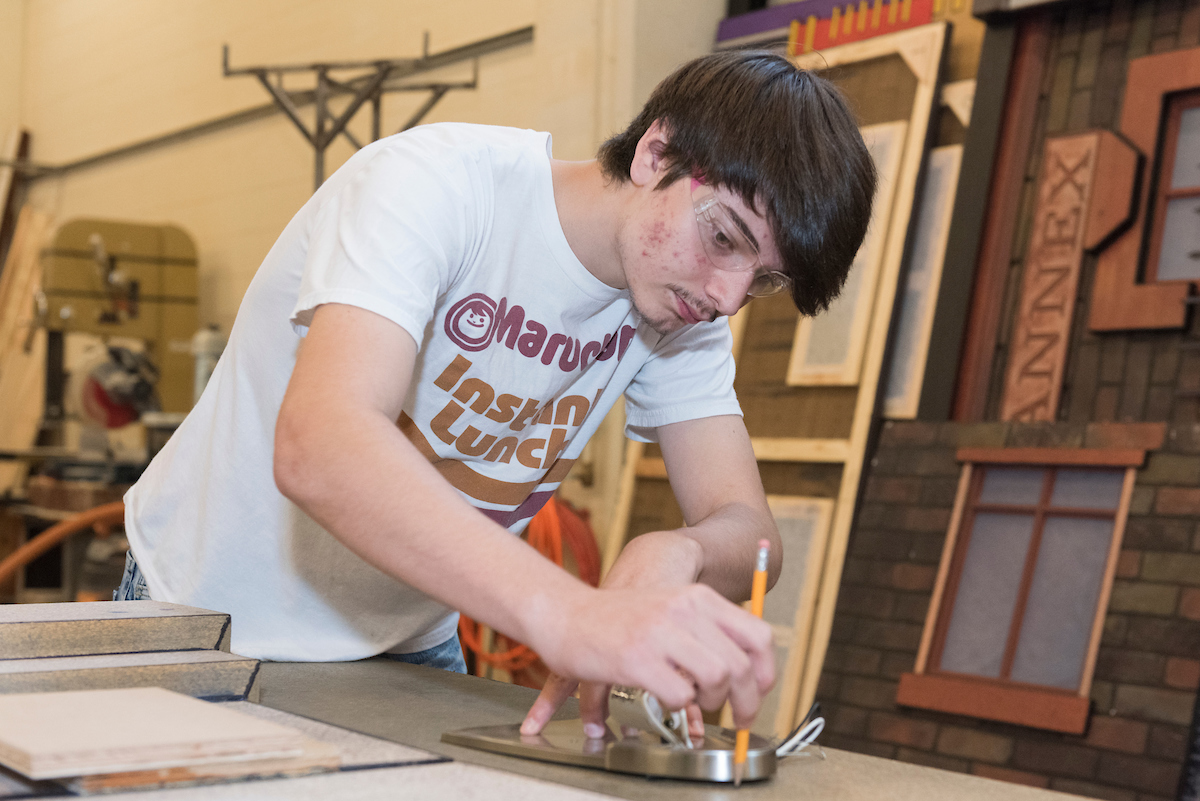 Austin Dvorak