UW-Parkside students gain experience at the U.S. Olympic Long Track Trials
Published: January 25, 2018
For the first time in 20 years, the Pettit National Ice Center in West Allis, Wis., hosted the U.S. Olympic Long Track Speedskating Trials Jan. 2-7. The trials are usually held in Utah, however, due to the similar elevation of West Allis and Pyeongchang, South Korea, where the Olympic Winter Games take place beginning Feb. 8, the trials returned to the Pettit Center. The change was sparked by the disappointing performances of U.S. skaters at the 2014 Winter Games in Sochi. The lack of success four years ago has been blamed in part on the trials and pre-Olympic training being held in places with different elevation than where the competition actually occurred.
With the trials back in Wisconsin, 16 UW-Parkside undergraduate sports management students had the opportunity to participate serving in a variety of operational internships.
UW-Parkside junior sports management major Taylor Woelfel worked at the event checking credentials of people entering. "It really meant a lot for me to be able to work an Olympic-sanctioned event," Woelfel said. "That opportunity does not happen very often so I am very lucky that I got the chance to work."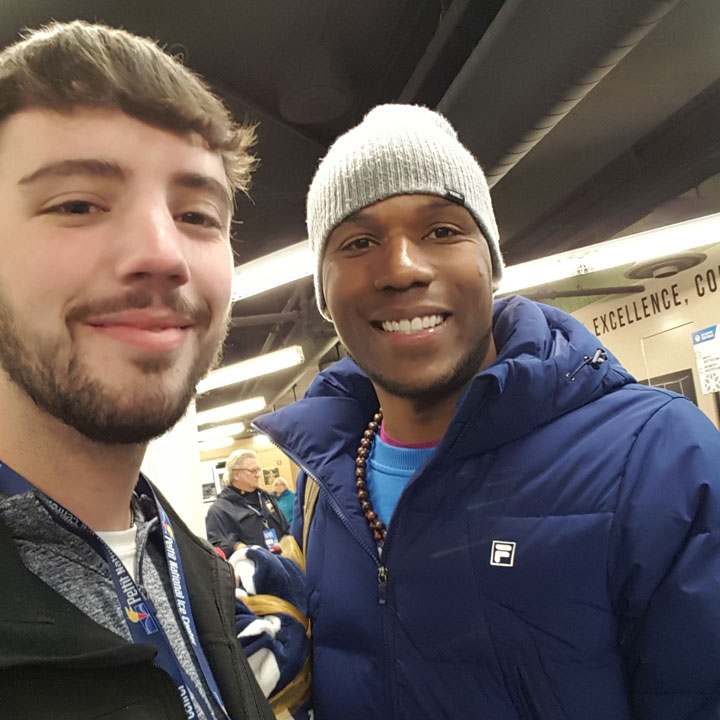 His favorite part of the experience was being around some great athletes with Olympic aspirations as well as some former Olympic athletes such as Bonnie Blair and Shani Davis. Woelfel says that although he would already pay attention to speed skating at the Winter Olympics, his experience in West Allis makes it more interesting and meaningful. "Long track speed skating has been an event I watched in the past," Woelfel said, "and that is how I remembered Shani from past Olympics. But I did not specifically look for it. Now this year I am going to definitely watch as much long track speed skating as I can."
The trials provided valuable real-world experience for the volunteers. Dasia Brown says that she is very thankful for the opportunity, and the lessons she learned. "From this experience I learned that the sports world is a very fast-paced environment. I also learned that things need to be organized and set in place in order for everything to flow," Brown said. "Everyone's job and participation is important no matter how big or small the job is.
"Before being involved in this event I never knew about speed skating. Now I think I will pay more attention to the Olympics and speed skating. I enjoyed the races because it was something that I never was aware of, and it is nice to figure out how a new sport works," Brown explains.
Andrea Wagner also volunteered at the event and spoke to WTMJ-TV news. Wagner told TMJ4 that she, too, enjoyed getting the opportunity to gain real-world experience and to see some famous Olympians. "I think it's just an awesome thing being able to say you worked at the Olympic trials, so I think just having that on my resume is already a really cool thing," Wagner said in the television interview. She also told TMJ4 about the opportunity to meet Bonnie Blair, an experience that meant a lot to her. See the full segment at https://www.youtube.com/watch?v=fwv2FeEEDoo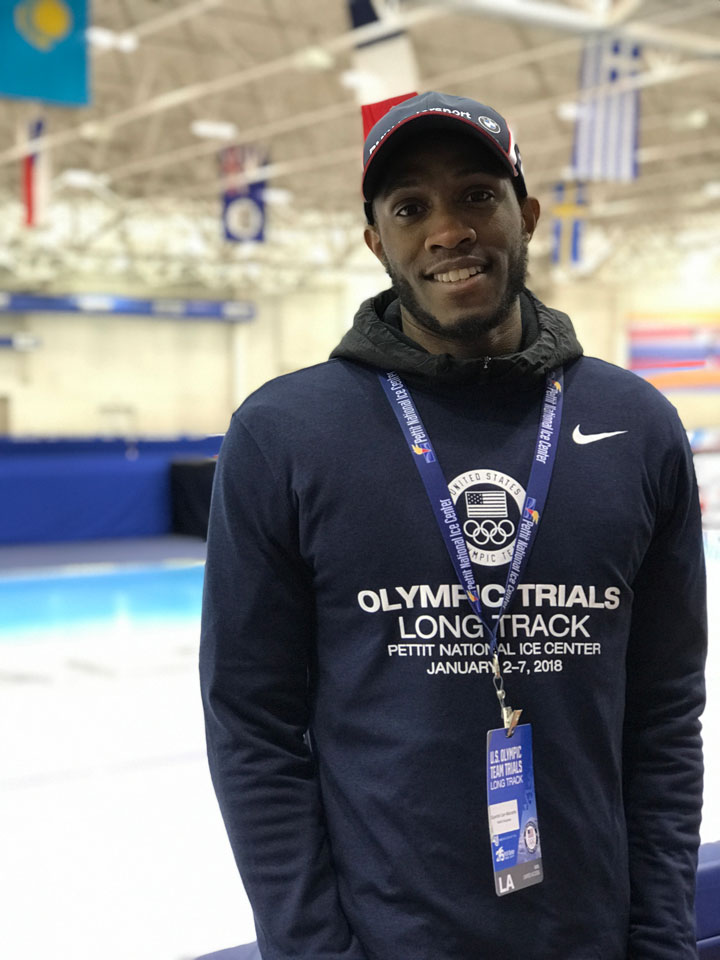 Quentin Carr-Marzette was another UW-Parkside student volunteering at the event. "My job was security for turn No. 2, basically that means keeping media from entering a certain section to take photos. It was an amazing experience being up close watching Olympic skaters like that. I would definitely go back if I got another chance," Carr-Marzette said.
Senior sports management student Dorian Adams worked crowd control for the event. "Participating in this event meant a lot to me. It was a great opportunity to be a part of something so huge. I learned a lot more about speed skating in general, and how it works. I learned more about the athletes and their stories, and about all the things that made the event successful," Adams said.
Her favorite part was the competitive atmosphere and watching the races. "The drive and the passion these skaters have is out of this world," Adams said. "I also enjoyed the atmosphere. The crowd was amazing, and they cheered for everyone. Everyone was a good sport at the event," she continued.
"I have always watched the Olympics, but I will for sure be watching it a lot closer this time around."
Jessica Crull worked crowd control and security at the event. "I felt extremely honored to have the opportunity to work with the people at the Petit Center along with seeing and being a part of a large event such as the Olympic Trials," Crull said. "I learned the time and effort it takes to hold such a large event from working with a variety of employees to keeping the crowd involved and excited."
She agrees that this opportunity has increased her interest in the Olympics and these athletes in particular. "I was already extremely interested in watching the Winter Games but now that I was able to watch these athletes up close and was able to have a better understanding of the sport itself," Crull said. "I am more interested in watching where these athletes will place."
Bringing the trials back to Wisconsin proved beneficial to UW-Parkside interns and may be beneficial to the Olympic athletes practicing at a location with similar elevation to Pyeonchang. The experience gained by the UW-Parkside sports management students is something each will long remember and will put to use in their future careers.