Parkside Partners with Nigerian University
Published: December 8, 2016
Dr. Emmanuel Otu, dean of the UW-Parkside College of Natural and Health Sciences signed a new partnership between the University of Wisconsin-Parkside and Ebonyi State University (EBSU) in Abakaliki, Nigeria.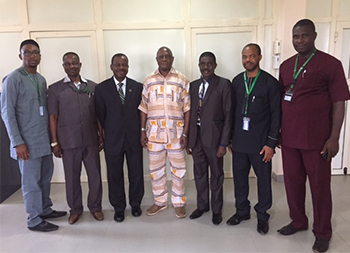 (l to r) Professor Ike-Elechi Ogba (EBSU director, academic planning), Dr. Sam N. Egwu (EBSU registrar), Dr. Emmanuel Otu (UWP dean, College of Natural and Health Sciences), Professor Francis I. Idike (EBSU vice chancellor), Professor Ekuma O. Ekumankama (EBSU deputy vice chancellor), Dr. Okechukwu I. Okogwu (EBSU head of department, Biological Sciences) and Professor Godwin A. Agbo (EBSU dean, Faculty of Science)

The agreement establishes an educational partnership to provide an opportunity for EBSU students to complete a baccalaureate degree at UW-Parkside. The intention of the agreement is to further promote cooperation in education and provide international education opportunities to EBSU students, in accordance with relevant laws of the two countries.
"Nigeria is the most populous country in the African continent. This agreement, which is just a start into Nigeria, makes UW-Parkside an institution with true global reach," said Dean Otu.

The agreement establishes cooperative articulated degree programs between UW-Parkside and EBSU for various degree granting programs. EBSU students will be admitted to UW-Parkside at various articulated levels, including 1+3, 2+2, 2+1+1 and 3+1 for the undergraduate degree. Thus, EBSU students completing one, two or three academic years of undergraduate study in Nigeria, will directly study articulated undergraduate programs as formally registered students of UW-Parkside in their second, third or fourth academic year. 
Upon successful completion of their studies and meeting graduation requirements at UW-Parkside, the students will be awarded the baccalaureate degree by UW-Parkside. Students may continue to earning a graduate degree at UW-Parkside.