UW-Parkside Wind Ensemble and Community Band to Perform Dec. 7
Published: November 22, 2017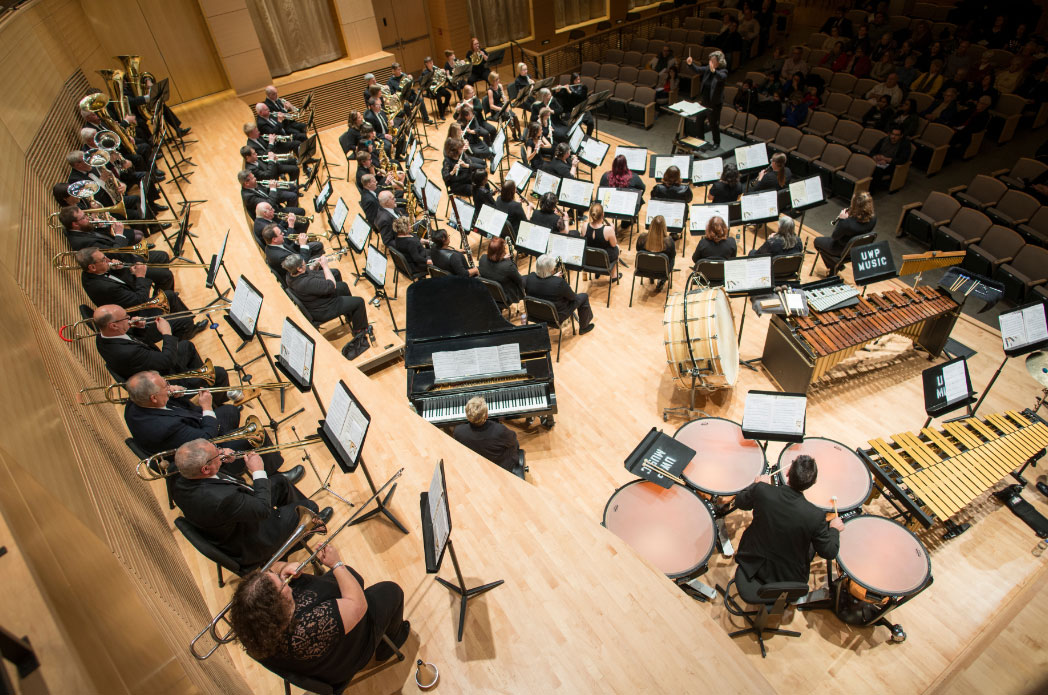 The University of Wisconsin-Parkside Wind Ensemble and Community Band present a concert of music in honor of the 500th anniversary of the Reformation and the 100th anniversary of the birth of American composer Leonard Bernstein. The concert will take place Dec. 7 at 7 p.m. in the Frances Bedford Concert Hall. Admission is $5 for students and $10 for adults.
The University of Wisconsin-Parkside Wind Ensemble, directed by Dr. Laura Rexroth, performs outstanding literature for woodwinds, brass, and percussion. Consisting of non-majors and majors, this ensemble performs two to three concerts a semester. The Wind Ensemble plays music from all centuries – from Susato and Berlioz to Augusta Read Thomas. Repertoire consists mostly of original works for winds, with some transcriptions and popular music.
The UW-Parkside Community Band is a 65-member adult ensemble that performs four concerts each academic season in Bedford Hall in the Rita Tallent Picken Regional Center for Arts and Humanities. The ensemble performs original works for band, orchestral transcriptions, contemporary compositions, and popular selections.
The two ensembles are joining Leonard Bernstein at 100, the world-wide celebration of the 100th birthday of Leonard Bernstein, the composer, conductor, educator, musician, cultural ambassador, and humanitarian, officially beginning on August 25, 2017, Bernstein's 99th birthday, and continuing through his 100th year until August 25, 2019. The two-year global celebration kicked off at The John F. Kennedy Center for the Performing Arts this past September.
Featured on the program are two pieces by Bernstein: the beautiful Make Our Garden Grow that concludes his comic operetta, Candide, and four of the dances from the timeless musical on love and prejudice, West Side Story.
The Parkside Bands are also members this fall of a Quincentennial Consortium who commissioned a transcription of A Mighty Fortress Is Our God from composer Anthony O'Toole. Rexroth says, "Martin Luther composed one of the most well-known Protestant melodies in 1529. This fall is the 500th Anniversary of the Protestant Reformation, and Luther's famous 95 Theses of 1517. We are part of a great historical chain: Luther composed the tune, Bach used it as the base for his chorale prelude for organ, Walter Damrosch (conductor of the New York Philharmonic in the first two decades of the 20th century) transcribed the Bach for orchestra, and now Anthony O'Toole has transcribed the Damrosch for wind band. We look forward to performing this glorious and uplifting work."
Also on the program is Grammy Award winner Eric Whitacre's lovely Sleep, based on a poem by Charles Anthony Sylvestri, the energetic Danzón No. 2 by Mexican composer Arturo Márquez, and the classic masterwork for winds, Suite of Old American Dances by Robert Russell Bennett. For more Information contact Laura Rexroth at 262-595-2438.