Winter 2017 Graduates are Ready for Change
Published: December 16, 2017
Winter 17 Commencement Celebrates Learnability and Adaptability
This year, more than 300 University of Wisconsin-Parkside students were eligible to participate in the winter ceremony held Saturday, Dec. 16. The large number of potential graduates continues a trend spanning the past seven years. Last May was the largest number of students eligible to participate in a spring commencement in the university's history.
As student retention and student success continue to grow at UW-Parkside, so do the number of graduates. The spring 2018 graduating class is on track to, again, become the largest in the history of the university. 
Outstanding Graduates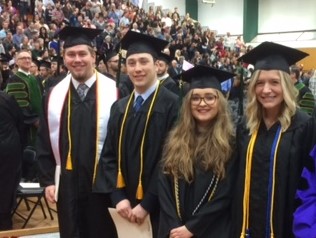 The winter 2017 graduating class included five Outstanding Graduates nominated by academic departments and selected by university committees. This year's honorees are Nicholas Malcolm (molecular biology and mathematics); Haley Willis (business management and marketing); Michael Case (criminal justice); Nicole Naden (secondary education and English); and Rebecca Roembke (physics and business). Roembke earned the Chancellor's Award signifying the top graduate in the class. 
In her remarks, Roembke said, "Most people view difficulties as bad things, but I've learned to view them in a different light, and see them as opportunities to grow."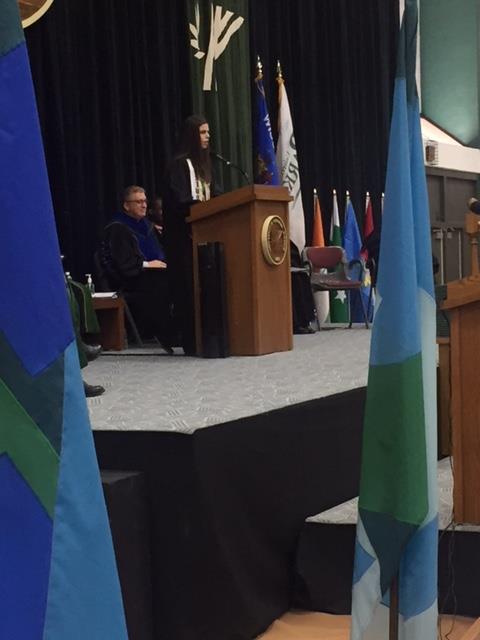 Regent Michael Grebe
At commencements across the University of Wisconsin System, a member of the UW Board of Regents brings a message of welcome and congratulations. Regent Michael Grebe described UW-Parkside as a university that is "more relevant than ever…. Every year, UW-Parkside graduates, like you, are making their mark – and making a difference," Regent Grebe said. "Your fellow UW-Parkside alumni have compiled a remarkable record of accomplishment and I know you will add to that."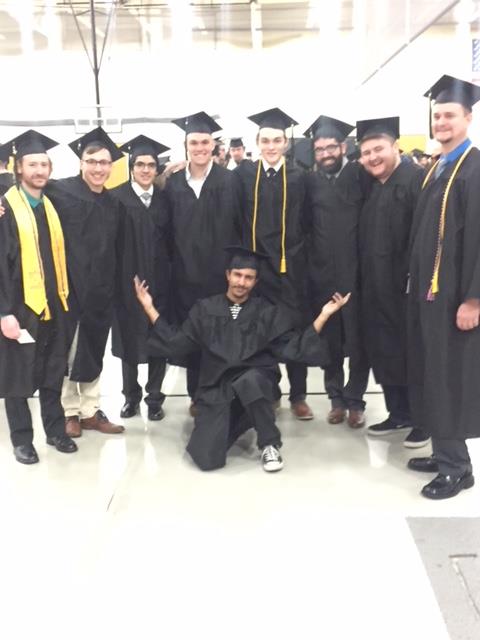 Dr. George Mehaffy
During her introduction of commencement speaker Dr. George Mehaffy, Chancellor Ford said she was extremely proud to – on behalf of the University of Wisconsin Board of Regents – to honor Dr. Mehaffy with an honorary doctor of humane letters degree. Dr. Mehaffy has served for 17 years as the Vice President for Academic Leadership and Change at the American Association of State Colleges and Universities (AASCU) in Washington, D.C., a higher education association representing 420 public colleges and universities and their 3.9 million students. He works closely with university presidents and chief academic officers on a variety of national initiatives.
Dr. Mehaffy has directed numerous innovative projects, including international programs with China and Liberia. In 2003, he launched the American Democracy Project involving 240 AASCU colleges and universities in partnership with The New York Times.
Dr. Mehaffy encouraged graduates to remember four life lessons: say yes, show up, work hard and be nice. "Don't be fearful that you can't do something or that it won't work out," Mehaffy said. "Show up with every bit of your capacity and commitment. Throw yourself into whatever task or role you have accepted and once you commit, don't look back. Working hard will always make you an essential part of any organization or team.
"Being nice is about caring for the people around you and considering their perspectives. I believe that four simple rules will always position people for success."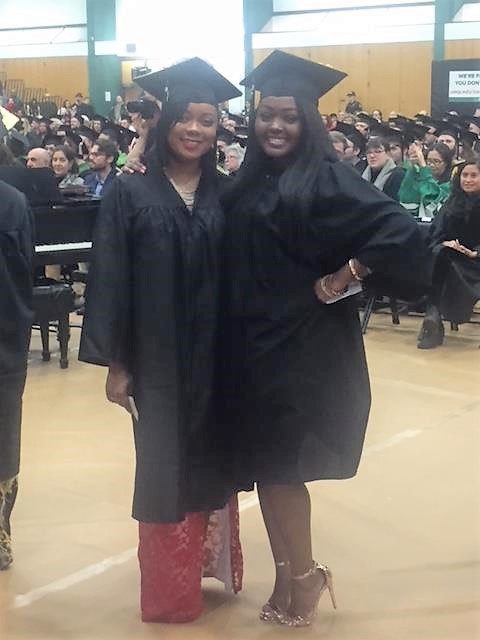 Ford calls Graduates "Valued Contributors"
UW-Parkside Chancellor Debbie Ford told members of the record graduating class that they are about to become valued contributors to businesses and organizations in our community. "In order to ensure that you have the relevant knowledge and experience to be valued contributors not just today, but for decades to come, UW-Parkside continues to change and to evolve," Ford said.
"Today, each of you is taking an important first step toward shaping a future that I can only describe as amazing, incredible, and most certainly unpredictable."