UW-Parkside Alumna Susan Podlogar to address Winter Commencement
Published: December 13, 2019
By:

UW-Parkside Marketing & Communications
SOMERS - More than 380 students are eligible to participate in the University of Wisconsin-Parkside 2019 Winter Commencement, to begin at 10 a.m. Saturday in the Alfred and Bernice De Simone Gymnasium. Susan Podlogar, a 1984 UW-Parkside graduate and chief human resources officer for MetLife, is the featured commencement speaker for this semester.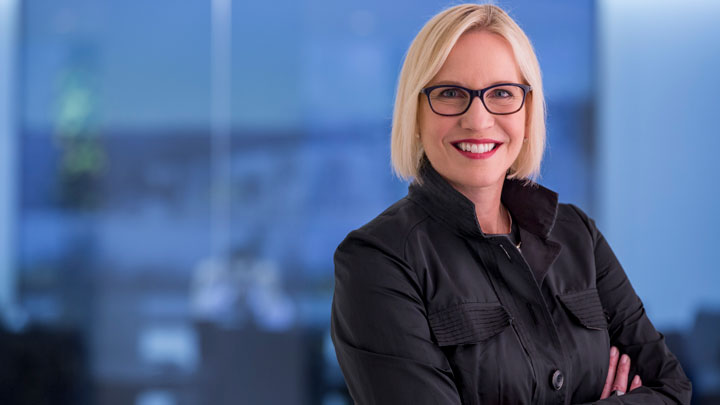 Susan Podlogar is MetLife's chief human resources officer. She is an executive vice president and a member of MetLife's Executive Group. She joined MetLife in July 2017 and oversees its global Human Resources strategies and practices with the goal of attracting, developing and retaining a purpose-driven workforce that creates value for MetLife's customers and shareholders every day.
Podlogar is focused on ensuring the readiness of the organization to meet future business needs. This includes fostering an environment where employees reach their full potential and using MetLife's purpose as the North Star for advancing the company's strategy. Podlogar was instrumental in establishing a Workforce of the Future Development Fund—a $10-million-dollar investment to prepare employees for future work needs. She supports MetLife's partnership with the UN Women Global Innovation Coalition for Change to accelerate the achievement of gender equality and women's empowerment. And Podlogar also advocates for healthy work environments by creating an open dialogue about health and wellbeing, providing supportive programs for employees and their families, and partnering with One Mind at Work as a commitment to implementing mental health best practices.
Podlogar serves on MetLife Foundation's Board of Directors and on the Society of Human Resources Management (SHRM) Certification Commission, a technical advisory committee responsible for ensuring the quality of the SHRM certification program. 
Previously, Podlogar served as the global vice president of Human Resources for Johnson & Johnson and a member of the Human Resources Executive Committee. During her 16 years with Johnson & Johnson, she held a series of sector and corporate leadership roles in HR.
Podlogar earned an MBA from the University of South Florida, summa cum laude, with concentrations in Finance and Management, and a Bachelor of Science degree from the University of Wisconsin-Parkside, also summa cum laude, with a double major in Labor and Industrial Relations and Business Administration.