Chancellor Ford receives MKE Business Journal honor
Published: June 17, 2015
MILWAUKEE
-- The Wisconsin Center in downtown Milwaukee was packed. Nearly 1,000 persons were on hand for the Milwaukee Business Journal "Women of Influence" awards luncheon Friday, June 12.
As this year's 28 honorees settled in, along with their guests and Women of Influence alumni, a video appeared on two large screens above the stage. The program revealed the "secret lives" of two Women of Influence recipients: Teri Zywicki, president of SaintA; and UW-Parkside Chancellor Debbie Ford. 
Interestingly enough, both "secret lives" involve music. Zywicki believes she can play the bongos. Ford likes the music of Aerosmith on the Rock 'n' Rollercoaster at Disney's Hollywood Studios in Florida. 
The "secret lives" video provided a great start to the 15th annual event honoring women who make a difference in southeastern Wisconsin and beyond. The 28 Women of Influence honorees were selected from 180 nominations. Business Journal Editor-in-Chief Mark Kass described the task of choosing the award recipients in his story for the Women of Influence special section. 
"There are few things in my job that I enjoy more than selecting our Women of Influence winners. As we sit in the conference room in our downtown Milwaukee office, discussing and debating who should be included each year, I am always amazed at the quality of the nominees. So many of the nominees have had a major impact on southeastern Wisconsin and could be selected for this honor. 
This year was no different.... This year's class is filled with women who are making a difference at work and in the community. Many of them believe what they're doing is nothing special. But we all know that southeastern Wisconsin is a better community due to their incredible efforts."

In a video presentation prior to receiving the Women of Influence award, Chancellor Ford said she is inspired by the way in which UW-Parkside transforms lives. "Not just the lives of our students," Ford said, "but the lives of their families. Sixty percent of the students at UW-Parkside are the first in their family to earn a college degree. It's about transformation and it's really about inspiration." 
Ford encouraged all women to dream big, follow their individual passion and have a can-do attitude: "I also believe we have to help other women achieve … and reach their potential and goals."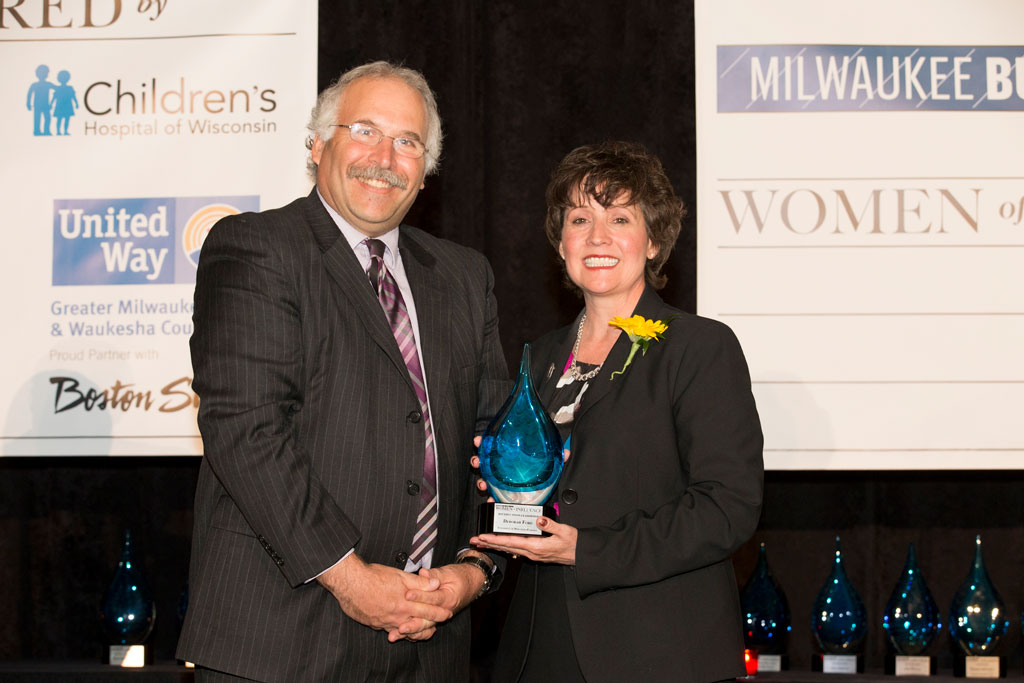 Chancellor Debbie Ford receives the Milwaukee Business Journal Women of Influence Award from Business Journal Editor-in-Chief Mark Kass