Yohnk Appointed Dean at UW-Superior
Published: February 24, 2016
Dr. Dean Yohnk brings significant experience in Wisconsin higher education to UW-Superior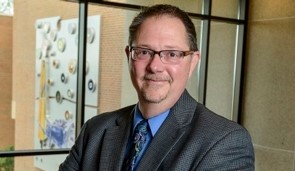 UW-Superior announced that Dr. Dean Yohnk has been named dean of Faculties and Graduate Studies. In addition to his experience with UW Colleges and Viterbo University in La Crosse, Wis., Dr. Yohnk served as dean of the UW-Parkside College of Arts and Sciences and then founding dean of the College of Arts and Humanities.
UW-Superior Provost Faith Hensrud said Dr. Yohnk has a proven record of successes related to diversity, student retention, and collaboration. "Once he is established in our campus community, these experiences, coupled with his strong commitment to the mission of UW-Superior will allow him to provide leadership for our academic programs during a very important time in our university's history," Hensrud said.

Dr. Yohnk will begin his duties at UW-Superior May 2 as incoming dean and serve as dean starting July 1. He replaces Elizabeth Twining Blue.
"I am very eager to join the outstanding UW-Superior campus community," Yohnk said. "I have come to truly respect and admire the mission, vision, and achievements of the students, faculty, and staff at UW-Superior. During difficult times of budgetary and enrollment challenges across the UW System, the leadership and faculty at UW-Superior have done an exceptional job of strategic academic planning and program prioritization that has positioned the campus very well for continuing success and excellence in the future."