Inauguration Day With Zach Rodriguez
Published: February 17, 2017
By:

Kamala Burks, Communications Assistant
I recently had the pleasure to sit down and talk with one of our very own Rangers Zach Rodriguez, of Kenosha. Zach is a political science major and is also a part of the College Republicans student group here at UW-Parkside.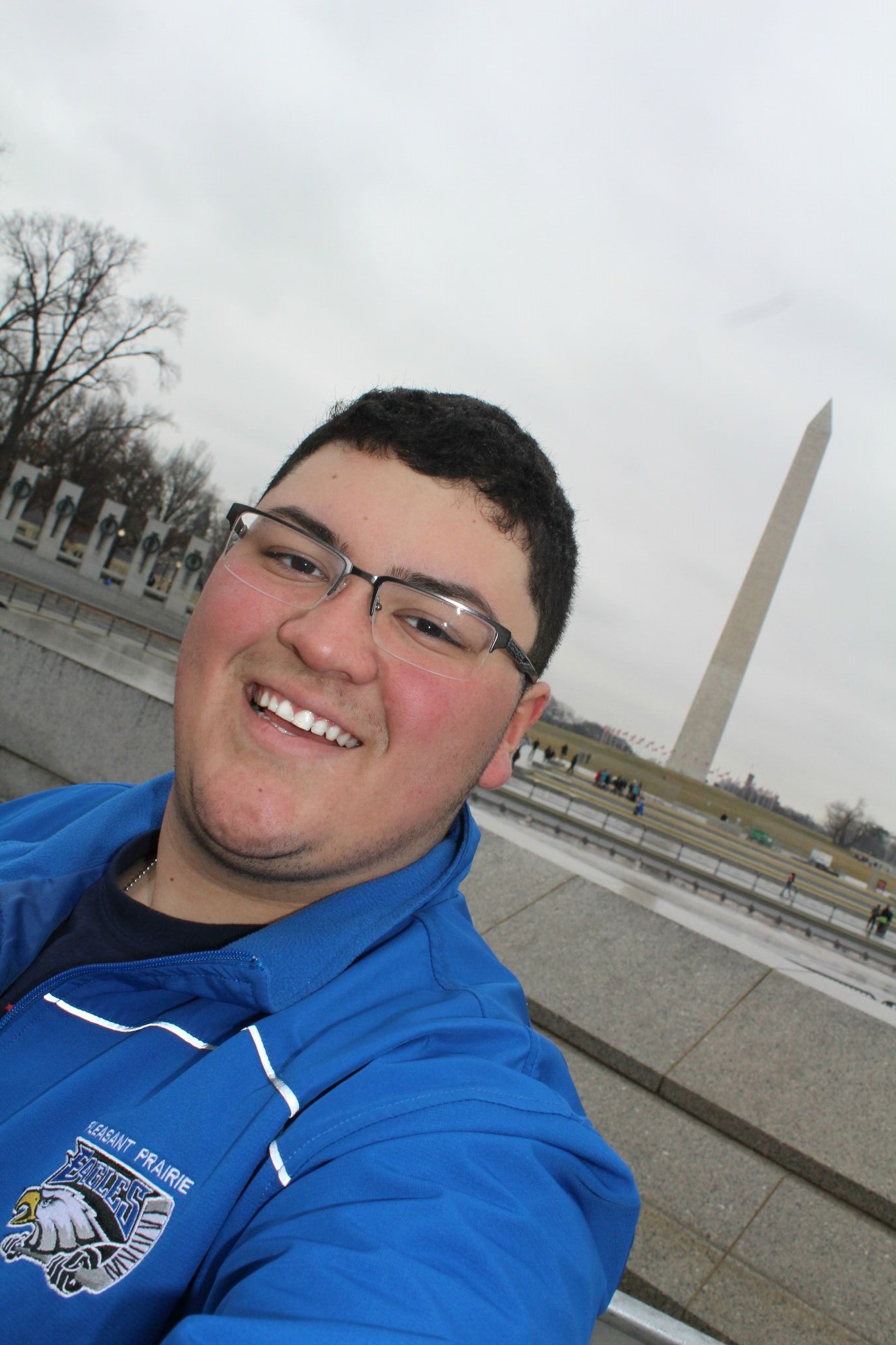 Zach decided that it would be a cool idea to write to House Speaker Paul Ryan to see if he could score tickets to this year's Presidential Inauguration. Little did he know that that letter would actually be reviewed, and his request for tickets would be granted.  
So that was it, he had the unique opportunity of traveling to D.C. to see the inauguration of our 45th president, Donald Trump. Now even though Zach's choice in the primaries was John Kasich, he still had an amazing time, and had nothing but positive things to say about his experience.  
Zach and four other students from the College Republicans hopped in the car with the excitement and anticipation of experiencing a remarkable event. They arrived in Washington on Wednesday, two days before the inauguration, with great enthusiasm and eagerness. The first order of business was visiting Ryan's office to get the tickets. His group dropped him off and drove around while he walked through the congressional office building, alone. He was checked at security, then walked through a hallway where he found the office of Speaker Ryan.  
The sign next to the large wooden door read, "Come In." Zach wondered, "Should I really just walk right in?" He was hesitant at first, then decided to slowly open the door. He was greeted by a bunch of friendly faces that yelled, "Come on in!" He describes this experience as being intimidating at first, then a surge of reassurance came over him and he quickly felt right at home. 
Speaker Ryan's office was decorated with "everything Wisconsin." From Packer gear, to Badger decorations … even small models of Racine's Case tractors. He was then told to walk through to another office where he surprised to be greeted by a very young man. After signing for the tickets, he was on his way. 
It's Inauguration Day! 
With only about three hours of sleep, Zach and his group arrived at the scene around 4 or 5 a.m. and went through lines of security which he compared to the TSA check at the airport. At the first gate of security even the a few pictures on his GoPro camera were checked. He wasn't sure why, but hey, it happened. After the final security and ticket checks were complete, it was time for the event to start.  
When I asked him about his overall experience he had a lot to tell. The first word that came to Zach's mind was "unforgettable." He spent about six hours bunched up, back to back with complete strangers from around the country, but he said it was just like being with a bunch of his best friends. It was as if the crowd became one, but they still knew and respected the fact that they were from different places around the country. He saw famous news anchors, celebrities, and other notable people from across the nation. But at that time, his focus wasn't on them; it was on our new president. He explained how when President Trump got up to speak, everyone in the crowd grew very quiet. He has one of those commanding voices, just like all of the other presidents. Everyone knew that it was just time to listen.  
One of the highlights of the event was seeing the support of former president Barack Obama, other past presidents, and Democratic candidate Hillary Clinton. He remembers the singing of the choir as being "awesome" with people from the crowd singing along.  
After the inauguration was over, then came the chaos. Given that this election was controversial, there were protesters and some rioting throughout the city. On their way out, Zach and other members of the crowd were stopped for their safety. They were stuck. People became anxious as the National Guard held them in place reassuring them that it would be just a few minutes. He remembers one of the crowd members wanting to take matters into his own hands and shouting: "Women and children to the back! All men in the front! We'll take the protesters out!" Zach said he remembers thinking "Am I going to war? I didn't sign up for this!"  
Another man decided to jump the fence that was keeping the crowd in. Refusing to comply with police orders, the man was tackled by a police officer. On the other side he saw the National Guard with huge trucks blocking the road, preventing the crowd from going anywhere. There were even protesters screaming how the Pope was the Antichrist. 
In the mist of the animosity, there was a man selling overpriced pretzels out of a shopping cart! Yes, old, cold, hard pretzels. "Pretzels in the middle of chaos," Zach described the scene as being a meme, "life collapsing around you, selling pretzels." Well, seeing as he hadn't ate all day, Zach thought "what the heck" and bought some pretzels. He also saw U.S. Senator Rand Paul of Kentucky casually strolling with his family. Zach and his group became super excited, not believing what they were witnessing. Paul and his family later got into a black SUV, and just drove off. 
After things died down, and the chaos became less chaotic, it was time to go find somewhere to eat. Walking through the city, they quickly realized that a lot of businesses were closed. After what seemed like hours of waiting, they found a Subway restaurant. Since the line was incredibly long, and there was only one table, they decided to venture off to another restaurant, where they finally settled at a soup and sandwich place.  
They spent the rest of the day exploring the city. He visited the monuments, memorials, the Vietnam Wall, Arlington National Cemetery, and some of D.C.'s greatest museums. He also got to visit the Supreme Court and the Capitol. He became overcome with emotion while describing his experience. He said that going up to the different portraits of the past people who have contributed to the change in this country sent chills down his spine – Antonin Scalia's portrait especially so. To see where laws, and debates happened was an amazing experience; Zach said he was "geeked out." 
To see the different flags and to see, "my stars and stripes, to see 13 stars and to know that you are a part of something that has been around for over 200 years," was a life-changing experience, Zach said. To know that one day his children, and grandchildren will see the same flag he saw was extremely touching to him. Also, to see the original Declaration of Independence, the Bill of Rights, and John Hancock's faded signature right in front of him is something that will be held in his heart forever. He described his entire experience in D.C. as "memorable and welcoming."  
Zach believes that if you don't think that your voice matters, then you should take a trip to D.C. That is where he learned that his voice truly matters. He believes that the United States is like a large puzzle that never ends. "I'm a piece, you're a piece," he said. "With the different pieces, we come together as one big puzzle." To him, it is important to recognize that although we come from different places and backgrounds, we all come together and represent this country. It is what makes America, America. He states how these political figures are no more American than the rest of the citizens across the country. He hopes that we will see another black president, and even an Asian, or Latino president, given his own background. He also hopes that we can have a peaceful transition, and that the example of togetherness from the inauguration will continue to keep America together. 
If you have any questions, comments, or would one day just like to chat, Zach would like to hear your thoughts. You can email him at rodri146@rangers.uwp.edu.