THEM
Images of Separation

A traveling exhibit by the Jim Crow Museum of Racist Memorabilia that displays items from popular culture used to negatively stereotype groups of people. The purpose of the exhibit is to show that discrimination and stereotyping are not simply black and white issues—they affect all people.
Canceled: "Them" Exhibit visit to UW-Parkside
 
Given the present public health crisis due to COVID-19, we've made the unfortunate but necessary decision to cancel the "Them" exhibit and related campus activities at this time. Throughout the planning process we've been encouraged by the overwhelming interest and support from the Parkside campus and the community. We hope to reschedule this exhibit within the next few years, pending exhibit and gallery availability. Thank you for your support!
Dr. David Pilgrim
Curator
CURATOR'S NOTE
The Jim Crow Museum's second traveling exhibition—"THEM: Images of Separation," explores the subjugation of women, poor Whites, gays, Jewish Americans, Native Americans, Mexican Americans, African Americans, and Asian Americans—and others. As Dr. King stated, "Injustice anywhere is a threat to justice everywhere."
CURATOR'S BIO
David Pilgrim, PhD, is the founder and Director of the Jim Crow Museum, the nation's largest, publicly accessible collection of racist objects, located at Ferris State University where he serves as Vice President for Diversity and Inclusion.
Dr. Pilgrim is also the author of Understanding Jim Crow: Using Racist Memorabilia to Teach Tolerance and Promote Social Justice (PM Press, 2015). The book explains the museum's vision and work, where the objects are used as tools to teach about race, race relations, and racism. His goal is to get people talking about race relations and inclusion in meaningful ways and then, to go and do something positive.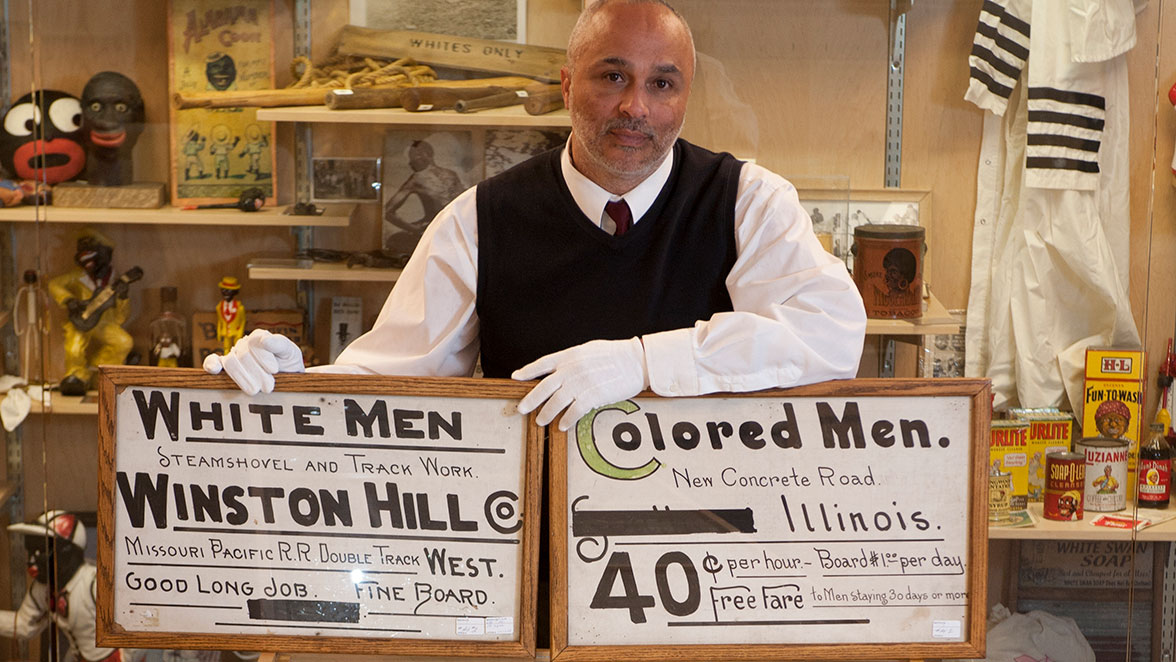 "Injustice anywhere is a threat to justice everywhere. We are caught in an inescapable network of mutuality, tied in a single garment of destiny. Whatever affects one directly, affects all indirectly."
Martin Luther King, Jr.
Letter from Birmingham Jail, April 16, 1963
This traveling exhibit was inspired by the words of Reverend Martin Luther King Jr.
Related Community Progams

UW-Parkside is proud to be part of a region that is consciously raising awareness of and exploring ways to address how we "other" groups of people. Click below for a calendar of upcoming programs and initiatives open to the public. 
Why bring this exhibit to Parkside?
The University of Wisconsin-Parkside is committed to high-quality educational programs, creative and scholarly activities, and services responsive to its diverse student population and its local, national, and global communities. We develop and sustain a culture that respects, welcomes, and embraces diversity and seeks to support and celebrate marginalized groups.
As the most diverse campus in the UW System, Parkside is positioned at the forefront of opportunity to address issues of privilege and foster an inclusive campus and community culture. It is especially important that Parkside is a safe, inclusive space in light of the increasing polarization in American society.
Outcome 1  |  To create a space where the campus and broader community can discuss issues of privilege related, but not limited to, race, gender, sexual orientation, class and body image.
Outcome 2  |  To engage students in history, ethnic studies, psychology, communication, among other departments, in dialogue, academic research and projects related to the exhibit.
Outcome 3  |  To provide follow-up on discussions led by student leaders in the "Let's Talk" forum held in April 2019.
About The Jim Crow Museum of Racist Memorabilia

Located at Ferris State University in Big Rapids, Michigan, The Jim Crow Museum of Racist Memorabilia strives to become a leader in social activism and the discussion of race and race relations. Its mission is to use objects of intolerance to teach tolerance and promote social justice. The Museum's mission is achieved by collecting, preserving, exhibiting, teaching, and learning about objects and artifacts related to racial segregation, anti-black caricatures, civil rights, and African American achievement.