Student Success Stories
Meet four UW-Parkside students who are achieving great things. Bianca, Catherine, David, and Kailee all came to UW-Parkside for different reasons, but one thing they have in common is their scholarship support. Read about what motivates them, their accomplishments, and how donor support has fueled their experience.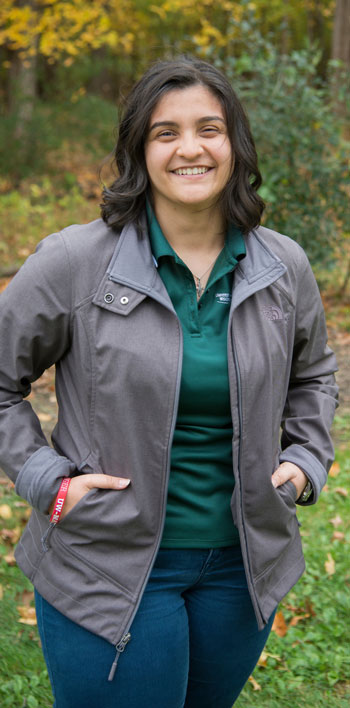 Major: Molecular biology and bioinformatics
Expected Graduation Date: May 2018
"Oh, I forgot to tell you…I also started my own event at UW-Parkside! Goes to show, you can actually make a difference here." 
And make a difference she has- Bianca Ruffolo not only started her own event on campus, but she's also the president of two other campus organizations, has 3 part-time jobs (just to gain more skills!) and did research this summer on neuroblastoma cancer. If you're not blown away yet, Bianca also received a 2017-18 Newman Civic Fellowship, which recognizes and supports community-committed students.
On top of all the activities she's involved in, Bianca is pursuing challenging coursework and preparing to study for the MCAT test next year. Majoring in molecular biology and bioinformatics and minoring in chemistry, Bianca has her sights set on medical school after graduation. In fact, UW-Parkside's pre-health track is what attracted her to the university in the first place.
"UW-Parkside was the only place I applied to for college. After looking at other places, I knew this was 'the one' especially after learning of the 90% acceptance rate into medical school and meeting with pre-health advisors."
Bianca's goal is to do research and practice medicine in a rural area of Wisconsin, helping bring better healthcare access to underserved areas. She is ready to make a difference in the world.
A FAMILY TRADITION
As the first in her family to go to college, Bianca is paving the way for her younger siblings. This year, her younger brother chose to also pursue a college degree and decided to attend UW-Parkside alongside Bianca!
Bianca's scholarships have been crucial for her during her time at UW-Parkside. Not only have they helped her succeed academically, but they have also allowed her time to better herself and her community. Scholarship assistance has freed her time to be a tutor in biology and chemistry at the Parkside Academic Resource Center, lead the Molecular Biology Club, and, as mentioned earlier, start her own event- hosting the annual Harry Potter Trivia event.
"The scholarships I've received have taken a lot of the financial pressure of college off my shoulders and allows me to focus on being a better student and preparing for my future."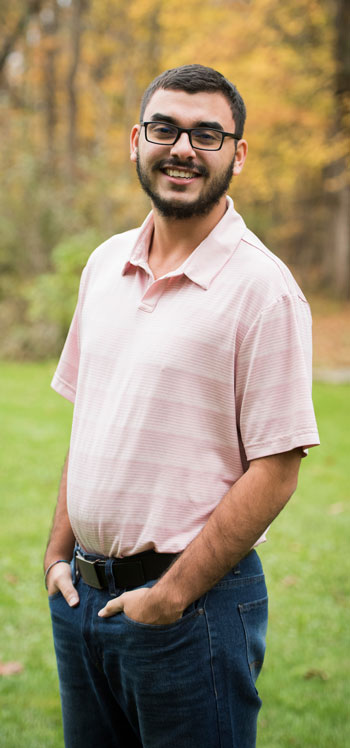 Major: Business management, concentration in finance
Expected Graduation Date: May 2019
David Garay is a story-teller. Whether he's explaining why he loved his public speaking class or why he chose to transfer to UW-Parkside, David can turn a simple idea into a journey and hold your attention the entire time. The key is the passion he has for everything he does. David does not take any class assignments lightly, nor did he give up when he set a goal to find an internship.
David had passion and perseverance before he attended UW-Parkside, but his professors here have continued to cultivate his energy and enthusiasm as he looks to pursue a career in finance. And David is the first to tell you he owes a lot of his success thanks to these professors:
"The mentoring I receive from faculty has been incredible- they're preparing me for life after school."
One of David's biggest accomplishments so far in his college career has been earning an internship as a sophomore. Internships are typically reserved for juniors or seniors in college, students hoping to gain real-life experience that will help them land a job after graduation. David recognized that an internship was crucial to his future, so he started pursuing opportunities early. Thanks to the help of faculty and UW-Parkside's Career Services, David tirelessly applied to multiple internships in the area. Eventually, a perfect match fit and David landed an Operations and Fulfillment Internship at Jockey. He's transferring the skills he's learning in his business and finance classes to his internship daily.
David's hard work helped him land his internship, but his UW-Parkside scholarships also lent a hand along the way. Thanks to scholarships he's received these last two years, he was able to focus on important tasks like his academic work and finding an internship, rather than working a part-time job.
"Receiving a scholarship absolutely changed my world. I am grateful for the doors that have opened since receiving a scholarship. Especially the time I can now devote to my internship. There is nothing that replaces hands-on experience to really know if you love the field."
David has three more semesters until graduation, and he'll definitely be prepared for the workforce thanks to the time he's spent learning both in and out of the class.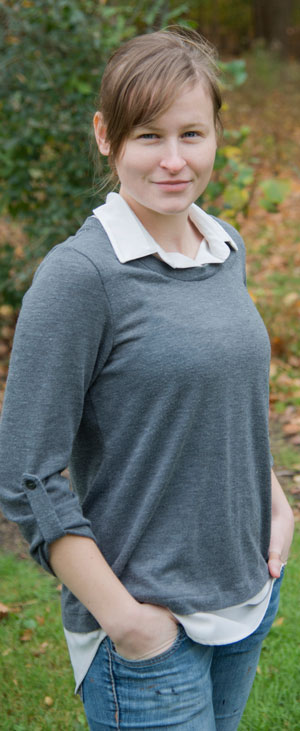 Major: Theatre Arts and English
Expected Graduation Date: May 2018
Passion, dedication, and confidence. As you get to know Catherine Kleinofen '18, it's easy to see that these three words sum up her experience with the UW-Parkside Theatre Department pretty well. Catherine is passionate about her theatre roles, dedicated to mentoring younger students, and confident in the skills and abilities she's learning at UW-Parkside.
After learning from her advisor that she had the chance to graduate early, Catherine walked away from the meeting with mixed feelings. Most people would cheer at this news, but Catherine's thirst for knowledge and dedication to the UW-Parkside theatre community left her in a predicament. So, instead of taking the easy road out, she tacked on an English major and extended her time at UW-Parkside.
Throughout her time at UW-Parkside, Catherine has acted in and managed dozens of performances, including Almost Maine, A Christmas Carol, and A Funny Thing Happened on the Way to the Forum. Thanks to this experience, mentorship from faculty, and the diversity in curriculum, Catherine was prepared to take on a large responsibility this summer- managing the Sesame Street Bay of Play program at Sea World in San Antonio. Catherine was in charge of presetting the show, doing sound checks, supervising up to 30 performers, and so much more. An experience she'll surely never forget!
CRUCIAL SCHOLARSHIP SUPPORT
Catherine truly is a rock star student and she gives a lot of credit to the scholarships she's received from UW-Parkside.
"It was crucial for me to receive scholarships. They've enabled me to expand my majors and experience all I have here."
Scholarships allowed Catherine the time she needed to take on additional roles and responsibilities within the theatre department. Without her scholarships, Catherine might not have been able to take on her English major, be president of the Drama Club, or live on campus.
"UW-Parkside is the hidden gem of the Midwest. We create consistently professional level shows and that helps us build a reputation in the area."
She's incredibly thankful for the amazing faculty who have taught and mentored her, the scholarships that opened up opportunities for her, and the community she's created at UW-Parkside.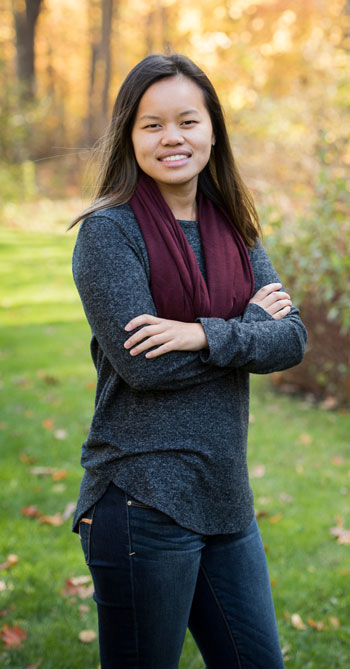 Major: Sociology and liberal studies
Expected Graduation Date: May 2018
Last spring, as Kailee Dunker finished her third year at UW-Parkside, she was ready for summer break. Junior year is notoriously challenging and Kailee was devoting a lot of her time to studying and her part-time job as a tutor for local students. Just when she needed a pick-me-up, Kailee found out she earned a scholarship for the upcoming year. This recognition was just what she needed before entering her final year at UW-Parkside.
"I could not have heard the great news that I'd received a scholarship at a better time. This honor reminded me that someone does believe in me and it renewed my confidence. It's a reminder to finish strong."
Kailee's scholarship is proof that support can come when you least expect it, but maybe most need it. As the first in her family to go to college, Kailee has been maneuvering the somewhat difficult landscape of college with fresh eyes. She's excelled along the way, both academically and within student organizations.
As a sophomore, Kailee joined the Parkside Activities Board and quickly became the President. Kailee loves UW-Parkside and wanted to provide more opportunities for students to get involved on campus. Taking on a leadership role has allowed Kailee to express her creativity and learn communication skills when working with a team. Since she commutes from home every day, her role on the Activities Board helped her meet new people and gain friendships outside of her classes.
Kailee's story is evidence that scholarships do more than solely assist students financially. They also recognize the hard work that students are putting in every day. Often they push students to experience more. As Kailee wraps up her final year at UW-Parkside, you can be sure her academic achievement, leadership roles, and future-focused mentality will help her land a successful job out of school.