CNHS Newsletter Costa Rica
The tropical regions are legendary for their biodiversity, and the trip brought the students to three diverse wet forest types: lowland forest at La Selva Biological Station, mid-elevation forest at Arenal Observatory Lodge, and cloud forest– including elfin forest– along the continental divide at Monteverde Cloud Forest Reserve.
Led by professors Greg Mayer and Dave Rogers, the class was ably assisted by veteran naturalist-guide-fixer Israel Mesen of Tayra Travel, who has worked with Professor Mayer on many Central American trips. As Israel says, "Professors should teach, students should learn, and I'll take care of the rest." And, indeed he did, admirably arranging our visits and accommodations at these world renowned field sites.
Image above is the Volcán Arenal; note the steam issuing from the peak.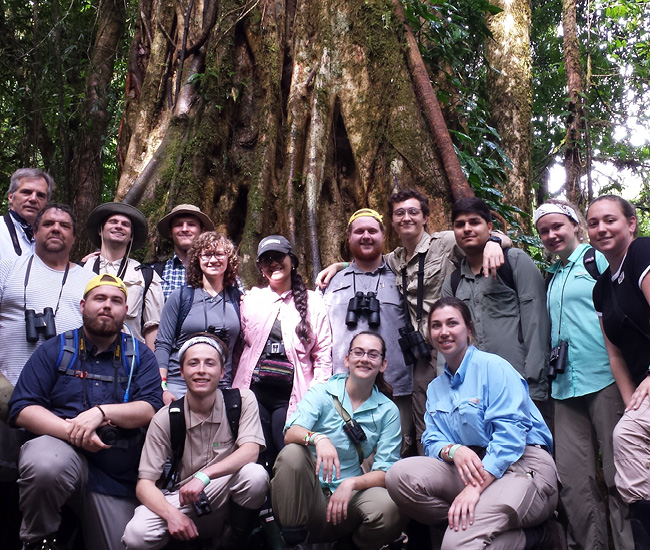 Parkside's young naturalists in front of a strangler fig in the cloud forest at Monteverde Cloud Forest Reserve. Prof. Greg Mayer, Prof. Dave Rogers, Jake Michaud, John Tuttle, Alaina Lee, Atziri Mendoza, Ryan Spence, Kyle Butler, George Upthagrove, Josie Ackermann, Ally Bonofiglio, Josh LaLonde, Tyler Smith, Simone Sorensen, Olivia 'OJ' Jardas.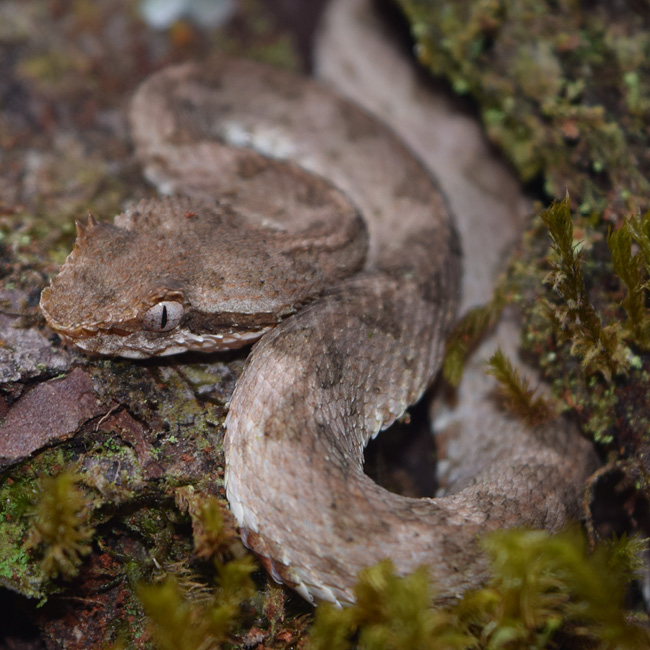 An Eyelash Viper curled up at eye-level on the trunk of a tree at Arenal Observatory Lodge.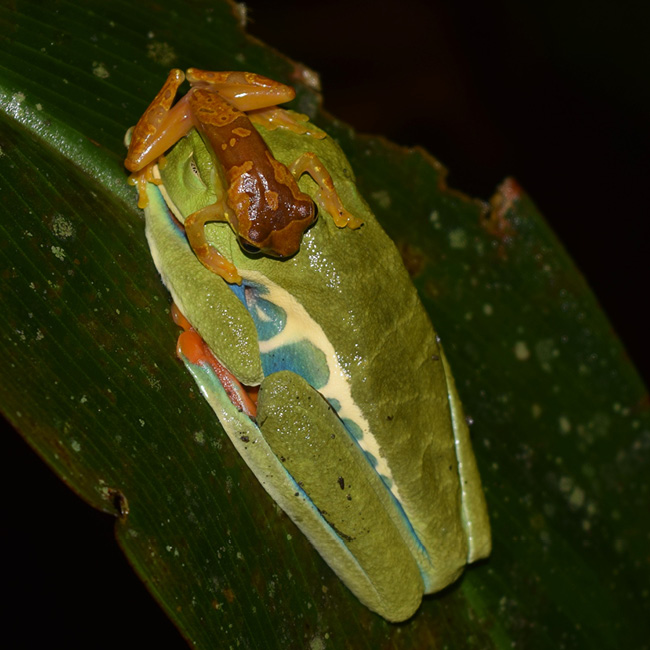 A male Harlequin Frog sits atop a female Red-eyed Treefrog at Arenal Observatory Lodge.
And just as Darwin and other early scientific travelers were filled with delight, wonder, and astonishment, so too were our young naturalists. In phrasing convergent on Darwin's, Ally Bonofiglio reveled in the kaleidoscopic diversity of nature: "Spider monkeys, red-eyed tree frogs, scarlet macaws, animals you may have only seen in pictures or zoos are infinitely more amazing in the wild, just like the scenery from the base of a volcano, above the canopy of the rainforest, or inside a waterfall."
Olivia 'OJ" Jardas was similarly impressed: "Studying abroad in Costa Rica was a spectacular event. Words cannot honestly describe the beauty of the flora and fauna. If you plan on becoming a biologist, you must see the rainforest, no exception... Some of my fondest memories of our trip together were, swimming in a waterfall, dancing at a discotecha, hiking in a cloud forest, seeing snakes and crocodiles, and, of course, exploring the rainforest at night... I gained so much insight into the world. How many people could actually say they saw scarlet macaws or toucans in the wild? ... There is nothing more exhilarating or terrifying as going on a night hike in the rainforest for the first time."
Kyle Butler adds that, "the experience was surreal... something out of a fairy tale! It was easily the best trip abroad I've ever been on." OJ's advice to other students sums it up: "What an amazing experience. You need to go. You! NEED to go."