Learning to Lead: An Interview with Tess Dimler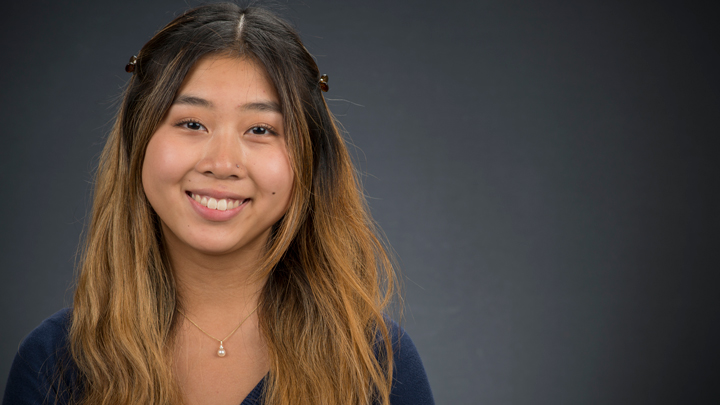 Student: Tess Dimler
Major(s): Psychology
Minor: Sociology
Class Rank: Junior
September 2022
Tess Dimler wasn't looking for a major leadership opportunity when given the chance to apply to be a MOSAIC Educator (Motiving Our Students to Advocate for an Inclusive Campus) with the Office of Multicultural Student Affairs at UW-Parkside. Prior to working this job, Tess described herself as super shy and lacking confidence in social situations – a potential stumbling block to being successful in a role that would require her to design and facilitate workshops while interacting with people of all perspectives and backgrounds. And yet, through the support of the supervisors in OMSA, Tess took the leap and is so thankful she did.
"I have a lot of fun. I knew it was going to be a job, but I didn't know it would always be so hands-on and that we would all feel like friends."
Tess reflects that leadership skills are incredibly essential in her role. She also acknowledges that it took time for her to learn how to lead effectively. Her first few days of training in the role were heavily focused on how to facilitate beginner through advanced workshops, create inclusive and safe spaces, and coordinate as a tightknit team. Tess continues to develop those skills and over time has gotten more comfortable facilitating workshops on difficult topics within the scope of Equity, Diversity, and Inclusion.
"At the beginning of our workshops, I would be so focused on what I needed to say next that I wouldn't be able to listen as much as I wanted to. Throughout the year, I became much more present and able to really listen and respond thoughtfully."
From workshops, to bridge table offerings, to large-scale events, Tess's work has focused on creating a safe space for people to learn and share their personal experiences. Tess knows that even when the conversations center on challenging issues, such as implicit bias, privilege, and advocacy, her and her team's work is making a big difference on campus. Tess's favorite project so far has been putting together the Asian Heritage Month workshop. This one was particularly special because she felt a personal connection to the topics covered.
"I loved creating it [with one of my colleagues], and I learned a lot about myself in addition to the Asian community as a whole."
Tess is appreciative of the professional development opportunities offered through her student employment role, as well. Several days of every month are dedicated to honing skills that are highly transferrable to any future job or career path, such as communication, leadership, and interpersonal skills. These sessions have helped Tess solidify and break down those skills in a more specific sense, even beyond the job itself, and connect them to future experiences. Tess was also one of several student leaders invited to attend the 34th Annual National Conference on Race & Ethnicity in Higher Education in Portland with the OMSA staff. She was able to take away a lot from the sessions she attended that she intends to apply to the MOSAIC program in the upcoming year.
Most importantly, though, Tess believes it's important to be comfortable with who you are, because a lot of the work involves trying to cultivate a space where people feel comfortable to be exactly who they are.
"I've learned a lot from my peers and supervisors about what EDI means in a broad sense, but also what it means to me individually… Share your story – your story is very powerful in this type of work."
Tess is excited to assume even greater responsibility as she steps into the role of MOSAIC Student Coordinator. Visit Tess and her fellow MOSAIC program colleagues in the Office of Multicultural Student Affairs in the Student Success and Learning Commons, and keep an eye out for upcoming workshops and events to attend here.
Kaila Bingen
Experiential Education Specialist
Office of Community & Business Engagement