Robert Barber, Ph.D.
Professor - Biological Sciences
Biological Sciences Department
Ph.D., University of Wisconsin-Madison, 1997
PHONE: (262) 595-2419
EMAIL: barber@uwp.edu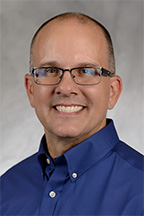 AREAS OF EXPERTISE
Genomics
Biochemistry
Microbiology
Molecular Biology
Bioinformatics
I was raised in the northern Illinois town of Freeport, home of the "Pretzels". I credit an outstanding group of primary and secondary public school teachers with providing me with both the ambition and education to pursue higher education at the University of Illinois Champaign-Urbana. While at U of I, I had the good fortune to complete an undergraduate research thesis in the laboratory of Dr. Abigail Salyers, working on the transmittance of antibiotic resistance among human commensal bacteria. After obtaining a B.S. in Microbiology with Distinction, I continued my education in the Cellular and Molecular Biology program at the UW-Madison, completing my Ph.D. in the laboratory of Dr. Timothy Donohue studying the one carbon metabolism and physiology in purple photosynthetic bacteria. Subsequently, I earned a National Institutes of Health postdoctoral fellowship in the laboratory of Dr. J. Greg Ferry at The Pennsylvania State University to study archaeal biochemistry and physiology. Currently, I am a professor of Biological Sciences, with a research focus on the application of genetic, biochemical, and informatics strategies to understand evolutionary relationships among enzyme families.
Teaching, Research/Creative & Consulting Interests
Teaching Interests
Since coming to UW-Parkside, I have developed a variety of courses for both majors and non-majors, all that I find extremely interesting. BIOS 100: The Nature of Life is a course for non-majors that explores the question "What is Life", with emphasis on such aspects as "the basis of life", "the limits of life", "the interactive nature of biology", as well as current bioethical issues. Within our major, I have developed courses related to biochemical metabolism, protein biochemistry, and bioinformatics programming with each offering valuable insights to students as they prepare either for their careers or for future educational opportunities.
Research Interests
Despite the immense power of molecular biology tools to design and modify enzyme function, I believe nature is the ultimate arbiter of protein structure and function. As a result, my research can be divided in three areas that each explores the evolution of function using discrete model protein families: (1) Evolution of Quaternary Structure – various programs and web applications have been developed to understand sequence/structure relationships among natural enzyme variants at tertiary and quaternary structural levels in the PfpI/DJ-1 protein superfamily and predictions are being tested using biochemical assays. (2) Biochemical and genetic analysis of a short chain fatty acid kinase (member of the ASHKA superfamily) is being conducted to decipher its' role in Rhodobacter sphaeroides physiology and (3) a collaborative research effort with DePauw University investigates the structure and function of putative archaeal transcriptional regulators.
Consulting Interests
My expertise in bioinformatics, genomics, and protein biochemistry has provided consulting opportunities with DuPont, as well as numerous journal articles and textbooks.
Publications
Selected Publications
2021: Software to visualize proteins and perform structural alignments, Current Protocols in Protein Science/ John Wiley & Sons Publishing
2021: Writing python programs to map alleles related to genetic disease, Biochemistry and Molecular Biology Education
2021: Characterization of a Rhodobacter sphaeroides primary fatty acid kinase, Archives of Microbiology/Springer (4 pp.)
2020: Characterization of a butyrate kinase from Desulfovibrio vulgaris str. Hildenborough, FEMS Microbiology Letters/Oxford University Press
2016: Methanogenesis: Ecology, John Wiley & Sons Ltd.
2011: Complete genome sequence of Methanosaeta concilii, a specialist in aceticlastic methanogenesis, Journal of Bacteriology (American Society for Microbiology) (3668-3669 pp.)
2007: A "game" introduction to bioinformatics sequence analyses, American Biology Teacher (6 pp.)
2006: Identification of SmtB/ArsR cis elements and proteins in Archaea using the Prokaryotic InterGenic Exploration Database (PIGED), Archaea (11 pp.)
2006: Prophage Finder: a prophage loci prediction tool for prokaryotic genome sequences, In Silico Biology (5 pp.)
2002: The Genome of M. acetivorans Reveals Extensive Metabolic and Physiological Diversity , Genome Research (Cold Spring Harbor Press) (532-542 pp.)
2001: The home stretch, a first analysis of the nearly completed genome of Rhodobacter sphaeroides 2.4.1. , Photosynthesis Research (19-41 pp.)
Courses Taught
BIOS 100 - Nature of Life
BIOS 101 - Bioscience
BIOS 303 - MICROBIOLOGY
BIOS 307 - Biochemical Metabolism
BIOS 455 - Protein Biochem/Bioinformatics
BIOS 489 - MOLEC BIO/BIOINFRM SR PROJECT
BIOS 490 - Adv Topics-Biological Sci:
BIOS 499 - INDEPENDENT STUDY
BIOS 499 - Independent Study:
BIOS 503 - MICROBIOLOGY
BIOS 655 - Protein Biochem/Bioinformatics
BIOS 699 - INDEPENDENT STUDY
BIOS 711 - Thesis
BIOS 731 - GRADUATE SEMINAR
BIOS 731 - SEMINAR IN MOLECULAR BIOLOGY
CHEM 307 - Biochemical Metabolism
HIMT 400 - HLTHCARE INFORMATION&TECH-DATA