Hom Kandel, PhD
Assistant Professor
Mathematics And Physics Department
Post Doctoral, National High Magnetic Field Laboratory, Florida State University, 2015 Ph.D., University of Arkansas at Little Rock, 2010 MS, Western Illinois University, 2004
PHONE: (262) 595-2171
EMAIL: kandel@uwp.edu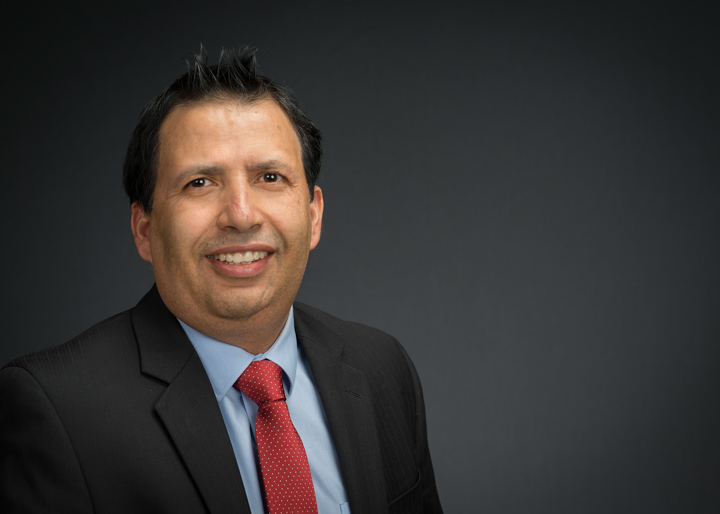 AREAS OF EXPERTISE
Applied Physics
Materials Science & Engineering
Nanoscience & Nanotechnology
Dr. Hom Kandel joined the University of Wisconsin-Parkside in the fall of 2016 as an Assistant Professor of Applied Physics. Prior to coming to the Parkside, Dr. Kandel was a Postdoctoral Research Scientist at the National High Magnetic Field Laboratory (the largest and the highest-powered magnet laboratory in the world) where he developed novel electrical insulation materials for high field superconductor magnet technology. Dr. Kandel received his Ph.D. in Applied Physics from University of Arkansas at Little Rock in 2010 and MS in Physics from Western Illinois University in 2004. Dr. Kandel's research background lies at the intersection of Applied Physics and Materials Science & Engineering with strong emphasis on the development of novel electrical insulators for application in high critical temperature superconductor based Josephson junctions, next-generation NMR/MRI superconducting magnets with high magnetic fields, and synthesis and studies of high efficiency and low cost solar cells. Currently, Dr. Kandel is pursuing his research work to lead the advancements in developing and studying the electrical, optical, and magnetic properties of these novel electronic materials. Dr. Kandel has been teaching a wide variety of lower and upper-level undergraduate Physics and Mathematics courses in various colleges and universities for nearly 10 years. In his teaching, Dr. Kandel embraces the latest teaching-learning methods and instructional aides as directed by the Physics education research and is always looking for innovative ways to more fully involve students in the teaching-learning process. Dr. Kandel has authored and co-authored almost 25 peer-reviewed journal papers in leading scientific journals, holds two scientific patents and has presented over 30 invited and contributed scientific talks in national and international conferences, national laboratories, universities, and semiconductor industries. Dr. Kandel's commitment to research has been institutionally recognized with a number of "Excellence in Research and Innovation" awards including one from the DTRA under the US Department of Defense. Dr. Kandel has served as the Chair of Young Professionals Group at the IEEE Council on Applied Superconductivity (2014-2016), Technical Editor of the Magnet Technology Conference Proceedings on IEEE-TAS (2017), and peer-reviewed SBIR Grant Proposals for the High Energy Physics Division of the US Department of Energy.
Teaching, Research/Creative & Consulting Interests
Teaching Interests
Classical/Quantum/Statistical Mechanics, Electricity & Magnetism, Thermal Physics, Mathematical Methods of Physics, topics in Materials Science and Engineering, Nanoscience & Nanotechnology
Research Interests
Development of new electrical insulators for engineering applications that includes the development of S-I-S tunneling Josephson junctions, high-temperature superconductor based very high field superconducting magnets, and synthesis and studies on metal oxides, perovskites, and carbon nanotubes based low-cost and high-efficiency solar cells, light emitting devices (LEDs), and transparent conductive coatings.
Consulting Interests
Publications
Selected Publications
2018: Effect of Fe doping on electronic transport and Raman scattering properties of (110) PrBa2Cu3O7 thin film", Mater. Res. Express/IOP Publishing Ltd. (7 pp.)
2017: Electronic transport and Raman spectroscopic properties of Co doped (110) PrBa2Cu3O7 thin film, J. Vac. Sci. Technol. A 36(2), Nov. 2017 (Published online) (021502-1- 021502-4 pp.)
2016: Ceramic Insulation of Bi2Sr2CaCu2O8-x Round Wire for High-Field Magnet Applications , IEEE Transactions on Applied Superconductivity (5 pp.)
2015: "Development of TiO2-SiO2 coating on Ag-sheathed Bi-2212 conductor", H. Kandel, J. Lu, J. Jiang, M. Matras, P. Chen, N. Craig, U. Trociewitz, E. Hellstrom, and D. Larbalestier, Supercond. Sci. Technol. 28, 350110 (2015), Superconductor Sciench Technology 28, 350110 (2015) (8 pp.)
Selected Awards & Honors
Research/Creative Awards
2018: "Modine Science Research Fund-Modine Manufacturing Co." ( $ 6000) was awarded for research in synthesis and studies of novel oxide insulating materials., Modine Science Research Fund-Modine Manufacturing Co., Modine Manufacturing Co.
2018: Title of Project: Synthesis and electronic transport studies on metals doped Pr-Ba-Cu-O electrical insulation material Undergraduate Research Apprentice: Nathan Arndt , URAP Award-Spring 2018, College of Natural and Health Sciences
2017: Title of Project: Synthesis and electronic transport studies on metals doped Pr-Ba-Cu-O electrical insulation material Undergraduate Research Apprentice: Nathan Arndt , URAP Award – Fall 2017, College of Natural and Health Sciences
2017: Fabrication and studies on Fe and Co doped (110) PBCO thin films., Faculty Summer Research Award 2017,
Key Service Activities
Departmental Service
2018: Committee Member - Physics/Maths Curriculum Committee
University Service
2019: Committee Member - Committee on Advising
Professional Service
2017: Editor, Conference Proceedings - Magnet Technology-25 (IEEE-TAS)
2016: Chairperson - Young Professional Group, IEEE Council on Applied Superconductivity
Courses Taught
MATH 223 - CALC & ANALYTIC GEOMETRY III
PHYS 105 - COLLEGE PHYSICS I
PHYS 106 - COLLEGE PHYSICS II
PHYS 201 - GENERAL PHYSICS I
PHYS 202 - GENERAL PHYSICS II
PHYS 306 - ADV EXPERIMENTS PHYSICS
PHYS 401 - MATHEMATICAL MTHDS OF PHYSICS
PHYS 403 - THERMODYNAMICS & STAT PHY
PHYS 495 - SENIOR SEMINAR
PHYS 499 - INDEPENDENT STUDY