COURSE DESCRIPTION
MAPS 640: Smart Cities and Communities
Adjunct Instructor: Michael Pegues

In a rapidly urbanizing world, the city paves the way toward sustainability and social well-being. But what does it mean for a city to be smart? Does that also make it sustainable or resilient or livable.  The goal of the seminar is to explore how advances in information communication technologies affect the built environment at various scales (e.g., cities, districts, neighborhoods, blocks, buildings), to understand the role of multiple actors working at the intersection of technology and urbanism, and to determine the impact on community growth and resilience.
Professional Development (Noncredit)
Students who elect the noncredit course option will not earn college credit upon completion of the course. The cost of the course for noncredit students is $499. To enroll in the noncredit course, click the noncredit registration link.

Graduate Level (3 graduate credits)
Students who elect the graduate credit option will earn 3 credits. The cost of the course is determined by the current graduate tuition rate. To enroll in the course for credit you must either be a current UW-Parkside graduate student or apply for admission as a graduate student. If you are not a current student please reach out to the MAPS program for guidance on the application process at maps@uwp.edu.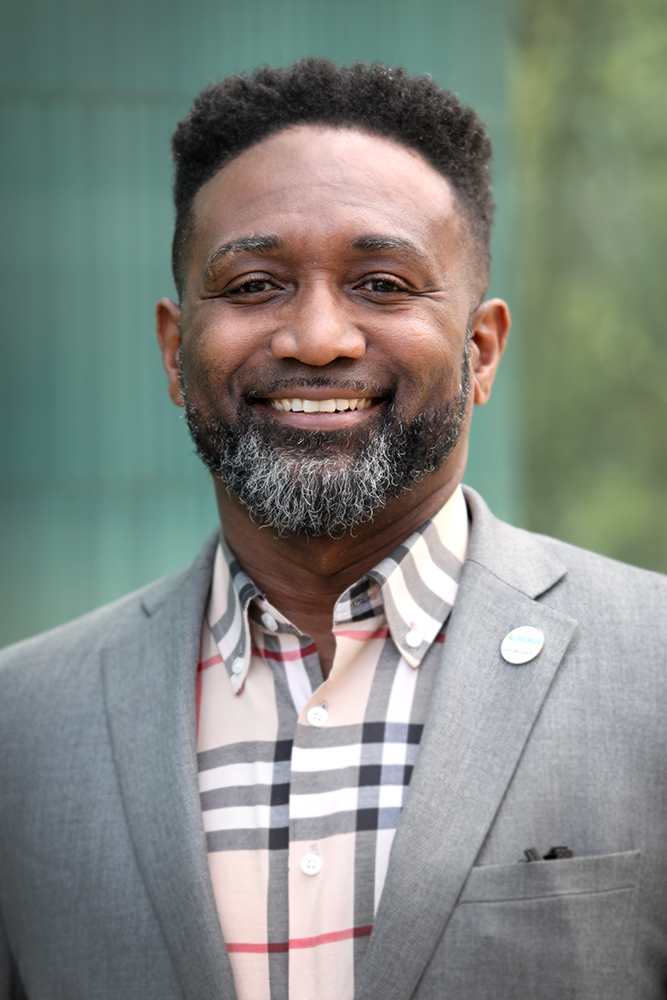 Michael Pegues  |  Instructor Bio
Michael Pegues was appointed by Mayor Richard C. Irvin as Chief Information Officer for the City of Aurora, Illinois in June 2017.  In 2020, Michael was nominated as Government Technology's Top 25 Doers, Dreamers and Drivers 2020. In 2019, Michael was nationally nominated IoT World Series Smart Cities Summit Leader of the Year, in addition, received two distinct Smart 50 Awards including City of Aurora Smart City Initiative and River Edge Smart Park. Furthermore, Michael led the charge to have the City of Aurora named as a finalist for the Smart Cities Council Readiness Challenge 2018 and Top 100 Finalist for the Chicago Innovation Awards 2018, in partnership with Smart Cities Connect, Smart Cities Connect Foundation, and US Ignite, which annually recognize global smart cities projects, honoring the most innovative and influential work.  
Michael began his career working in various IT Support roles for AT&T and Pepsi-Co in the Greater Chicago Area. Michael has worked for the US Department of Defense as a civilian Automation Management Officer at United States Army Garrison, Logistics Readiness Center (LRC) in Vicenza, Italy. In addition, Michael has held various senior IT positions in Hewlett-Packard France, Vodafone Hungary and Morgan Stanley in Budapest, Hungary and New York, New York. 
Michael holds a Bachelor's degree in Computer Science from DeVry University and an Executive MBA in Entrepreneurship and Innovation Management from Central European University Business School from Budapest, Hungary. 
Michael is a proud US Army Veteran who actively participated in Operation Provide Comfort were military operations initiated by the United States and other Coalition nations of the Gulf War, starting in April 1991, to defend Kurds fleeing their homes in northern Iraq in the aftermath of the Gulf War and deliver humanitarian aid to them.
MASTER OF ARTS IN APPLIED PROFESSIONAL STUDIES (MAPS)
Develop advanced in-demand skills to meet immediate workplace needs. An Applied Professional Studies degree focuses on industry specific skills that employers are looking for today while combining real-world application. We designed the MAPS program for the working professionals - offering a flexible format, online courses, and affordable opportunity to achieve your professional and personal goals that align with potential for career advancement and upskilling needs.