Sustainable Management Online
Our flexible 60 credit online degree completion program emphasizes you achieving a triple bottom line that integrates Profit, People and Planet. Environmental protection, social responsibility, and profitability are vital to today's economy.
The sustainable management degree completion program is designed for working adults with real-world experience. You will learn a diverse set of skills in business, environmental science, resource management, and sustainable development that translate to any industry.
This unique program created by UW-Extension pulls together the faculty resources and expertise from six different UW System universities: UW-Parkside, UW-Green Bay, UW-Oshkosh, UW-River Falls, UW-Stout, and UW-Superior.
Learn more about the Master of Science in Sustainable Management at Parkside.
Find out more about specific tuition and finacial aid information for the online Sustainable Management program.
Program ineligible for international F-1/J-1 visa holders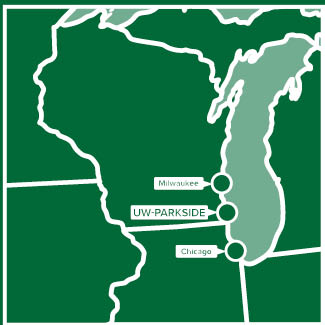 UW-Parkside is your local connection to this degree program, where you can meet with advisors and connect to the resources our campus provides. You have access to the same services traditional students have such as Parkside's Tutoring and Career Centers, Student Health and Counceling Center, Library, Clubs and Organizations, as well as the opportunity to meet face-to-face with faculty.
PARKSIDE PROGRAM ADVISOR
Joy Wolf  |  (262) 595-2914  |  wolf@uwp.edu
Joy Wolf
Professor of Biogeography
Sustainable Management Degree Completion Advisor

Dr. Wolf's research interests include biogeography, soils, and fire ecology in forests, wetlands, and grasslands in Arizona, Colorado and Wisconsin, and bird dynamics in coastal forests in the Pacific Northwest. She teaches Biogeography, Landscape Ecology, Dendrochronology, Soil Ecosystems, Field Methods, Geomorphology, Physical Geography and Natural Resources Management. She is the recipient of the 2017 Chancellor's Award for Teaching and Learning Assessment. She is published in over twenty different journals, including Journal of Applied Ecology, and the Journal of Higher Education Outreach and Engagement.

Gwendolyn Miller
Senior Lecturer

Gwendolyn Miller joined UW-Parkside in 1987. She has a B.A. in English from UW-Parkside and an M.A. in Administrative Leadership (concentration in Adult and Continuing Education) from UW-Milwaukee. Additional teaching experience includes U.W. Independent Learning, Gateway Technical College, and St. Catherine's High School. Ms. Miller teaches courses in writing and literature.

Sahar Bahmani
Associate Professor of Economics

Dr. Bahmani received her B.A. in Economics and Political Science from UW-Madison in 2003, her M.A. in Economics in 2004 from UW-Milwaukee, and her Ph.D. in Economics in 2007. She has taught previously at the business schools of UW-Milwaukee, UW-Whitewater, and Marquette University. She has taught courses on Microeconomics, Macroeconomics, Econometrics, Environmental Economics, Industrial Organization, Managerial Economics, and Money and Banking. Professor Bahmani has also published over 25 articles on money market dynamics in such journals as Empirical Economics, Journal of Economics and Finance, and Applied Economics.