Sustainable Management
DEGREE COMPLETION PROGRAM
Our flexible online, degree completion program emphasizes you achieving a triple bottom line that integrates Profit, People and Planet. Environmental protection, social responsibility, and profitability are vital to today's economy.
21 courses. 63 credits. 100% online.
The sustainable management degree completion program is designed for working adults with real-world experience. You will learn a diverse set of skills in business, environmental science, resource management, and sustainable development that translate to any industry.
PROGRAM HIGHLIGHTS
Learn to implement sustainable business practices to boost the triple bottom line
All course content is online for convenient study and homework options
Structured curriculum with 21 online courses, no electives, including a capstone experience
Study under top faculty from across the UW System
Gain a competitive advantage in an in-demand field
PROGRAM OUTCOMES
Analyze sustainability issues from local and global perspectives.
Analyze and interpret social, scientific, and business-related information in the context of sustainability.
Make informed judgments that lead to sustainable outcomes.
Employ systems thinking approaches to evaluate sustainability issues.
Communicate sustainability to diverse audiences.
Integrate sustainability concepts into applied settings and projects.
Find out more about the demand for sustainability skills as well as the career outlook for you with a degree in sustainability management.
Program ineligible for international F-1/J-1 visa holders
NEED FOUNDATION CREDITS FOR THIS DEGREE COMPLETION PROGRAM? 
This degree completion program is designed for people with 60 credits. If you have less than or no college credits, the Associate of Arts and Science program provides the opportunity to earn online "foundation" credits for a Bachelor of Science degree. To help you reach your educational goals, advisors and faculty at UW-Parkside work with you to choose courses that create a clear pathway toward a 100% online bachelor's degree in Sustainable Management.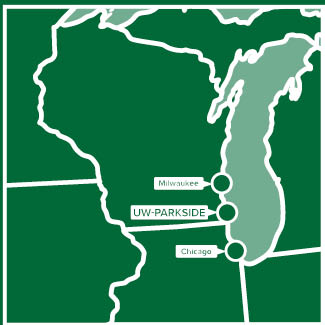 UW-Parkside is your local connection to this degree program, where you can meet with advisors and connect to the resources our campus provides. You have access to the same services traditional students have such as Parkside's Tutoring and Career Centers, Student Health and Counseling Center, Library, Clubs and Organizations, as well as the opportunity to meet face-to-face with faculty.
If you are interested in the Sustainable Management Degree Completion program, but you would like your transcripts evaluated before you apply, please submit your request below.
This unique program created by UW-Extension pulls together the faculty resources and expertise from six different UW System universities: UW-Parkside, UW-Green Bay, UW-Oshkosh, UW-River Falls, UW-Stout, and UW-Superior. 
Dr. Rachel Headley
Associate Lecturer

Dr. Headley received her B.S. in Physics from University of Maryland-College Park and her Ph.D. in Earth Science from the University of Washington, joining UW-Parkside after a post-doctoral position at Universität Tübingen (Germany). She teaches courses on climate change, environmental science, glacial geology, and geomorphology. She researches glacial geomorphology, from glacial deposits in Wisconsin to active glaciation in Alaska. She also works with local groups in SE Wisconsin to monitor river erosion and sediment transport.

Sahar Bahmani
Associate Professor of Economics

Dr. Bahmani received her B.A. in Economics and Political Science from UW-Madison in 2003, her M.A. in Economics in 2004 from UW-Milwaukee, and her Ph.D. in Economics in 2007. She has taught previously at the business schools of UW-Milwaukee, UW-Whitewater, and Marquette University. She has taught courses on Microeconomics, Macroeconomics, Econometrics, Environmental Economics, Industrial Organization, Managerial Economics, and Money and Banking. Professor Bahmani has also published over 25 articles on money market dynamics in such journals as Empirical Economics, Journal of Economics and Finance, and Applied Economics.

Suresh Chalasani
Professor of Management Information Systems

Dr. Suresh Chalasani teaches in a number of programs including Management Information Systems, Health Information Management and Technology, Sustainable Management, Project Management, and the MBA program. He serves as the Academic Director for the first competency-based Business degree program in the UW System --- flexible option Bachelor of Science in Business Administration offered by UW-Extension --- a program that he helped design and implement. 
ADMITTED STUDENT RESOURCE CONTACTS