ANTOINETTE (TONI) HANSEN '90 & '99
BS, Business Management & MBA
Toni Hansen has been a leader in human resources strategy and career development for over 25 years. Her expertise in building high-performance teams, driving culture and nurturing talent has led her to her current role as Human Resources Director for HARIBO of America, the #1 gummi brand in the U.S.
As HR Director for HARIBO, Toni has led the organization through change and growth, engaging Associates every step of the way to ensure they feel heard and valued. Toni's keen eye for organizational structure, development programs and new ways of working brings a fresh perspective to the business and allows for new opportunities to unlock the workforce's potential. HARIBO has seen double-digit growth over the past five years, and Toni's passion for people and helping them succeed is a direct contributor to those results.  
Prior to her time with HARIBO, Toni held leadership roles in the comsumer packaged goods industry at Fortune 500 companies like Nestle and Ocean Spray, where she transformed the human resources functions and built new processes, policies and frameworks for leading people to develop in their careers and deliver results. At Nestle, Toni was a key player in transforming its manufacturing facility in Burlington, Wis. into a high-performing work environment. Her strategic guidance helped lead the factory to win multiple "Best in the Nest" awards, including recognitions in Safety, People, and Supply strategies that led to breakthrough results.
Toni holds her bachelor's degree and MBA from the University of Wisconsin-Parkside and is heavily involved in campus activities and partnerships to give back to the school. She was a key contributor in building HARIBO's partnership with UW-Parkside to invest in today's students and tomorrow's workforce, and she leads HARIBO's internship program to engage students from UW-Parkside and other local colleges and universities. Toni is passionate about uplifting and inspiring others, paying it forward and building inclusive environments where everyone has a seat at the table.
Toni is a Wisconsin native and lives in Kenosha with her husband, Jeff, and three daughters Stephanie, Riley and Kayley.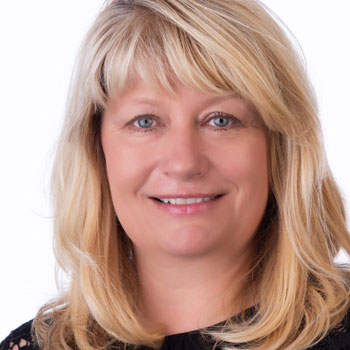 Reflecting on UW-Parkside
Why did you decide to attend UW-Parkside?
For my undergraduate degree, I chose UW-Parkside for several reasons. I wanted a high-quality, affordable education; my goal was to graduate without debt. In researching options at that time, Parkside was the only fully accredited business program in the UW-System. Secondly, it was an affordable education on a beautiful campus. Further, being local to the area allowed me to live at home during the first half of my college career, a further step to graduating debt-free. UW-Parkside was the right fit for me; it was a true learning and growth journey for me, with great experiences, friendships, tight bonds with my professors, and most importantly, I achieved my goal of graduating debt-free.  
For my graduate degree, I was working full time in Human Resources at a fast-paced manufacturing plant. I knew that furthering my education would benefit my career growth and aspirations, but I also already had a demanding role, and I was passionate about maintaining a high quality of work product as well. I, once again, looked at UW-Parkside. By that time, more UW-System schools had received accreditation for their business programs, but I knew Parkside and knew what I would get: a quality education with hands-on learning opportunities given by supportive professors. I am so glad I continued my education with UW-Parkside. It was a purposeful choice that enabled me to further excel in my career. 
What activities were you involved in at UW-Parkside?
While I was a student at UW-Parkside, I was hyper focused on my academic career and success, while also working a full-time job. Any spare time I had was dedicated to my studies because I knew I wanted to do my very best, and for that to happen I studied hard and made school my top priority. 
How did your UW-Parkside experience impact your professional or personal life?
The impact for me has been profound. UW-Parkside gave me the confidence to try new things, to accept new challenges, and to volunteer for things that may put me out of my comfort zone. I gained the knowledge that you will make mistakes, but if you make them learning opportunities, these are the times you can truly grow.  
Professional and Personal Highlights
What has been one of the top highlights of your career?
I am fortunate to have had many exciting opportunities throughout my career. The ones that stand out for me are the ones in which I could help others. One of our operators and I were talking, and she said she envied that I had the opportunity to attend college. I told her that our company had a tuition reimbursement program, and she could go back to school. Her reply was that her parents told her she was not smart enough. This operator learned to run an extremely complicated piece of equipment with proficiency, so she was very smart, and I told her so. I talked her into one college class to see how she liked it and then go from there. In the end, she chose to continue her education, and we celebrated her report cards, she showed me her well-written papers, and I was never prouder of her than on her graduation day. This special lady is now in management and inspiring others to be all they can be.  
Who has had the biggest influence on your life or your career and why?
My first boss, Dan Hoffman, has been my biggest career influence. He gave me the opportunity to get involved with a few different cutting-edge projects in my field, and he gave me the trust and guidance to lead those initiatives to successful completion. Dan was never one to grab the spotlight but to provide opportunities, grow his team and shine the spotlight on others. Even when I doubted myself, Dan knew I could and would do it. He could have focused on the mistakes I made, but he focused instead on what I learned and how I would apply that in the future. I saw how Dan created and sustained relationships and how these relationships helped him make a difference. I saw firsthand how and why this is so important in the working world and to the people who make it possible. I make it my mission to take what I learned from Dan Hoffman and pay it forward, hopefully inspiring, and uplifting others as he did for me. 
What are your favorite hobbies?
Traveling with my family. We have had many adventures all over the globe and are looking forward to our next adventures in Punta Cana and Spain.  
What is something that would surprise us about you?
My mom ran a dance studio when I was growing up, and I had dreams of being a prima ballerina dancer for most of my formative years.  
Advice from Toni
What advice do you have for current UW-Parkside Students?
Dream big and do not be afraid to reach for the stars! Even if you only make the journey halfway, you are farther than you have ever been before and there is still time to complete the journey or find yourself on a new one.