BARBARA J. OSBORNE, JD '82
BA, Communication
Barbara J. Osborne, JD. is a Professor with a joint appointment in Exercise and Sport Science and the School of Law at the University of North Carolina at Chapel Hill.  She directs the graduate program in Sport Administration, which was the first in the U.S. to focus solely on college sport.  She also started the undergraduate program in sport administration and a dual degree program in law and sport administration.  Osborne also advises the Sport and Entertainment Law Student Association and the UNC NIL Pro Bono Project. Over her career, she has created and taught 15 different undergraduate, graduate, and law school courses including first year seminars and study abroad and has mentored more than 100 graduate students through their thesis research.  UNC has recognized Osborne with two university teaching awards and the North American Society for Sport Management presented her with the Distinguished Educator Award in 2021. Additionally, Osborne works as a consultant for school systems, schools and athletics programs providing Title IX education, evaluations and audits, and as a court-appointed Title IX compliance monitor.
Osborne's current academic research focuses on legal issues in intercollegiate athletics, gender equity and discrimination in sport, and medical issues in sport.  She is the co-author of three books (including the most widely used sports law textbook, now in its 5th edition). She has written 33 book chapters for various sport law and sport management texts, published 44 articles in academic journals, with another 38 invited publications. Osborne has shared her expertise in 118 academic research presentations at scholarly conferences and an additional 104 invited lectures and presentations.  Her scholarly work was recognized by the Sport and Recreation Law Association in 2014 with the Betty van der Smissen Leadership Award and she was a member of the inaugural class of SRLA Research Fellows (2012). 
Prior to her academic career at UNC, Osborne worked in the sport industry in college athletics administration, coaching, and as a public relations coordinator, television sports commentator, publisher and sports information director.  She is licensed to practice law in North Carolina and Massachusetts, served as General Counsel for the National Association for Collegiate Women Athletics Administrators (NACWAA), and worked for Ice Miller LLP in their collegiate sports practice group.  She has also served as the Chair of the Sport and Entertainment Law section of the North Carolina Bar Association and continues to serve on the council.  Osborne is an active member of the Sport Lawyers Association, North American Society for Sport Management, and the Sport and Recreation Law Association.
A life-long athlete, Barbara was inducted into the Kenosha Sports Hall of Fame in 1999 for her pioneering achievements in cross country and track at Mary D. Bradford High School and the University of Wisconsin-Parkside Athletics Hall of Fame in 2010 as a member of the 1980 National Championship cross country team.  She was also recognized with the Jeanne Rowlands Award for Outstanding Achievement in Women's Sports by the Massachusetts Association of Intercollegiate Athletics for Women in 1998.
Osborne's education includes degrees in Communications (University of Wisconsin-Parkside, 1982), Sport Management (Boston University, 1989) and Law (Boston College Law School, 1997).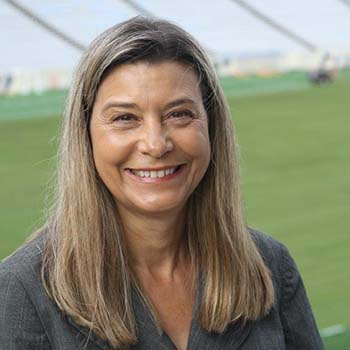 Reflecting on UW-Parkside
Why did you decide to attend UW-Parkside?
I was recruited to run cross country and track. 
What activities were you involved in at UW-Parkside?
I ran cross country, indoor and outdoor track all 4 years, and did announcing for the basketball games. I also worked in the athletics department equipment room. 
How did your UW-Parkside experience impact your professional or personal life?
I use the things I learned as a communication major every day in my professional and personal life. Forty years after graduating, I still believe that the communications curriculum and the skills learned are invaluable tools for success. The sports information director, Don Kopriva, set me up with volunteer experiences (they didn't call them internships back then) that helped me build a network and expand my practical skills. Linda Draft provided opportunities to gain career experience working in athletics administration and encouraged me to work in the sport industry. My athletics experiences, combined with the theoretical and applied academic experiences at UW-Parkside set me on a path to work in the sport industry when very few women had those opportunities. 
Professional and Personal Highlights
Who has had the biggest influence on your life or your career and why?
My parents, Gene and Joan Osborne, have had the biggest influence on my life and my career. They raised me to be independent, give 100%, be accountable for my decisions and actions, and to treat others with respect. They never told me that I couldn't do something, although societal barriers for women's success at the time were quite prevalent. They supported my participation in every activity under the sun growing up (Girl Scouts, swimming, tennis, violin, plays, marching band, cross country and track, announcing at football and basketball games, etc.) – their only rule was that if you do it, you try your best.  They were always there as a sounding board, but let me make my own choices, and supported those decisions. I know who I am, and that I am enough, because of them. 
What are your favorite hobbies?
I like walking the dog, running a bit, traveling and taking pictures of everything. 
What is something that would surprise us about you?
I'm a fan of the TV show General Hospital and have been watching since 1978. 
Advice from Barbara
What advice do you have for current UW-Parkside Students?
Take advantage of the excellent education you have access to at Parkside and be proud of it. Approach your education (and life) with a growth mindset and you will be amazed at the things you will experience and accomplish.