Monique Herena is Chief Colleague Experience Officer at American Express. As Chief Colleague Experience Officer, Monique is responsible for all aspects of the colleague experience, including talent management, leadership development and compensation and benefits. Monique leads all colleague experience functions globally. As part of the Executive Committee, Monique works closely with the Chief Executive Officer and other Executive Committee members to ensure we continue to build a culture that attracts, retains and develops the best colleagues. She also serves as an officer of the American Express National Bank.

Monique joined American Express from BNY Mellon, where she was Chief Human Resources Officer (CHRO) and Senior Executive Vice President, Human Resources, Marketing and Communications since 2014. She worked closely with the Chief Executive Officer and senior management team to lead the development and execution of a business and culture transformation strategy that has made the bank more competitive in the market for talent.

Prior to BNY Mellon, Monique was at PepsiCo for 13 years where she served in a number of increasingly senior HR leadership roles, including assignments in Dubai and Chicago, as well as in their Purchase, NY headquarters. Her career also included several years at both Honeywell and The Quaker Oats Company, where she held leadership roles in a wide range of HR disciplines. She began her career as an executive retained search and organization change consultant.

Monique sits on both the Executive Committee and the Board of Directors of the Human Resources Policy Association, a leading professional organization. She is a member of the Advisory Board of the Cornell Center for Advanced Human Resource Studies (CAHRS) as well as a graduate and faculty member of the Cornell ILR School CHRO Top Seat program. She is also a Board member of the Girl Scouts of Greater New York and co-leads their Strategic Development Committee. Additionally, American Banker recognized Monique as one of the "Most Powerful Women in Banking" and "Women to Watch" two years in a row (2017 and 2018).

She holds a B.A. in communication studies from the University of Wisconsin – Parkside, and two Masters of Arts degrees, one in Communications Studies from Northern Illinois University and one in Organization Psychology and Change Leadership from Columbia University.

Monique lives in Scarsdale, NY with her husband Louis, their three children, Matthew, Michael and Mia and their French Bulldog, Stella.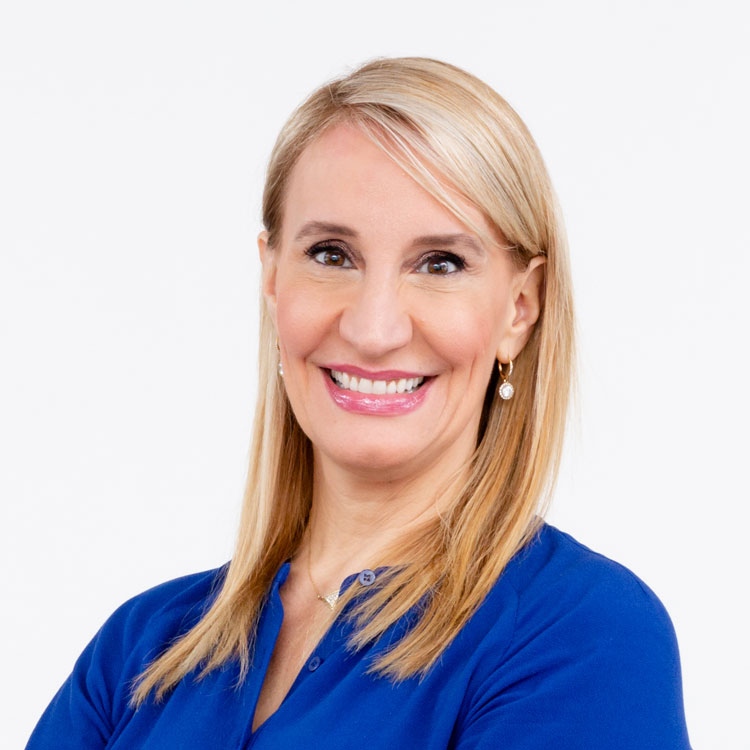 Reflecting on UW-Parkside
Why did you decide to attend UW-Parkside?
I wasn't really sure what I wanted to study or where, but I knew I wanted a great education and that I'd get that in my hometown at UW-Parkside. I also wanted to be somewhere where I could work while attending university.
What activities were you involved in at UW-Parkside?
I was very involved in the Communications Association – in fact I was the President. I worked throughout my four years at UW-Parkside, so the Comms Association was the extent of my school activities. Upon reflection, I wish I would have been more involved. There were times where I was more focused on work and therefore didn't get the full benefit of the university experience. My work ethic is still so strong to this day. I think lifelong learning and learning from all experiences and environments is critical for everyone to reach their potential.
How did your UW-Parkside experience impact your professional or personal life?
I found my way through trial and error at UW-Parkside. I took a lot of classes to find out more about myself and what I was most interested in and passionate about studying. Through my experience, I learned a lot about discipline, multi-tasking and critical and analytic thinking.
Professional and Personal Insights
What has been one of the top highlights of your career?
The moves I have made, including living and working in Dubai, the Bahamas, Chicago, New Jersey, New York, and Arizona. I moved up through the ranks and gained significant leadership responsibility early on in my career because I worked hard to continue my own growth as well as develop and grow the best teams. I have had many mentors and sponsors who believed in me and stretched me along the way. I am always focused on making myself and them proud and to never regret their support.
Who has had the biggest influence on your life or your career and why?
The biggest influence on my life is my family. My mom has been chronically ill for decades and it has taken a toll on her and my family. She has taught us all a lot about resilience and the power of positive thinking. She received a double lung transplant about 3.5 years ago and is doing well. Chronic illness doesn't just impact one person, it impacts everyone. It has made me more grateful for family, time together, and has taught me to make the most of each moment in life. I always say, life is short, say what you mean and do what you say. Nothing is guaranteed.
What are your favorite hobbies?
Spending time with family, cooking and sharing my vegan recipes (whole family is vegan, even the dog!), reading and spinning – specifically, SoulCycle.
What is something that would surprise us about you?
I went on to receive two Master's degrees after my studies at UW-Parkside, most recently from Columbia University in Organization Psychology and Change Leadership in 2017.
Advice from Monique
What advice do you have for current UW-Parkside Students?
We can all be better in the next moment than we are right now. I say that because I think having a growth mindset is critical. Nothing, and no one, is fixed. You can define what your goals are and what you want to work towards. Don't play small, think about the best version of you and who you want to become and work for it every day. Don't put any limits on yourself and don't let anyone else limit your potential. Set your vision and go for it. Support others, be kind, practice empathy and step up and lead.